Jenny Reeves
Congratulations to Jenny Reeves for becoming a 2012 Halstead Grant Top 5 finalists! Moving from Philadelphia to San Francisco in 1995, Jenny began her career metalsmithing at City College of San Francisco. In 2007 she completed the Graduate Jewelry program at the Revere Academy of Jewelry Arts.
In 2009 Jenny started using Argentium sterling silver. The metal's fusing properties allow her to create her unique pieces. Now, Jenny fuses layers of argentium sterling silver with gold, creating textured stone-like surfaces on her pieces. She prefers to use recycled precious metals in her jewelry pieces as well.
| | |
| --- | --- |
| Geodes Collection: Hinged Druzy Pendant | Mokume Gane Collection: Mokume Gane Ring |
Throughout her work you will find precious and semi-precious stones intermingled in her jewelry which she feels "bring the pieces to life". Her collections are Geodes, Mokume Gane and Cobblestones & Pebbles.
Jenny teaches Argentium 1 and 2 at the Revere Academy and has been featured in Metalsmith magazine. Her jewelry is available on her website and in fine galleries across the United States.
---
Sorenson Silver Fine Art
Metalsmith artist Matagi Sorenson is the next featured finalist of the 2012 Halstead Grant. Matagi received his Bachelor's of Fine Art with a Major in Metalsmithing through Northern Arizona University in 2011. He currently resides in Arizona and is a member of the Yavapai-Apache Nation.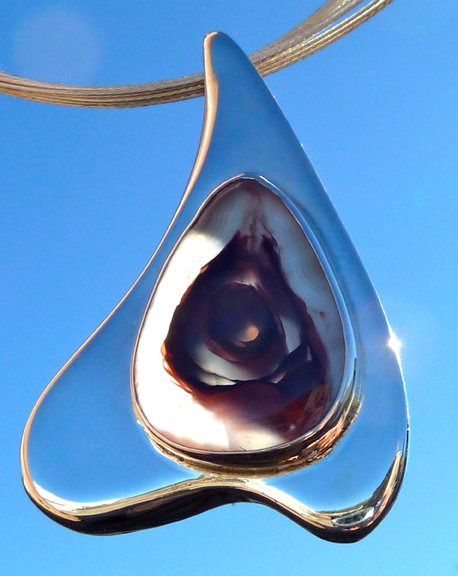 As a single father with a disabled child, Matagi deeply appreciates art and recognizes how important it has been in his life. He says, "because of my education in art, I was able view the world from different perspectives, and it was how I gained the ability to communicate with my daughter and understand her unique point of view. Art and music is also how my child experiences leaps and bounds in her cognitive growth and her ability to communicate."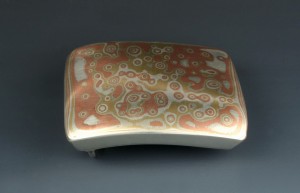 Matagi's work has been featured in the Arizona Daily Sun, Schools Arts Magazine, Mountain Living Magazine and Northern Arizona News Today: The Lumberjack. He attends Juried Shows across Arizona and his jewelry and paintings can be purchased on his website.
---
Caitie Sellers
Caitie Sellers is a full time artist with her studio based in the River Arts District located in Asheville, North Carolina. She graduated from Virginia Commonwealth University in 2007, earning a BFA in Craft/Materials Studies. In 2008, Caitie Sellers traveled to Guatemala, spending her summer months teaching women in rural communities the art of jewelry-making.
Her designs reflect the architecture of urban city life found in that part of the world. She says, " I am attracted to the graceful craftsmanship of these often overlooked features. In my jewelry I am placing value in the detail of the ironwork and thereby bringing a sense of preciousness to otherwise common materials. In this way rough and imposing architecture evolves into graceful and delicate forms while keeping the wearer anchored in geography and history."
Her Richmond Necklace, which took 7 weeks to complete, is a recent design. She says, "I'm not the type to channel my emotions into my work through imagery and concept, but I still do it through process. The only thing that makes my mind calm down is methodical practice with my hands. And that's exactly what this necklace was. It's nothing especially new for me, but it's a whole lot of the techniques that I love."
Caitie creates most of her pieces using sterling silver and steel. She tours the country exhibiting her jewelry and also her beautiful line of sculptures, with removable jewelry pieces designed right into the artwork. Caitie's work is available in fine galleries across the United States. Her jewelry can be purchased online at her website. Jewelry pieces range from $35 - $720.
---
Jamison Rae Jewelry
It started in 2006 for Jamison Rae, she had received her BA in Sociology but found she wanted more out of life, so she packed up and headed to San Francisco, CA where she took courses at the Revere Academy of Jewelry Arts.
"The first time I held that torch and watched a tiny piece of solder flow...it was LOVE. I have since been learning and practicing, practicing and learning, and am finally getting to do what I love for a living."
After learning her new found skills, Jamison relocated to Boise, ID where she set up shop to create her jewelry. She works primarily with sterling silver and gold-filled. Many of her pieces use semi-precious stones as well. Currently Jamison's pieces are available at fine galleries in Idaho and Wyoming and on her website with prices ranging from $24 - $80.
---
Rosemary Mifsud
Rosemary Mifsud grew up in Sturgis, Michigan, a small town with a population of 11,000. "I was rooted in this safe, solid, simple, peaceful place; I didn't just have to go, I could go. And that became a metaphor for my work and for what I hope my work brings to people."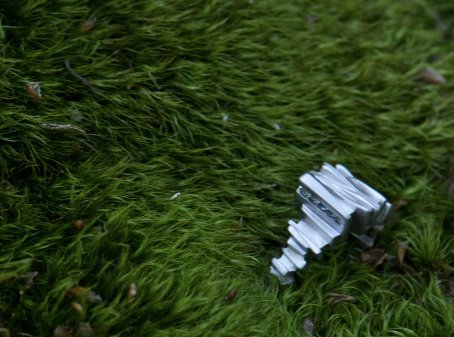 Rosemary attended Kendall College of Art and Design in Grand Rapids, Michigan where she currently resides. She has merged her love of nature and art into The Story of Two, a website where she creates custom wedding jewelry.
Besides her beautiful jewelry, she is also a contributing furniture designer for PieterVanTuyl. Her jewelry can be found online at her website.
---
JW Metal Arts
Artist Jennifer Will was drawn to nature at a very early age. She loved to explore the outdoors from the beaches to the forests of Long Island where she grew up. After a tumble into a patch of poison ivy her mother gave her a camera as a get well gift. Her early fascination with nature and photography led to a lifelong career in the Arts.
Jennifer took her desire to learn and moved to New York City where she attended the Fashion Institute of Technology. Here, she earned an A.A.S. in Fashion Photography in 1996. Next, she moved out of the city and studied at Southampton College, earning a B.F.A Fine Arts degree in 1998. Her studies continued on to California and the Gemological Institute of America in Carlsbad, becoming a G.J. Graduate Jeweler in Jewelry Manufacturing Arts in 2006.
Jennifer now resides in San Diego, CA where she runs her jewelry studio, J W Metal Arts.
"I draw my inspiration from deconstructing these three elements (nature, design & science) and the experiences of my childhood into a modern and industrial interpretation, always looking to showcase the natural raw beauty of what mother nature has created."
Her jewelry pieces range from $65 up to $1395 and you can purchase them online at her Etsy shop under J W Metal Arts.
JW Metal Arts also placed as finalist in the 2014 Halstead Grant competition.
---
JPHii Designs
John Harris, a Top 10 Finalist of The Halstead Grant, spent years working with different mediums as an artist before choosing metals. Born in Syracuse, NY he moved to Buffalo for college. He earned his B.A. in Anthropology and a B.F.A in Jewelry/Metal Design at Buffalo State College in 2012. After, he began his career merging jewelry design with his love for Anthropology.
His jewelry designs include his successful Mycelium Collection (which is based on the root patterns of a mushroom), steampunk designs, bronze & steel bottle openers and a Cymbal Series using recycled drum cymbals. Almost every piece John has created is unique and one-of-a-kind.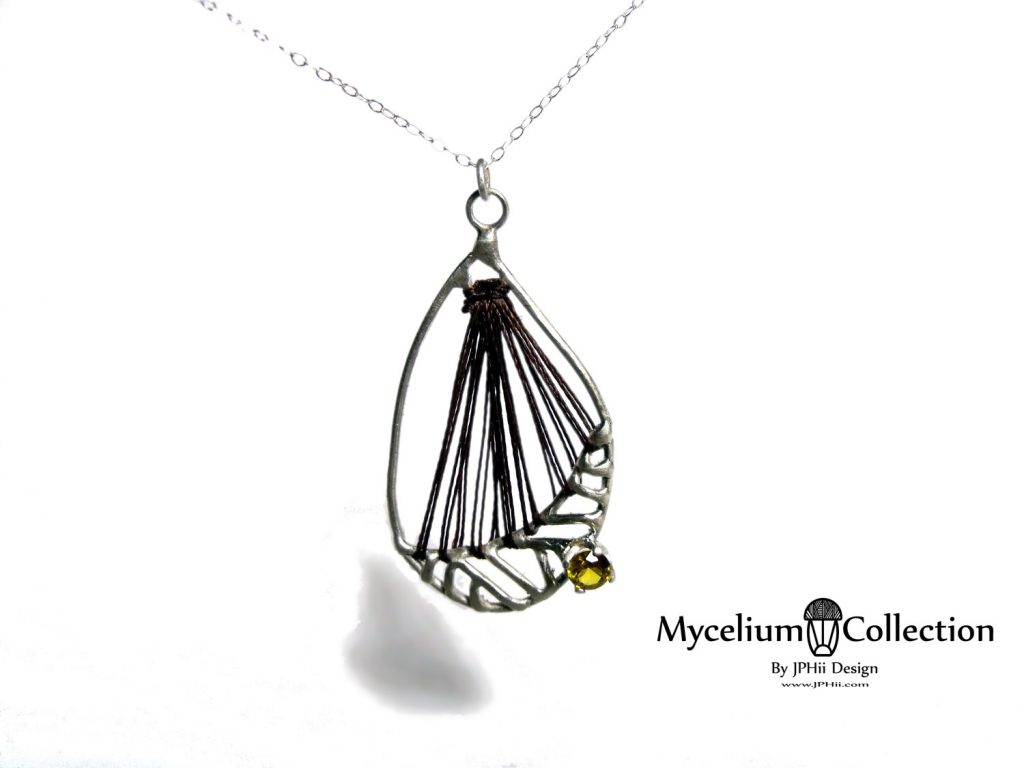 Harris wrote a book called The True Survivors about an anthropologist who travels to the future after the apocalypse. He spent three years studying, writing and creating the jewelry and other metal pieces that his book showcases.
Prices for JPHii jewelry start at $30. To learn more about John Harris, his jewelry and his fictional novel The True Survivor, visit JPHii Design.
JPHii Designs also placed as a finalist in the 2013 and 2014 Halstead Grant competitions.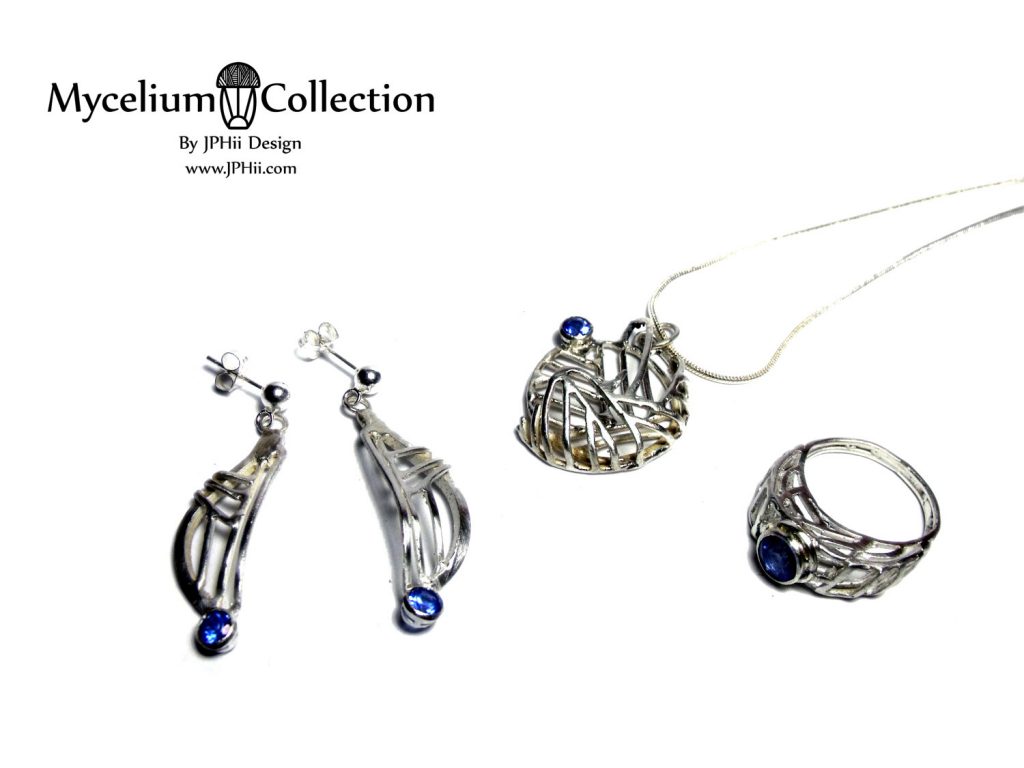 ---
Catherine Grisez
An Ohio native by birth, Catherine Grisez attended the Rhode Island School of Design, where she received her BFA in 1996 in jewelry and light metals. Her studies also included a semester at the Lamar Dodd School of Arts in Cortona, Italy as well as South Seattle Community College and Pratt Fine Arts Center both in Seattle, WA where she also currently resides.
Catherine has taught classes since 2000. Her technique classes range from beginning jewelry to holloware workshops, a technique she fell in love with during her studies.
From furniture and sinks to sculptures and jewelry, her talents are seemingly endless. "The focus of my work is constantly changing and developing but is ultimately based on a search for personal and spiritual growth through an excavation of past events and their influence on the present."
In August 2013, she will join 21 other metalsmiths in a traveling art exhibition. It features 11 artists from the United States and 11 from Japan. The exhibition will open in Portland, OR and is titled "East and West, The Hammered Metal Object." You can find Catherine Grisez jewelry and sculptures online and at fine galleries across the country.
---
Zoa Chimerum

Artist Ian Henderson, owner of Zoa Chimerum, moved around on military bases in Europe as a child with the majority of his adolescent years spent in Germany. At the age of 13 his parents moved back to the states. They landed in Kansas and it was quite a cultural shock to Ian. His peers in high school made life difficult for him. So, unable to fit into this new society, he withdrew into his artwork. He honed his skills throughout his teenage years before studying jewelry design and metalsmithing at the Rhode Island School of Design and also at Mass Art in Boston.
Ian found himself drawn to nature with inspiration from German Biologist Ernst Haeckel. Haeckel was one of the first scientists to study invertebrate species under a microscope and famously sketched everything he discovered. "It's interesting that the things we are traditionally repulsed by, when viewed in great detail, have elements within them that to most eyes are extremely beautiful--for example, the compound eye of a butterfly, the delicate veining of a dragonfly's wings, the curvature and fractal rhythms of an uncoiling fern."
Ian's favorite materials, shown in the two pictures below, use an aluminum core covered in re-purposed rubber tubing.
His blog is fun to read, loaded with images of all he has accomplished over the years. Here is an excerpt from his writings: "I unpacked my old Wacom digital stylus pad recently and spent an evening in Adobe Illustrator making abstract doodles. I broke the drawing into 6 layers, and worked from the front to the back, so that each new drawing appeared underneath the one that preceded it. Then I separated out all the layers into different files, and used them to generate cut-paths for the laser cutter. The end result is a kind of shadow box with a layered latticework drawing inside it."
You can buy Zoa Chimerum Jewelry on Etsy and his website.
---
Meet the winner of the 2012 Halstead Grant, Susan Elnora.
Learn more about the Halstead Grant.
Subscribe now for the latest on the Halstead Grant, jewelry making tips, jewelry business tips and more.