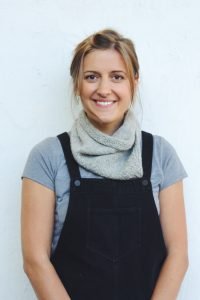 PRESCOTT, AZ (Sept. 13, 2018): Emily Shaffer has won the 2018 Halstead Grant for new jewelry businesses. Emily Shaffer Studio started three years ago in Franklin, Maine and will be moving to a new location in Ellsworth, Maine in October. Emily receives a $7,500 cash grant, $1,000 in jewelry supplies, a trip to Prescott, Arizona, the cover and a feature spread in the grant publication Reveal, a feature profile and jewelry showcase in the 2019 Halstead catalog, press assistance, a detailed feedback report from the judging committee, and a signature trophy.
Grant founder and Halstead President, Hilary Halstead Scott says, "She has a gift for getting all the pieces of business to work together. We were impressed with Emily's sophisticated mix of marketing and strategy."
Meet Emily Shaffer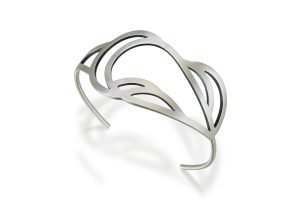 Emily received her B.F.A. in Crafts - Fine Metal Jewelry and B.S. in Art Education from Kutztown University, where she was selected as a student exhibitor in the Philadelphia Museum of Art and Craft Show. She also received the J. Allen Pawling Craft Memorial Award, was named an American Craft Week 30 Under 30 Rising Star and was a Top 5 finalist for the 2017 Halstead Grant last year.
Guest judge Michael David Sturlin says, "This year's winner, Emily Shaffer, has a very compelling and marketable body of work supported by a well thought out business strategy and a realistic approach that is sure to propel her forward. I am excited to see her make the next big steps in her continuing success story."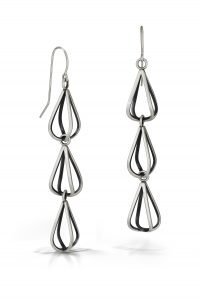 Emily's jewelry features clean, modern and minimal designs made from Sterling Silver and Argentium Silver with a matte finish. Most of her Stacked, Line, and Layered Collections range in price from less than $100 to $400. Her jewelry is available for sale online at www.emilyshafferstudio.com or at retail locations in Maine, Massachusetts, and more.
See Emily's Studio
We had the opportunity to take a video tour of Emily's studio in Maine to see her workspace and learn some helpful tips about managing production efficiency.




About the Halstead Grant
The Halstead Grant competition recognizes other strong entries in two divisions. Results within each group are in no particular order. The Top 5 finalists are Stacy Rodgers Jewelry, Emma Elizabeth Jewelry, Lemak, Inc., and VLM Jewelry. The Top 10 finalists are Sarah Zentz Jewelry, TIN HAUS, Elana Jovero Jewelry, Lou Jewels, and Alexandra Scarlett Jewelry. Top 5 finalists receive $500 and Top 10 finalists receive $250. Learn more about the finalists at the Halstead Grant website.
The Halstead Grant began in 2006 as a way to bring the business plan concept to the jewelry community and encourage makers to establish clear goals and measurable steps toward self-sufficiency. The Halstead Grant application process guides participants through the elements of a complete strategy for entrepreneurship. Participants all receive general feedback from the competition jurors, with finalists receiving individual feedback reports specific to their entries.
The 2018 judging committee included Halstead President Hilary Halstead Scott, founders Tom and Suzie Halstead, as well as Halstead's Business Development Specialist, Kelli Vanyek Greene, and guest judge Michael David Sturlin. Sturlin is a respected goldsmith in his own right. He is a regular contributor to Jewelry Artist magazine and esteemed master workshop instructor at jewelry studios around the world.
Meet 2017 winner, Kristen Baird.
Subscribe now for the latest on the Halstead Grant, jewelry making tips, jewelry business tips and more.
Read these great articles on pricing and creative identity from 2018 guest judge Michael David Sturlin.