Philadelphia-area designer Layne Freedline of Layne Designs is the winner of the 2011 Halstead Grant for jewelry entrepreneurs. The prestigious award includes a $5,000 small business grant as well as $1,000 of jewelry supplies from the grant sponsor Halstead Bead Inc.
Layne Designs jewelry features unusual gems placed in handcrafted sterling silver settings. Her line showcases stones such as jasper, druzy and labradorite with paisley inspired silver accents. Freedline plans to use the grant funds to expand her website and exhibit at a national industry trade show.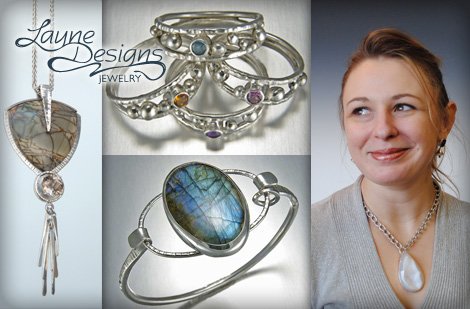 In response to winning the award Freedline said, "I am very grateful for Halstead Bead Inc. for the encouragement that this grant offers. The handmade marketplace is blossoming from this kind of motivation toward strong business practices."
The grant is awarded to a new jeweler each year in recognition of design aptitude and business strategy. Qualified candidates must submit lengthy applications including their portfolios of original jewelry and business plan details.
"Layne submitted one of the best business plans we have seen in our six years of judging this competition. We were blown away." said one judge, Hilary Scott. "She is a talented metalsmith with an infectious passion for her craft."
Freedline received her jewelry arts training at the Tyler School of Art at Temple University. She is continuing her education by pursuing a Graduate Gemologist degree from the Gemological Institute of America. In addition to running her own studio, she also teaches jewelry classes at the Main Line Art Center in Haverford, PA.
Layne Designs joins a distinguished roster of Halstead Grant recipients since the program began six years ago. For more information on the grant competition visit www.HalsteadBead.com/grant.
The Halstead Grant 2011 Results
Winner
Layne Designs
Silver Circle Finalists
Ellen Himic
Filomena Demarco Jewelry
Gogh Jewelry Design
Kendra Renee Jewelry Design
Lisa Robin Jewelry
Copper Circle Finalists
Fehrenbach Jewelry
Julie Mauerer
Sterling Echoes
---
Check out Layne's guest article on setting goals for your jewelry business.
Learn about the 2011 finalists of the Halstead Grant.
Subscribe for more tips and news and to learn more about the Halstead Grant.
Meet the 2010 winner Cowboy's Sweetheart.