Anne Potter's new book Global Style Jewelry is packed with inspiration. Anne used Halstead components to make the necklace version pictured here. We love it! We asked Anne to give us some insight into the jewelry designs in her book and why she's so inspired by places to visit.
Anne Potter Interview
Q. It's easy to see that you're inspired by your surroundings. What's your favorite spot to create?
A. I love that inspiration comes to me from many different sources, and in many different ways. Sometimes the inspiration is tangible: color pairings on a Talavera plate, a pattern on a kimono, the braided design on my leather sandals. These spark a tinder box of ideas in my brain. And then there are the subtler founts of inspiration, the more mindful: my morning run when thoughts can unkink, cocktails with friends when conversation and new ideas come in a torrent, placid walks after dark, epic sets at a blues fest, and EVERY road trip. As for my favorite spot to create, that's a tricky thing. With five kids, I quickly learned that my sweet studio in the basement wasn't going to work: the little ones could have run off and joined the circus and I wouldn't have even heard them leave! So now you can find me standing at the kitchen counter working on some piece in progress. My favorite creative setting, though, is late at night at my coffee table, with a glass of wine and a travel show on TV.
Q. We love the way you combine our sterling silver circle blanks with a chain maille section. What's the hardest part about getting started with chain maille?
A. Getting started! I think that establishing the pattern is the trickiest part of chainmaille, hands down. There are rings going every which way and it's very hard to wrap your brain around the concept of how the pattern goes together. But stick with it! In just a few repeats, I usually start to feel a rhythm and establish a pattern that looks right. And a helpful tip: I like to slip the first rings of a pattern through a twist tie so I always know which end is which.
Q. Of all the places you're inspired by, what's your favorite for jewelry ideas?
A. I always think of India when I'm in a design rut. If I see that my color palette is lame, or my design ideas are tired, I look to Indian design and hit Refresh. Indian design doesn't mess around: the colors are saturated, patterns effusive and all with a busy, unapologetic aesthetic. Just seeing a gold border on a saffron silk sari excites my design mind. But even more than exuberant design, I really love India for its broad, and varied design traditions. Carved woodwork, mirror embroidery, shell inlay, print-blocking, metal casting, flower petal designs, stone setting: it's never-ending.
Q. What's the next destination on your travel inspiration bucket list?
A. That's a hard question, but I'll go with Brazil. For many years now Rio de Janeiro has become a hothouse of street art and I'm enthralled with this movement: it's like a mash-up of post-post-colonialism and hip hop, all while representing Rio's people and their voice. The graffiti art turns whole neighborhoods into a kaleidoscopic, colorful canvas. It's beautiful! And it's new. I just love seeing what young artists have to show the world. Wouldn't it be cool to take carnival-colored spray paints and paint leather cuff bracelets, Rio style? Yup, that's next for me!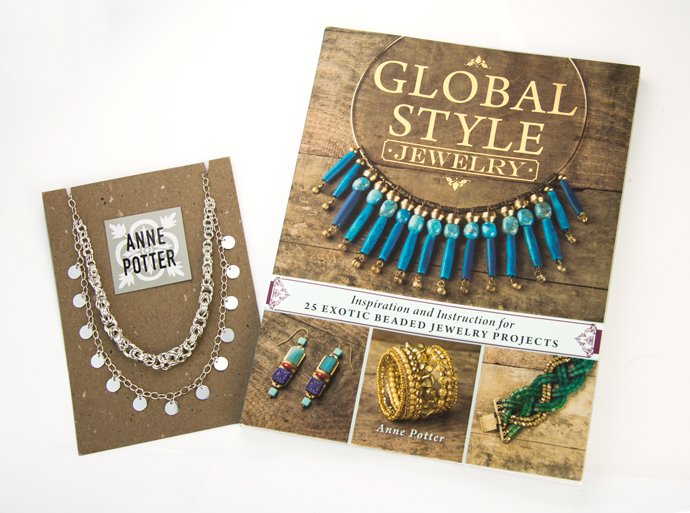 Project Materials
Want to make your own version of Anne Potter's jewelry? Here's the Materials List she used for the Solje Chain Maille Necklace from her book, Global Style Jewelry.
13 sterling silver 9mm round blank tags (S10010)
27" sterling silver 4.6 large heavy cable (2295)
100 sterling silver 8mm OD jump rings (SJ108)
88 sterling silver 6mm OD jump rings (SJ96)
13 sterling silver 4mm OD jump rings (SJ74)
---
You may also be interested in these Halstead articles:
Explorer Earrings with Nealay Patel