We are excited to announce Liz Kantner as our 2019 Halstead Grant Guest Judge! Liz is a marketing guru for upcoming jewelry designers and will be able to provide valuable input for our applicants.
Jewelry marketing can be overwhelming. It is one of many hats that jewelry artist entrepreneurs have to get comfortable with. But, how do you get started? Jewelry marketing expert, Liz Kanter, offers sound advice to build your marketing strategy.
Meet Liz Kantner
Liz started her career at a Digital Marketing agency after receiving her B.S. in Marketing and Communications from Drexel University. She fell in love with the ability to connect with end consumers. She honed her skills while working with big consumer brands, through social media marketing. When she had the chance to move to Denver, CO, Liz took on a Social Media Marketing position with jewelry designer Todd Reed. Here, she found her passion: marketing for jewelers. While working there, she learned about public relations, advertising and sales in the fine jewelry industry. Liz also had a great introduction to the jewelry designing and making process.
In 2016, Liz focused on her desire to help emerging designers with their marketing needs. She now works as a consultant for upcoming jewelry designers in addition to curating trade shows. Also this year, she and her partner Chris, a talented tattoo artist, opened a shop and gallery in West Asheville, NC where she will be carrying a small selection of independent jewelry designers. From content creation and social media planning to press outreach and industry networking, Liz Kantner is the go-to-girl to get new jewelry designers on the map! Her dedication to helping emerging designers with their marketing needs will make Liz a great addition to the 2019 Halstead Grant judging committee.
Learn about the requirements and download the Halstead Grant application now!
Marketing Tips for Jewelers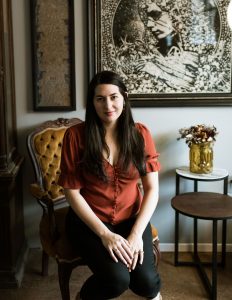 Our Marketing Project Manager, Kelli Greene asked Liz to share marketing advice with our jewelry community.
K: Can you share a social media tip for emerging jewelry designers?
L: Know your brand and be consistent in the content you share - you want people to see your Instagram feed and know who you are as a designer.
K: What is a common marketing mistake jewelry designers make?
L: They don't do the research and think there is a quick way to make their brand successful. Signing up for a showroom, consultant or publicist before your brand is established and has cashflow is a common mistake I see that can really hurt a new business. Slow and steady growth is always ideal.
K: Any advice for jewelry designers attending their first trade show?
L: Be strategic! Put together a thoughtful prospect list of stores and contact them leading up to the show, leverage your Instagram page because many buyers do pre-show research there, and make sure you take the opportunity to talk to everyone who stops by your booth - unexpected connections can lead to sales! Also, keep a positive attitude even if a show isn't going the way you had planned.
---
For more jewelry marketing tips, read How to Market Your Jewelry on Facebook and be sure to subscribe for the latest news and tips.
Read about past Halstead Grant guest judges:
Meet Halstead Grant Guest Judge, Michael David Sturlin
Marthe Le Van, Jewelry Advocate and Expert
An Inside Look At Halstead Grant Judging, by Cathleen McCarthy