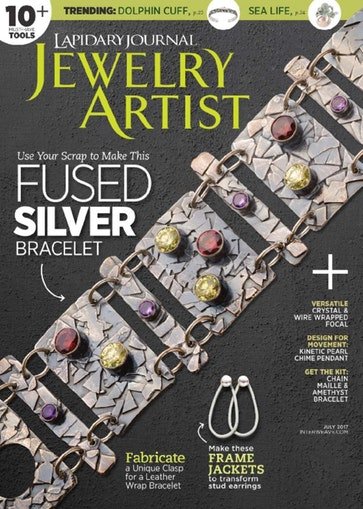 Check out Halstead Preferred Teacher Eva Sherman's fused silver bracelet in the July 2017 issue of Lapidary Journal Jewelry Artist. Eva uses Halstead tube bezel settings and loose CZ stones to create a beautiful, one-of-kind bracelet.
The stones are especially easy to set when you use our tube bezel setting tools, which are available in four sizes. To use a tube bezel setting tool, place the stone right-side-up inside the tube bezel. Place the cup-shaped end of the tube bezel setting tool over the stone, then tap the opposite end with a rawhide hammer. Watch our tube bezel setting video for additional tips and tricks.
Watch the Video!
Shop for tube bezel settings and other jewelry supplies at Halsteadbead.com.
Got questions? Email our studio coordinator Erica Stice at studio@halsteadbead.com. We'd love to hear from you. Sorry, studio support is not available by phone. Emails only please.
Keep reading:
Jewelry Wire Work Tips from Melissa Muir
Top 5 Reasons Silver Solder Doesn't Flow
Pattern & Gallery Wire Guide: The 411