SSQ21SOFT
Sterling Silver 21 gauge Dead Soft Square Jewelry Making Wire - 19.2ft/ozt (100% Recycled Silver)
Estimated Stock Availability: August 27, 2021 - September 03, 2021
You have 0 OZts in your Cart.
Approximately 0.95 OZt(s) available.
Sold as 1 OZt Units.
Don't despair! Contact our service team to find out how we can help you.
Calculating...
$42.09
Sold as 1 OZt Units
| Qty | Price |
| --- | --- |
| 1 | $42.09 |
| 5 | $204.14 |
| 10 | $401.97 |
Specifications:
Sterling Silver 21 gauge Dead Soft Square Jewelry Making Wire - 19.2ft/ozt (100% Recycled Silver)
Made from 100% post-consumer recycled silver material. Sustainable silver raw material for your jewelry collection.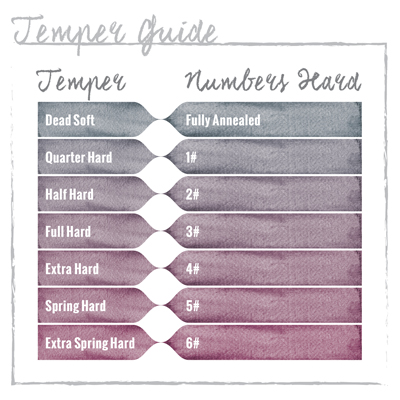 Square Roots! Did you know that all Square wire started out being round? The square shape is created by pulling round wire through a square drawing die. Many jewelry artists prefer using square wire, due to the beautiful "diamond-cut" effect that is created by twisting this wire. "Dead soft" wire means that the metal offers little or no resistance – it's very pliable. It does not form hard angles or sharp bends. It is great for forming spirals and soft bends, as long as they can be work hardened, so this works great for ear wires. Our SSQ21SOFT – Dead Soft Sterling Silver Square Wire. 20 Feet in a Troy Ounce.
Material: Sterling Silver
Nation Of Origin: United States
Finish: Bright
Manufacturing Method: Machine Made
Anti Tarnish: No
Flags: Web Only

Tariff Code: 7113.11.5000
Weight: 1 Ounce

Notes: 0#. You can combine fine silver and sterling silver jewelry wire and sheet items sold by the ounce to reach quantity break levels for mill products. Most styles come in coils of approximately 9 inches in diameter. Please expect plus or minus 10% weight on orders over 1ozt or plus or minus 0.10 ounces on smaller quantities since cutting wire coils is tough to pinpoint.
Reviews:
Be the first to write a review for this product.
Must be logged in and have purchased the product to write a review
Write A Review