Don't get stuck with a too-short necklace! Whether it's by a customer's need or desire, longer necklaces are a must to carry. Necklace extenders can help take any pre-made design and add length. Learn about some of the most popular types of extenders Halstead offers.
Don't get stuck with the wrong chain length! A fantastic way to upsell your jewelry is by offering necklace chain extenders which will extend any necklace by 1-3.25 inches. Chain extenders are perfect for customers who want versatility when they purchase a necklace. That way they can wear the same piece with several different necklines in their wardrobe.
Plain Chain Extenders
Extenders come in different lengths and link styles. Some are just basic chain segments with open links that you can easily hook onto with a lobster clasp or spring ring at any point along the length. Leave them plain, or personalize extenders by adding a bead or drop to the end. You can keep loose charms on hand to let the customers choose their customization. Or, personalize them by adding your branded logo tags or custom monogram blanks for the client.
Fancy Necklace Chain Extenders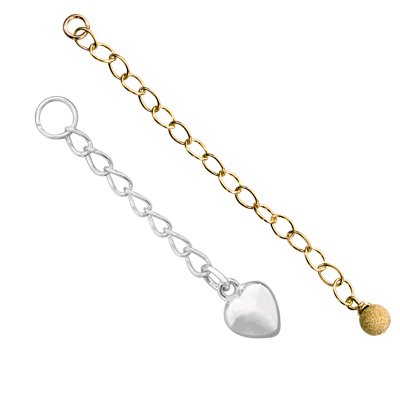 These fancy extenders are a great solution for shows since they are already embellished for a finished look. Keep several on hand so you never lose a sale because a ready-to-wear necklace is too short for a customer's taste. It often takes too much time at an event to swap out a chain altogether or remake a design, so quickly attach an extension to solve the problem instead. Customers appreciate the added service and are willing to pay for the length they want.
Add a Little Something...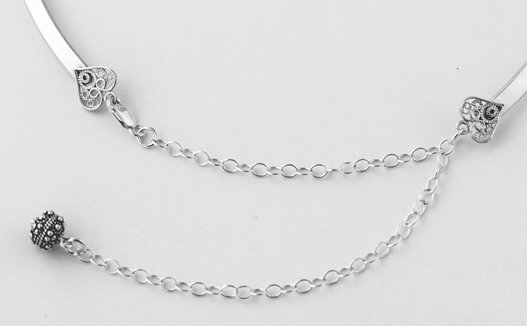 For this necklace, I used two filigree heart charms, two necklace chain extenders, and a Bali style sterling bead to finish this structured neck collar. These small touches can really make a piece stand out. As you can see, the charm dangles from the neck down the back when the necklace is worn; which adds a special touch to the necklace design.
Chain extenders are an inexpensive way to upsell your necklaces and bring happiness to your customers. At Halstead, we have necklace chain extenders in sterling silver, gold-filled, rose gold-filled and 14Kt gold. You can also see our selection of adjustable neck chains that have extenders already attached or adjustable slides to vary the length. Check out our extender video here:



You may be interested in our blog Necklace Lengths Guide – How To Measure & Choose A Necklace Length, which covers necklines and necklaces. We've taken the 9 most popular necklines and matched them with the most suitable necklace lengths. You can read tips, tricks and download a printable reference chart.
---
Keep Reading!
Handmade Jewelry: Types and Techniques
Get Creative With Pre-Made Jewelry Components!
Untangling Jewelry Chain: Tips, Tricks & More
Riveting Techniques From Gwen Youngblood
Halstead is one of North America's leading distributors of quality jewelry supplies. The firm is celebrating its 46th anniversary this year. Halstead specializes in wholesale findings, chain, and metals for jewelry artists.