Maybe it was because my mom had a retail store when I was growing up or maybe it was because I worked in stores for many years, but I really love wholesale and the vendor-buyer relationship. Here's the thing: if a store doesn't have products, they don't have a business. And if you are not selling to them, someone else is. But how do you stand out in a crowded marketplace? Well, I am going to share with you 5 jewelry wholesale strategies that will make wholesale so much more fun and profitable!
In order for the 5 wholesale strategies to work for you, it is best to have these things already in place:
Wholesale Pricing
Cohesive Collection(s)
Know your Dream Client (this makes finding your Dream Stores easier)
Wholesale Terms & Conditions
Line Sheets
Production Systems
Now, let's dive into the 5 jewelry wholesale strategies -
#1 Communication:
Selling jewelry wholesale is all about creating and building a relationship with the store. Communication is something you do - right? Now take it further by researching, asking questions and being proactive.
Research. The goal is to have a great partnership with the store so do your research. Check out their website, read their Yelp reviews, physically go into the store (if possible), check out their social media (follow them) and Google them. The more you know about them the easier it will be to approach them. When you approach them, do so with sincere interest and a desire to get to know them. It is about them and how you can help them. Keep in mind they need products for their store, and you can help them!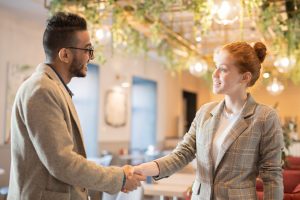 Ask questions. Get to know the buyer by asking questions and listening. Questions like: What do you love about your business? When do you do your store buys? What trade shows do you attend? What is your magic price point? The more you get to know the buyer the better partnership you will have.
Be proactive. Make it very clear that you will be following up with them. Ask how they would like for you to stay in touch - by email, phone, snail mail, text or in person?
Keep in mind that buyers are busy, and they will not always respond. Even when you are in the final stages of closing a sale, the buyer may not return your calls for weeks. Do not make yourself crazy with assuming the worst or trying to figure out what happened. Keep on it and continue to reach out and follow up.
Send postcards. Want a guarantee that a buyer will see your work? Send a postcard. Emails can be missed or looked over and calls can go to voicemail, but people will always go through their mail. I recommend sending postcards a minimum of twice a year. The best times are early January and early August.
#2 Sales/Make it easy for them:
Store buyers are busy, so the easier you make it for them the better. Here are a few things you can do.
Create pre-packaged offerings: By offering a package you are helping a buyer take out the guesswork. A few different packages you can create are - best seller package, new collection package, all sterling silver package, all gold package, mixture of silver and gold package, and/or special holiday assortment package. Don't go overboard with packages, 1 - 3 is great!
Take pictures (nicely merchandised) of the different packages so you can show the buyer. Great pictures can make an impression and a sale!
Create an order for the store: For your existing wholesale accounts ask the store buyer for their current sales reports plus review what they have ordered in the past. Take that information and create an order for them. Send it to the buyer to review, letting them know that they can make any changes.
Make 1 order into 2: When working with the store buyer on an order, suggest putting together a 2nd order to ship a few months later. Let the buyer know that they can make adjustments to the second order by a certain date then call them a week before that date to confirm the order. This is especially great for the holiday season.
#3 Building the Experience: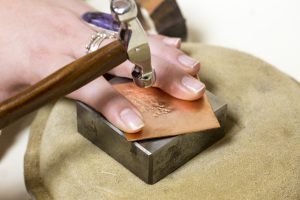 We are living in the experience economy, and what better way to bring your brand to a store than offering to do a trunk show... with a twist.
The twist could be a talk on the properties of gemstones, maybe partner with a local stylist and have them style the customers with your jewelry or you could bring in your tools and do a demonstration. Get creative with what you do.
Trunk shows are a wonderful way to test your product at a new account or strengthen your relationship with an existing account! They are also a great way to get to know and educate the store associates on your brand. The more they know about you and your jewelry, the better they can sell it! By creating an experience for the customers, you provide something truly memorable.
A great example of this is when a designer did a trunk show where she offered a mother-daughter bracelet making class for the first 20 people who RSVP. She used materials that were no longer part of her line and the class was only 30 minutes. The event was a big success!
It is important to note that videos are the "it" marketing tool right now and they are a fantastic way to share your story. Other ways to use video is to show the making of a piece of jewelry, share customer testimonials, provide the meaning of different stones, etc. These are also awesome to post on social media.
#4 Networking:
Don't hide behind your bench or your computer, get out there and make connections.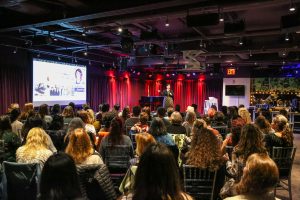 Networking is one of the most powerful things you can do for your business. The goal is to expand your existing reach. Actively network by attending one to two networking events a month. I suggest one business event and one fun event. For example, a chamber of commerce meeting and a gallery opening. Wear your jewelry to the event, bring business cards with you and always ask for business cards. Add them to your CRM (customer relationship management) system and follow up with everyone you meet.
Networking is not just about growing your business. It is also about you giving back to your community and helping others to grow their businesses. Even if the people you meet don't need your services, chances are they know others who do--and will happily recommend you!
#5 Personal Touch:
Don't just meet expectations, exceed them by surprising and delighting your buyers!
A simple gesture can go a long way toward gaining customer loyalty in this competitive marketplace. Handwritten notes, a quick phone call, sending a birthday or anniversary card, sending flowers or homemade cookies can do more to earn your buyers' long-term trust than any discount or special price. Being kind and considerate are also important. We are living in a fast-paced world and these personal touches will make the buyer feel appreciated. People want to work with people they like and trust. Be personable and present yourself in a way that best represents your brand and your vision.
If you are serious about wholesaling your jewelry, these strategies will help to build relationships with prospective and existing accounts, keep your business top of mind, and ensure that they won't forget about you!
About Robin Kramer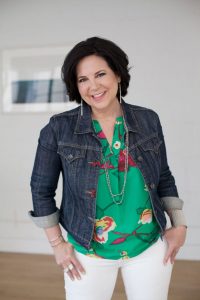 Robin Kramer is a brand marketing maven, natural business nurturer, master of relationships and a sales expert who has an impressive history with leaders in the retail industry that have built their brands on innovative merchandising and strong service cultures. For the past 18 plus years, she has worked with primarily small, upscale wholesale brands and designers to bring their products to market, position these niche brands for maximum exposure to their target customers and build relationships with national and international retailers.
She is the Owner and Director of Fun at Red Boot Consulting and the Co-Founder of Flourish & Thrive Academy. She has a passion for helping creatives go after their dreams. And for red boots! She divides her time between Sausalito, CA and Dallas, TX.
---
For more great jewelry business tips, subscribe to Halstead blog articles now and continue reading from our archives:
Getting Noticed by Jewelry Galleries