Trying to find a way to bring in new clientele? Incorporate these 5 unisex designs into your existing jewelry line to expand your collection.
Adding new collections to your line is vital to running a jewelry business, but adding new clientele is too. Explore alternative jewelry styles to bring in a wider audience. Five easy ways to expand your collection are by incorporating unisex designs into your existing jewelry line. Traditional men's jewelry pieces have always appealed to women too. Perhaps it started as social statement pieces, such as the signet rings which women were historically forbidden to wear. Or possibly when women began to embrace pantsuits in the workplace; naturally, tie clips and cuff links followed. Regardless of the origins, men's jewelry continues to gain in popularity and transcend gender so that now it has an even broader appeal. Let's explore these five styles that have the potential to reach an extensive audience, starting with the easiest to create first.
How to make a metal money clip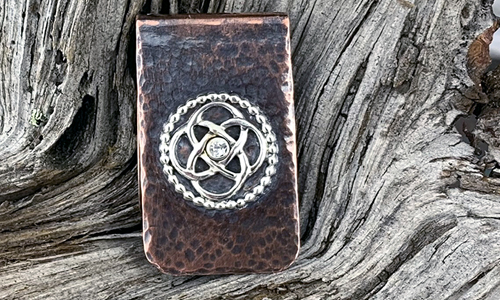 Money clips have been a staple in the jewelry world for decades. L. Weeks patented the popular, modern money clip in 1931. These non-traditional jewelry pieces are ideal for holding both cash and cards plus they eliminate the need for bulky wallets making these jewelry pieces appealing to different genders and age groups. Easily reproduce money clips from a range of materials, including stainless steel, titanium, sterling silver, brass, and copper. Designs on money clips can be stamped, textured or you can solder on embellishments such as charms, granules, and soldering ornaments.
There are pros and cons to metal money clips. Pro's: Copper and brass hold up very well as a daily used money clip, plus they'll age beautifully. Metal money clips are on the heavier side as opposed to leather and various other ones on the market, making it easier to tell if they've slipped out of your pocket. They will last decades if properly cared for, which should be a huge selling point. Cons: As a metal money clip, they're prone to bend, scratch, and become dented without proper care, especially sterling silver. It's best to use sterling silver metal clips for special occasions or gifts. Be sure to use a 16 or 18 gauge sheet, anything thinner will not hold its shape for long. The number one complaint is that they can lose their tension causing the open ends to separate. This is an easy fix and one you should share with your customers, all they need are a few household tools to get the job done.
Pliers: Place the money clip in leather or cloth to protect the finish, then place the pliers over the center of the fold and squeeze to bring the open ends back together.
Vise: Place the money clip fold in leather or cloth and place the fold in a vise and close the vise in small increments until the ends are closed.
Hammer: Again, place the metal in leather or cloth and lightly hammer the fold in the center using a nylon or rawhide hammer or the wooden handle itself so you don't damage the shape.
Any of these three techniques will work. I suggest trying the methods out and then either printing a card with these step-by-step instructions or posting a video of the technique you prefer on Instagram or your website. This is a win-win for everyone involved.
Creating an easy tie clip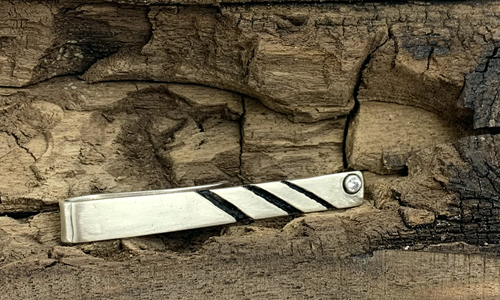 Another easy addition to your collection can be a tie clip. Windy days were the driving force behind tie ornaments as a way to keep the ties close to the body. At that time, tie pins were the popular choice until silk ties hit the scene and men no longer wanted to damage their ties and button-down shirts with holes, thus the tie clip was created. Over the decades, neckties have become an alternative dress style for women as well, appealing to their feminine side and its symbol of power in the workforce. Clips can be stamped, left plain, or textured and bejeweled with CZ settings, charms, and ornaments. The steps to creating a tie clip are very similar to making a money clip. Watch the video below on how I created this tie clip.
How to make cuff links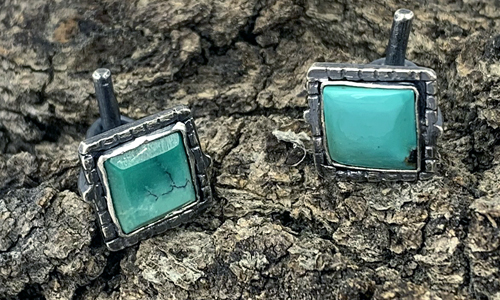 Consider adding alternative cuff links to your collection. In the 18th century, prominent men used to wear ribbons and strings to tie their shirt cuffs together, but before long, these fashionable men wanted something more. Hence, buttons became the popular style. By the mid-19th century women enjoyed adorning cuff links too and over the centuries cuff link styles changed and evolved into the modern jewelry styles we see today. Cuff links can look both professional and playful. Once you understand the anatomy of a cufflink backing, you can solder all types of designs to the face of it. Whether it's gemstones, pearls, enamels, or inlays, the list can go on and on. These wonderful non-traditional jewelry pieces can be appealing to many people.
Create a bolo tie
Making a bolo tie can range from simple to intricate. The history of the bolo tie is controversial, but the design originated in the early 1930s or 40s. Popular in the Southwestern states, they are worn by both men and women, making them a great addition to a unisex jewelry line. The ornamental clasp located on the front of bolo ties is typically decorated with stones, found objects, or symbols. This clasp slides up or down on a u-shaped leather cord and the ends of the cords, which drop down in front, usually have a decorative metal tip.
The trick to the bolo tie is to allow the clasp to stay securely in place, but also to slide up and down along the cords without wearing down or damaging the leather. There are numerous ways to connect the ornamental clasp to the leather cords. After researching a variety of ways, it seems that the loop style shown below is the most popular one.
Below are images and descriptions of how John F. Heusler creates the backing on his bolo ties: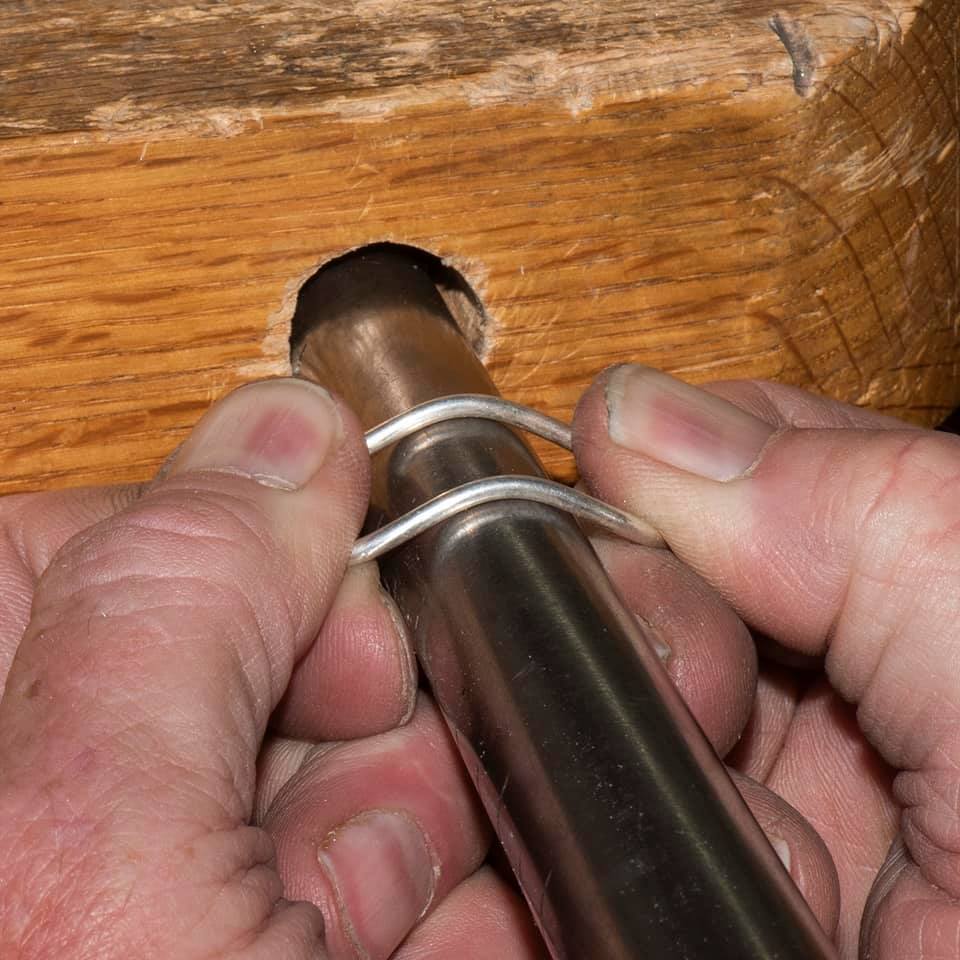 "I use two loops that can also be done in a figure 8 design."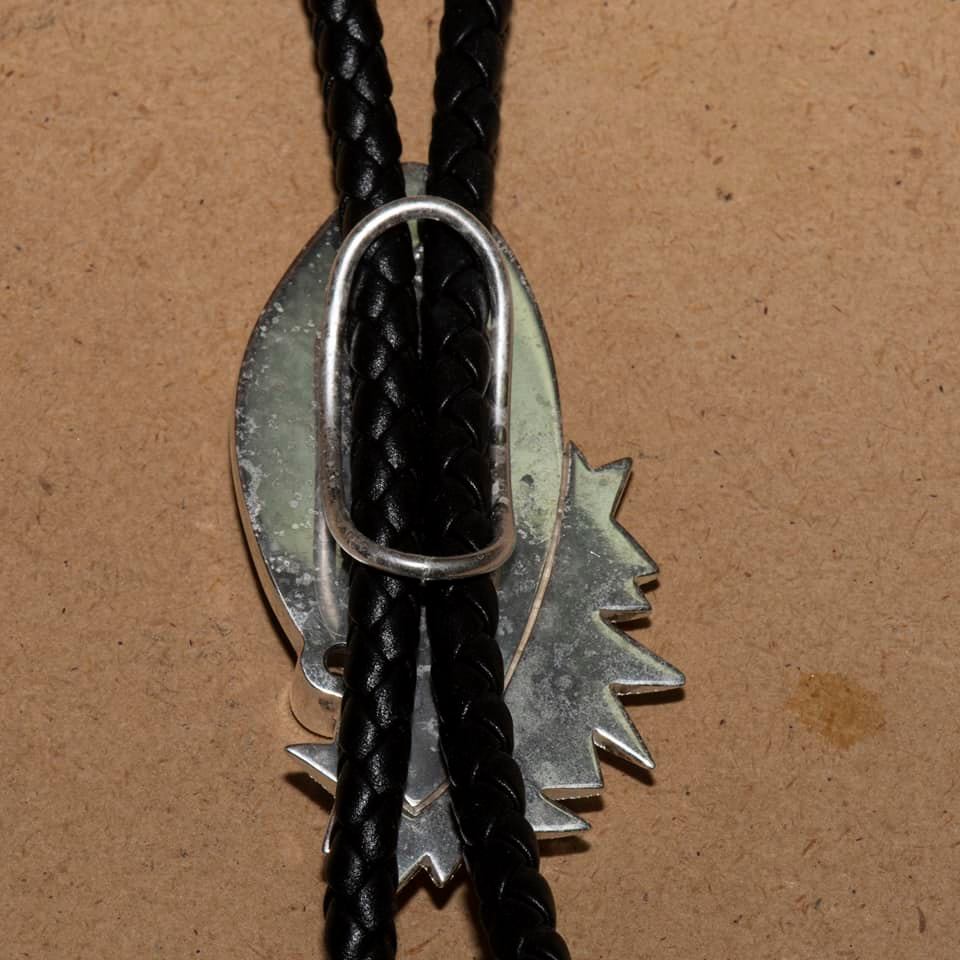 "To gain tension on the leather cord simply push the figure 8 loops down (away from each other) until the desired holding tension has been achieved."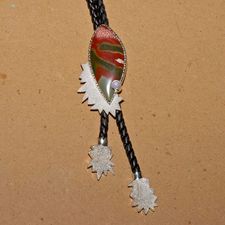 "The bolo should not fall with gravity but make sure the tension is not too tight or it will leave marks on your cord. The thinner gauge wire the easier it is to bend but use thicker to give better holding power."
Note: Check out Lapidary Journal Jewelry Artist Magazine, August 2019 Edition to see the step-by-step instructions on creating John F. Heusler's bolo tie shown above. Follow John on Instagram @gemologistjohn and Facebook at Heusler's Lapidary and Jewelry.
Check out these two fabulous bolo ties shown below! Both of these amazing artists shared helpful tips with me that you may want to incorporate into your own designs.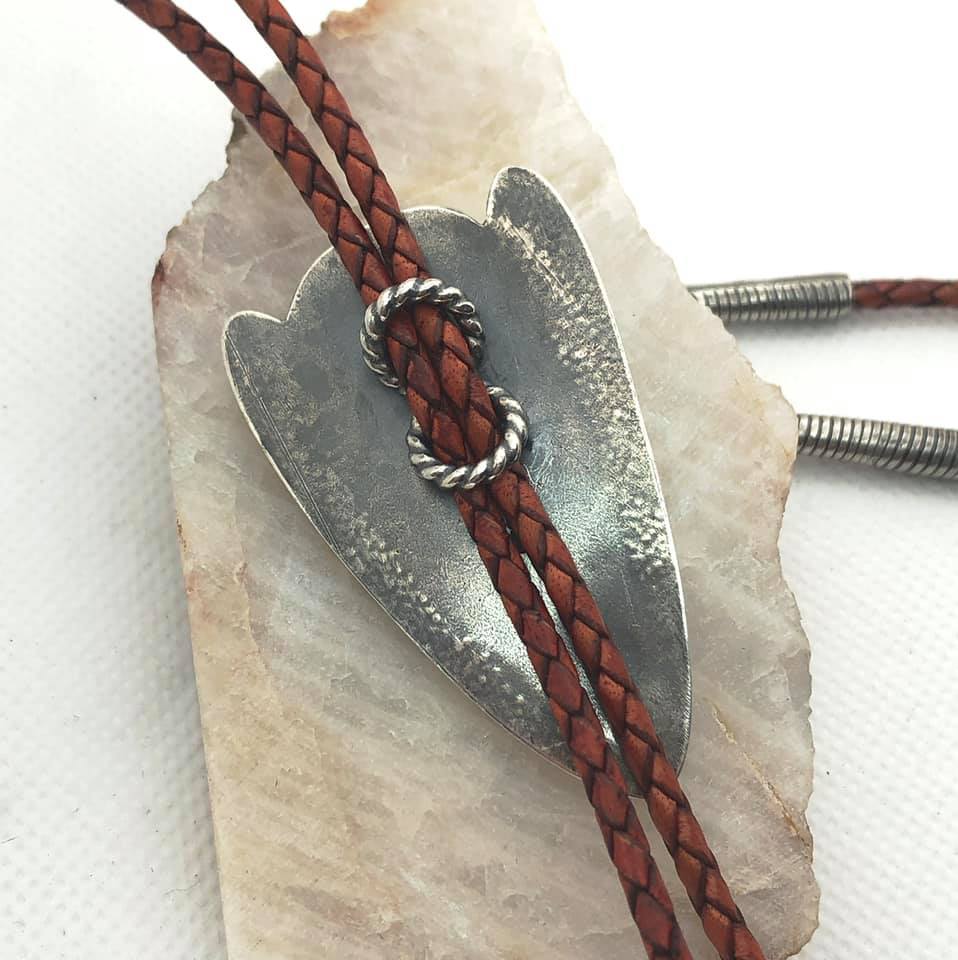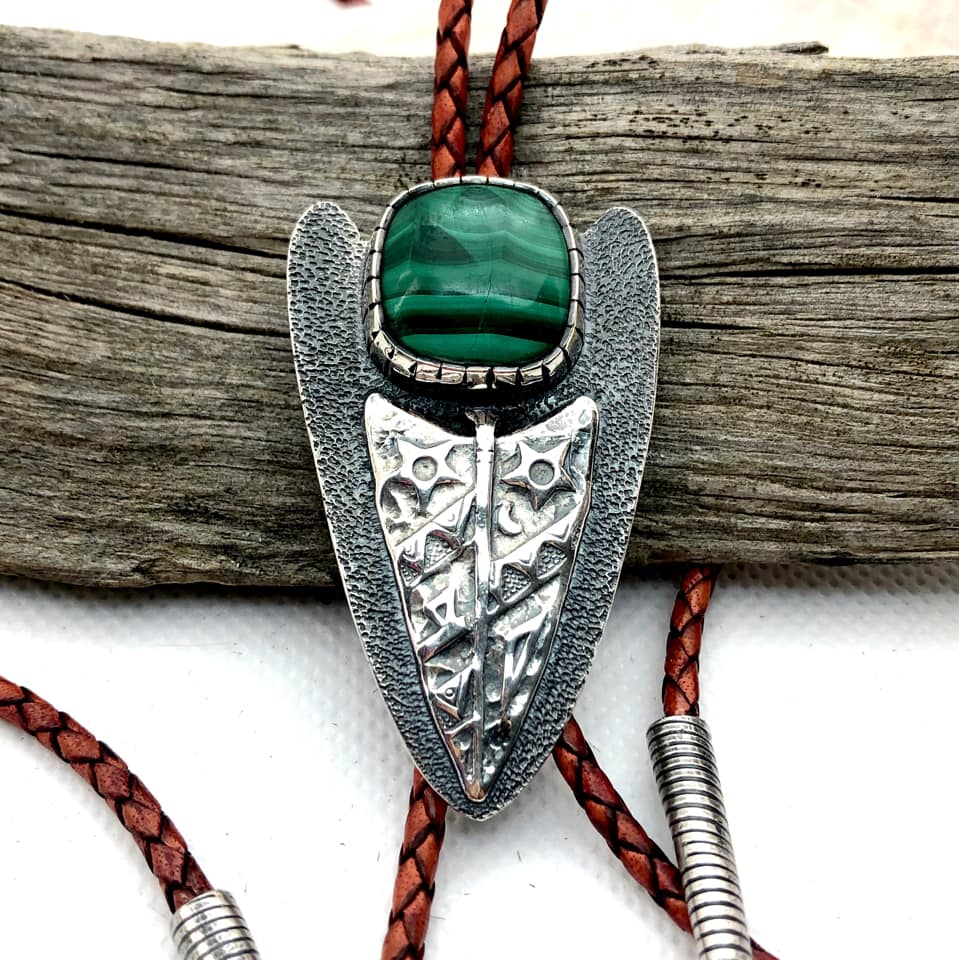 "I use the double rings but I use beaded wire for added friction." ~ Renee Crum, Gaia's Jewels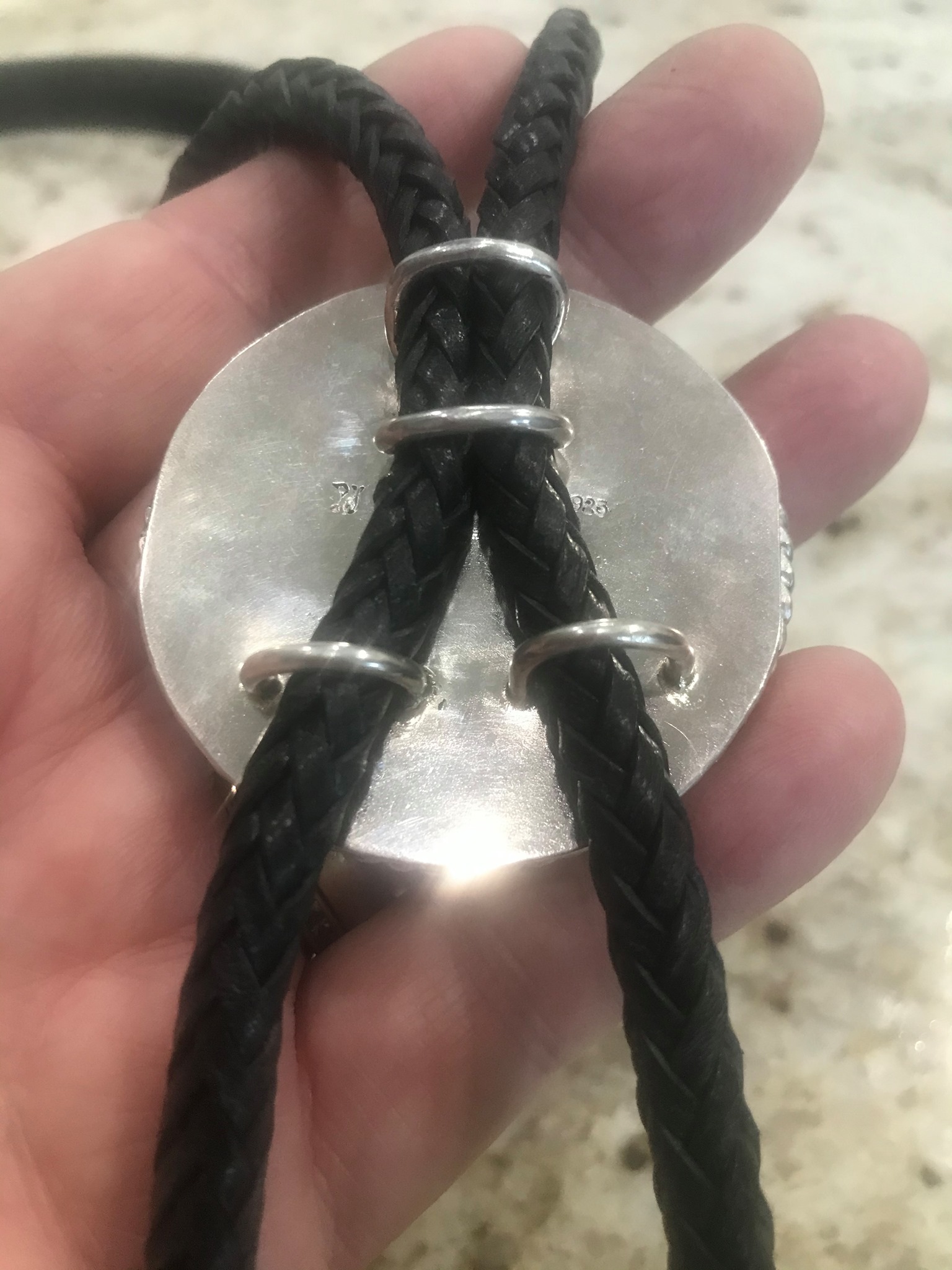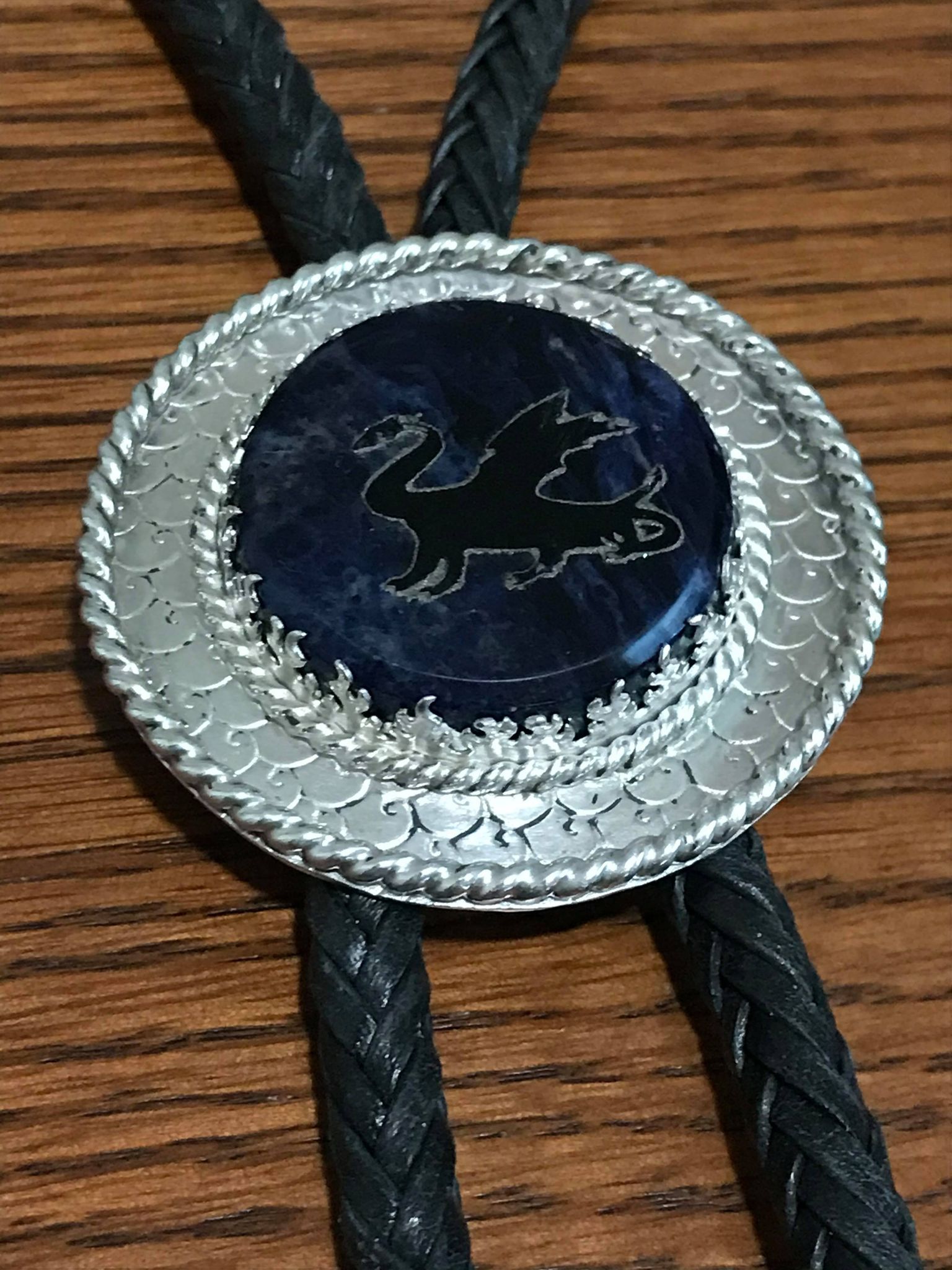 "I make a figure 8 to create the tension and the two lower loops to keep the tips from clanging together." ~ Pam Williams, PW Jewelry Designs
Beautiful alternative signet rings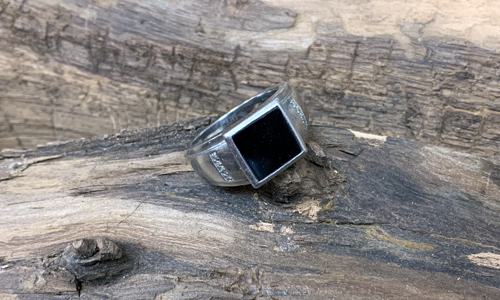 Last, but not least, there are signet rings. Adorned with a family crest or other identifying marks, signet rings were used as an official signature of the wearer. Signing documents would entail soft clay or wax in which the ring's mark would be embedded into the material. As time passed, the signet rings changed course and were no longer needed for signatures. Soon afterward, they became a way to symbolize a person's status and were adorned by kings and noblemen. Common men and all women, during this time period, were forbidden from wearing them. Thankfully things changed, and eventually everyone could enjoy wearing these beautiful rings.
What makes a signet ring unique? It's the specific design. The shank features a raised flat face at the top that usually has a significant stone, symbol, or carving embedded into it. Traditionally, these rings were worn on the pinky finger of the non-dominate hand.
"Adding a signet ring to a jewelry line is a great item to have available. It would take a bit of time investment in pattern making and modeling to make the templates necessary to be able to reliably make the ring in various sizes, both finger size and top dimension to fit a specific size stone or intaglio." ~ Michael David Sturlin, Michael Sturlin Studio
In conclusion:
Adding any of these unisex jewelry pieces would be a great addition to your current line. However, if you still feel unsure, poll your customer email list or ask them on social media. Explain to them that you are considering expanding your line and which item(s) they would be interested in seeing in your new collection. This can narrow down your list, gets your customers excited, and you can post updated images or videos to keep them interested. It's a win-win. Also making a few new pieces, prior to a show, will also allow you to gauge reactions or pull in new clientele. The best thing about the jewelry items shown above is that everyone can enjoy wearing them.
Continue reading: