When you're ready to hire help for your jewelry business tasks, consider building a team of independent contractors. Read through Kristen Baird's experience of hiring her team and her tips to help you successfully hire your own team.
As the small business owner of Kristen Baird Jewelry, I wear many hats: designer, creator, accountant, director of client relations, and even janitor! However, it became clear that if I wanted to grow and expand my jewelry business, I would need to outsource some of these tasks and seek help from people who are experts in things I am not.
For me, the best way to do that was to build a "1099 team" made up of independent contractors who work for themselves versus a payroll with full-time employees under my own business. Each team member receives an IRS 1099 tax form to fill out prior to working instead of a IRS W2 tax form that would be filled out by the employer and delivered to the employee.
Benefits of Working with Independent Contractors
Of course, there are obvious advantages to working with independent contractors: saving money on workspaces, employment taxes, and employee benefits are big ones to start. It's also convenient to bring in a contractor for a short period of time like a one-off project. However, where I find the greatest benefit is in the ability to find someone with a unique skill set and tap into that resource. When I began building my team, I purposely sought out experts who could add value to my small business with their professional knowledge. They each offer an entirely new and different perspective on things that sometimes I have no idea about. You don't know what you don't know, right?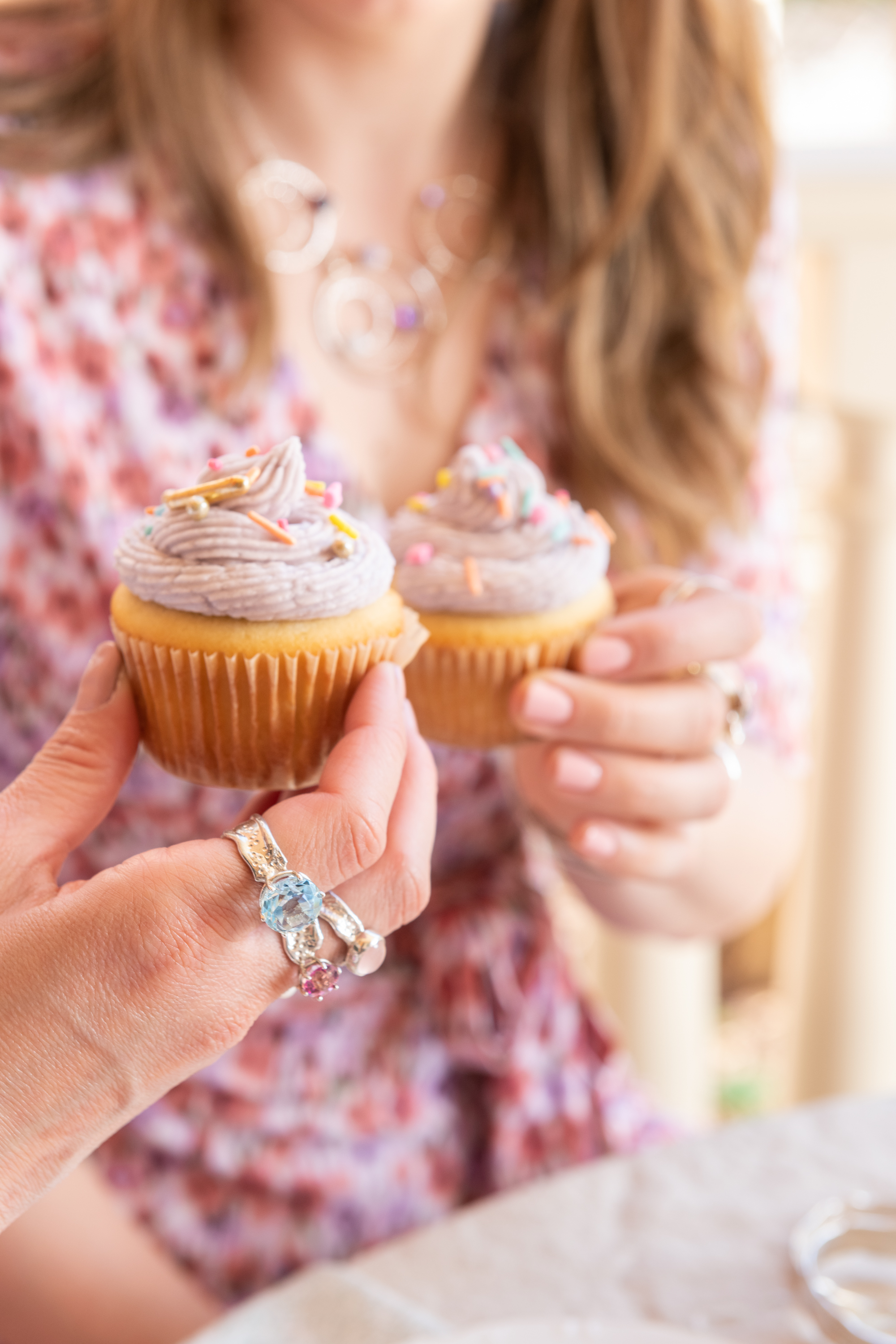 Building the 1099 Team
It was important to me to work with as many local contractors or other small businesses/entrepreneurs as I could. Savannah is a small town but chalk-full of creative minds. Once I put the feelers out there for help, each contractor seemed to lead me to the next.
Accounting
In my opinion, the most important person to find is a GOOD accountant! I went with Mariel at Accounting for Jewelers. She is based in Tennessee and works exclusively with jewelers. She understands the industry and specific aspects pertaining to jewelry designers, which makes her extremely knowledgeable and effective! Before Mariel, I worked with a local accountant in an effort to go "on the cheap." Unfortunately, going cheap with taxes, accounting, and bookkeeping isn't a smart idea. After a lot of money spent fixing and reversing three YEARS of mistakes, Mariel got me back up and running with technology to make everything as smooth and easy as possible.
Administrative
Second, it was time for me to outsource parts of the administrative side of the business: data, list, and spreadsheet creation and organization, file and photo management, email communication, website updates, and scheduling. For someone like me with a creative mind, it can be harder to switch back and forth from creative work to analytical tasks, but for a skilled virtual assistant, this is right in their area of genius. I found my VA, Marina, by posting about my admin needs on my neighborhood Facebook group. She was referred to me by a mutual friend, and she followed up with a Facebook message telling me exactly how she felt she could help. That was a great sign! Based on researching my brand, Marina already knew the areas she could assist, and she took the initiative to put her ideas into a nice bullet point list that I could see, take in, and act on. We hit it off, and she has been my go-to, virtual gal for all things admin for three years and counting!
Photography

Next was photography and styling. I was in desperate need for dynamic photography to truly capture the beauty of my jewelry, especially on models and in styled scenes. Paprika Southern is a power duo, consisting of a stylist and photographer in Savannah, working specifically with brands and other small businesses to tell their stories visually. Previously, we were mutual acquaintances and had worked together on some other projects. I realized I was killing myself trying to get photos when I could simply hire a specialist who is stellar at it! The amount of painstaking time I have saved by working with Paprika Southern has been incalculable, and they always blow me away with the results.
Intellectual Property Attorney
Trademarks, copyrights, legal zoom? What!? I tried to figure out the trademark process for my logo and brand, but after spending an inordinate amount of time trying to figure it out myself, I found Kate Strain, an IP attorney, who was referred to me by a friend. She helped me through the legal journey of obtaining my trademark, and she has been there for each and every check-in and all the parts of the approval and granting processes. More money well spent!
Public Relations
Things were finally melding together, and in May 2020, I was selected to receive a $5,000 COVID-19 relief and recovery grant from The Red Backpack Fund, an opportunity for small businesses and nonprofits made possible by The Spanx by Sara Blakely Foundation! I knew it was a fantastic publicity opportunity but was not something in my wheelhouse. Also, the world had been turned upside down a couple months prior due to the coronavirus pandemic, so I needed to find someone who could garner significant publicity in a virtual capacity.
Once again, I reached out to my trusty neighborhood Facebook group, and that's how I was referred to Katie, a local freelance PR manager and writer. She turned around and pumped out a press release just a few hours after speaking with her, and before I knew it, I was getting press in the local newspaper, websites, and had requests for interviews.
From there, Katie and I worked together to get my marketing and communication strategies aligned in a thoughtful plan. She developed an organized plan and schedule to keep us both on the right path. Katie continues to produce press releases when I have something exciting to announce, blogs for my website, and bylined articles for industry publications. Her goal is to always have fresh, consistent content out there about Kristen Baird Jewelry.
Graphic Design & Branding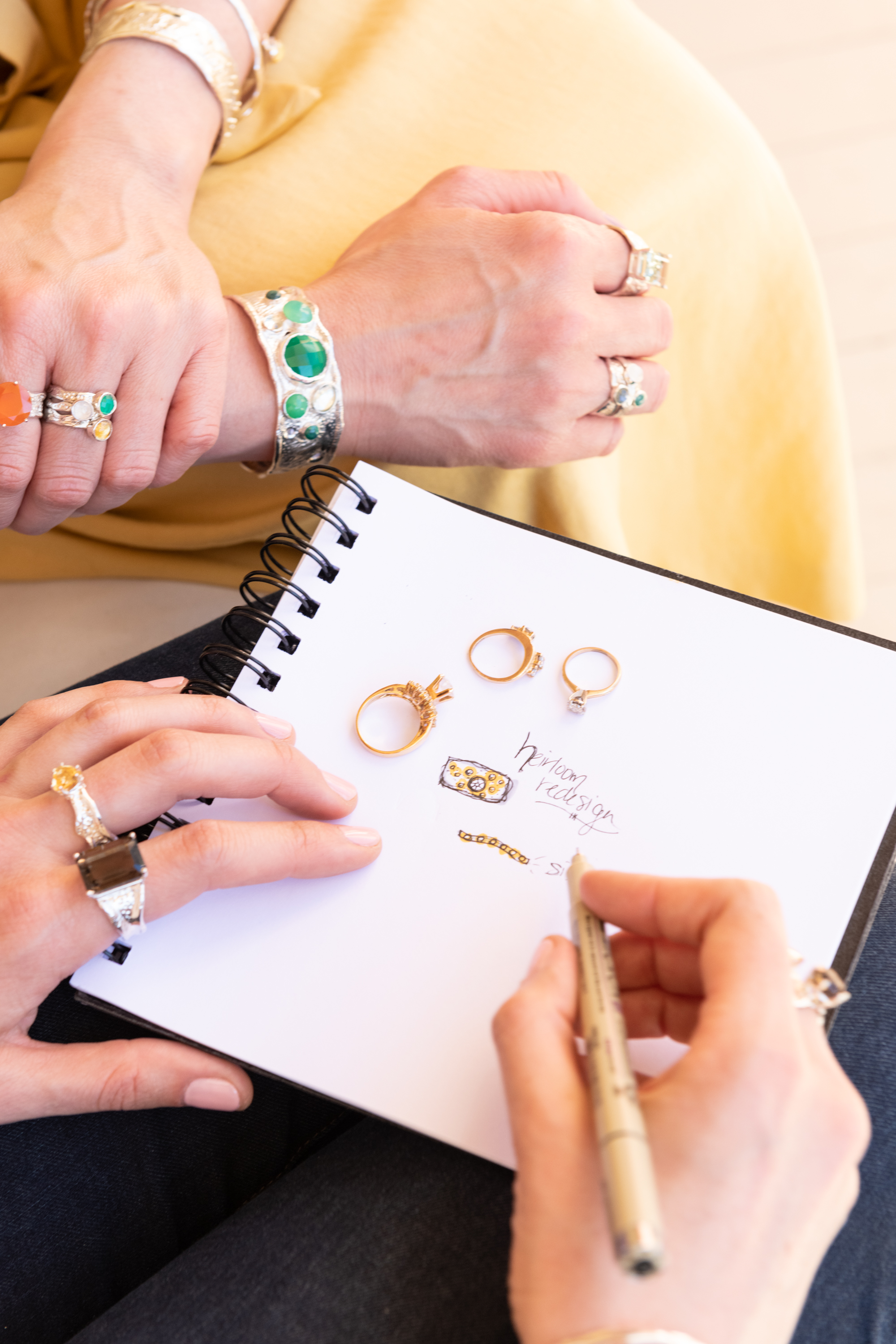 While working with Katie on my PR and getting more attention from that, it became apparent that the brand I was building needed freshening up. Luckily, Katie had worked with a very talented graphic designer in the past, Bailey, and she introduced us virtually. Bailey was available for freelance work and was excited to dive in. After our initial conversation, she created mood boards to hone in on exactly the look and feel I was going for. Once we were on the right path, she created a full brand guide complete with a new logo suite, fonts, colors, secondary marks, email templates, printed collateral, and my website header – all wrapped up in a neat and organized guide that I refer back to all the time. I now give this guide to any other freelancers I work with. It provides a summary of my brand and the visual "rules" we have to maintain consistency across all platforms and in all presentations both digital and print.
Video Creation
I never would have thought I would be able to obtain professional video content, but in our ever-changing virtual world, I now see how valuable it is. That's where Tremble Productions joined the team. They are another referral from a fellow creative friend. I put out a call for a video team, and an amazing husband and wife duo fell right into my lap! They are top notch, and the joys of working with fellow creatives who are insanely talented, passionate, yet affordable is so refreshing!
We immediately began work on a brand video, and the end product blew my socks off. I've found that when working with a video team, the script is VERY important. We spent the most time figuring out the script and the message we wanted to deliver. Then came the shot list to give imagery to the script. Finally, it was time for the actual shoot and post production, which all went smoothly because we did all the legwork and were so hyper focused on what we needed to capture.
Social Media Management & Graphics
What a time consuming but necessary process social media is! I was so overwhelmed and failing at posting consistently. At this point, I finally had all the content, images, links, videos, and blogs from my other freelancers, but I needed to buy some time and invest in the mental energy to post everyday. As this task kept falling to the side, I realized that I had to throw the towel in and get someone who was passionate about it to help me.
I did a simple Google search and so many agencies came up. I figured, "Why not get a quote?" And wow...the agencies were not for me. So I did what I do best: stalked my neighborhood Facebook group again! I searched "social media management" keywords, and a post came up from another business owner consulting the neighborhood for their recommendations. That's where I found Gracin at Hometown Creative. I quickly checked out her website and BAM, that was it, I was sold! I submitted an inquiry on her website at 6:00 p.m. on a Saturday night, and she texted me back right away. I immediately knew she "got it" and that she was the person I needed.
Kristen's Tips
Tip 1: Figure out what you are good at and what you enjoy. And for everything else, figure out how to delegate to someone else. Determine what your time is worth and then create a budget for filling in those other areas within what your time is worth. You can literally buy yourself more time by outsourcing the right tasks.
Tip 2: Don't be afraid to ask fellow business owners in your area and across industries. I was nervous to ask at first, but we all happily share contacts and references (both good and bad). Business owners are valuable resources!
Tip 3: Consult local Facebook groups. My neighborhood group has been invaluable! People always know people who know people. Ask, ask, ask!
Tip 4: Always, always, always ask for a portfolio or samples. Request two to three references and actually call to talk with those references. You can learn so much from talking with someone's client.
For a position like a writer, do a test run. I did a short writing exercise with Katie to see if she understood my voice and vibe after only looking at my website. She nailed it on the head, and I knew she was who I wanted to work with.
But it could also go the other way. I once worked with a writer about five to six years ago, and we didn't do a test run. So when we started working together, we just didn't have an efficient workflow together. Our styles were too far apart, and the writing didn't sound like me. I tried to make it work because I felt bad, but really, I would have seen that in one sample article and been able to part ways early with no hard feelings.
Tip 5: When working with a contractor, be sure to set up clear expectations from the beginning, provide all the info they need to do their job, be quick and efficient with feedback, and trust their expertise. You don't need to do their job for them or micromanage, but you do need to be available to provide direction, clarification, and instruction in a timely manner because, again, this is your business and who knows your business better than you? I have found that Loom is an amazing resource for screen recording that I use to send feedback to be reviewed at the convenience of my contractor team. I use it daily and am always so happy when it cuts out the "guesswork" and avoids many common communication errors.
Endgame

My virtual team is made up of rockstars. I found that I was subconsciously hiring people in similar stages of life: mothers working from home (Gracin), creatives who prefer the freedom of a flexible schedule (Katie), like-minded entrepreneurs (Paprika Southern & Tremble Productions), talented individuals who move often for military but are so gifted at what they do (Marina), and hustlers looking for side-gig work (Bailey). It's a beautiful thing to work with people who are living their dreams and are passionate about helping you to realize your own!
Disclaimer
The laws for 1099 independent contractors vary by state. Be sure to check with your state on their laws for 1099 employment.
About Kristen Baird® Jewelry
Kristen Baird® Jewelry is an award-winning, fine jewelry brand, nestled in historic Savannah, Georgia. In a time where mass manufacturing is predominant, Kristen and her team utilize and preserve traditional metalsmithing skills as they delicately and precisely craft each piece by hand in Kristen's studio. Using sterling silver, recycled 18K gold, and ethically sourced gemstones, Kristen's jewelry is full of color and texture with juxtaposing forms both geometric and fluid. Learn more at www.kristenbaird.com.