As a jeweler just starting out in the industry, having a mentor can help kickstart your career! Read on to learn how to take advantage of learning from someone who's been through it all already.
Trying to start your own business in any field isn't an easy task. For handmade jewelers, it can be even more challenging. Prepare yourself better by finding opportunities to work with a jewelry business mentor who is already established! There are many benefits to having a mentor as a jeweler. Then when you're established, pay it back by being a mentor to a new jeweler.
What mentorship opportunities are available?
Having a jewelry business mentor can take on many different names and forms. Some of the most common fall under the titles of an apprenticeship or an internship. If you're a student, your school and professors may have information about positions available. Never be afraid to ask them if have any connections! These positions may or may not be paid, but the experience and knowledge you'll gain will be invaluable for your future business plans.
Another form of an official mentorship is to sign up for a program, such as one through the American Gem Society or Women's Jewelry Association. These programs offer their members the chance to be matched with another jeweler who can help and encourage you along your path. Flourish & Thrive also offers invaluable services, though some are paid services.
A mentoring relationship doesn't always have to be an official arrangement. It can be friends, family, co-workers, or even a celebrity or character that you admire. If you're taking classes at a local jewelry studio, try to take a few classes with an instructor you admire and develop a relationship with them. They can provide a mentoring relationship that doesn't always end with the class. Jules Kim, in her interview with Kelli Greene during the 2021 Jewelry Business Forum, also brought up that mentors can be anything that influences us - even pop culture icons.
Benefits of having a jewelry business mentor
Having a mentor in the jewelry industry has a wide-ranging set of benefits. You'll get a behind the scenes look at how to run a jewelry business and see what else you may still have to learn before venturing out on your own. You'll also be exposed to other design styles that may help you determine what your style is. Most importantly, you'll expand your professional network with people who will help increase your confidence and help you feel more prepared to start your own jewelry business.
Benefits for your business
In an interview with Hilary Halstead Scott, 2019 Halstead Grant winner Emma Hoekstra discussed all the positive impacts her various jewelry business mentorships had when she started her own business. In Emma's case, she had multiple mentors in a variety of settings. She was able to gain experience in a gallery setting and went out to local events and shows with her mentors.
Mentoring is so important and has a huge impact. When reviewing grant applicants those who have mentors are usually much further along and have a more robust plan than their peers. - Halstead Grant Judge Kelli Greene
When you have a mentor who helps guide you along your jewelry business path, you're able to get exposure to a wide variety of behind the scenes benefits. This was one of the biggest benefits for Emma. She loved seeing the packaging and shipping process first hand to make sure everything goes out safe and beautiful. Something else you may get exposure to is how to handle customer service. Learning how to work with customers from someone with established policies will help you develop your own policies and give you experience in directly working with customers.
Benefits for your jewelry
While you're working in your mentoring relationship, Emma recommends soaking in as much information as you can. You may be exposed to techniques ranging from polishing to production work and everything in between. Likely, you'll find out what you like and dislike the most in the handmade jewelry industry. Emma found this to be helpful as she learned that, although a production line would be necessary, she found her passion in one-of-a-kind projects. Your mentor can also provide invaluable constructive critiques that will help your jewelry designs flourish.
Jules describes a mentorship as having others put expectations on you that you wouldn't have put on yourself. She also believes in giving a mentee a space where they can learn without the risk of failing. What risk might you take with your jewelry designs if you had that kind of opportunity? Imagine how far your jewelry, your business, and yourself could go if you had someone who knew you could do anything you put your mind to.
Benefits for you
Jules says "it takes a village in order to really nurture an artist and their point of view to become a master." That village becomes both your professional and personal network. Beyond expanding your professional network, your mentor(s) can become a lifelong friend, collaborator and cheerleader.
Emma's biggest piece of advice is to maintain open communication with your mentor. They will likely understand that you're hoping to eventually strike out on your own business ventures. Most jewelry business mentors will be happy to help you get to that stage. Never be afraid to ask questions about how things are done or why they're done that way.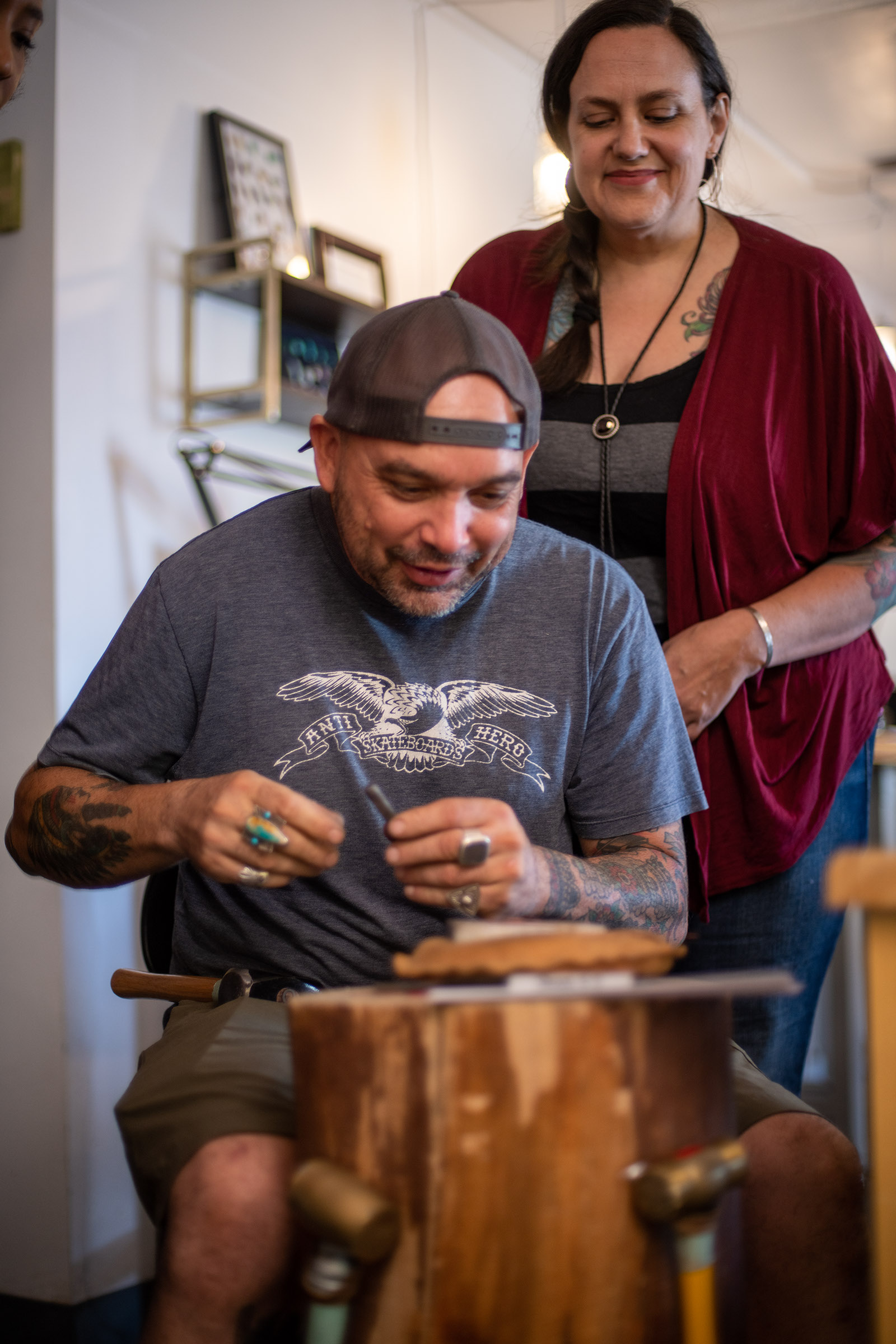 Pay it back and become a jewelry business mentor
Whether you had a great mentor when you started your business or not, there are amazing benefits to becoming a jewelry business mentor! Jules Kim recognized how difficult it can be for new jewelers to break into the industry based on her own previous experiences. This helped inspire her to start her own mentoring program, the Bijules Incubator. Through this program, she creates a community around real-life experiences and nurtures jewelers who often don't fit into the traditional handmade jeweler box.
If you think the idea of setting up a mentoring program in your studio sounds great, Nanz Aalund wrote a book about setting up your own program at your studio. A Jeweler's Guide to Apprenticeships gives ideas for projects that teach specific skills and tool usage, safety information and inspiration from other jewelers who have had successful apprenticeships.
You'll likely learn just as much, if not more, than your mentee. Just as you're exposing them to new techniques and styles, your mentee will also have their own style they can show you. Jules even goes so far as to say that at some point her interns became her mentors. You'll likely also enhance your leadership skills as you guide your mentee along their journey. And just like your mentee, you'll expand your professional and personal network - especially if you take on more than one over your career.
As Jules said in her interview, there are no real trade secrets in our industry. We've all been through the range of experiences and learned how to handle them. Why not pass that experience on?
Check out Hilary's interview with Emma Hoekstra about her experience with jewelry mentorships.
---
Check out these related articles from Halstead:
BFAs for Jewelry & Small Metals
How to Start a Jewelry Business the Right Way