Having space, time, and money for your own casting equipment is not realistic for most small jewelry businesses. But as your company grows you may need to start working with a casting contractor to create your one of a kind fine jewelry pieces or to get help bulking up your inventory. When a big wholesale order comes in you want to be ready! You should have a plan on how you can quickly produce and fill the order.
We compiled a list of jewelry casting contractors located in the United States. Please research and contact each company directly for more information regarding their casting services. Listings are alphabetized.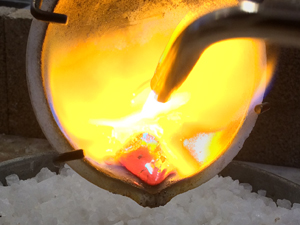 Jewelry Casting Contractors
Au uses the ancient practice of lost wax casting. It is used to create a variety of pieces, from simple to extraordinarily complex designs. They feel it's of paramount importance to match the piece to the most effective method of casting. Au offers four different methods of lost wax casting; low temp, high temp, bi-metal and shell.
Berkley, MI
Best Cast sources their precious metals from non-conflict areas. They only use the best available alloys to ensure the highest quality castings. All castings go through a strict ISO 9001 quality control procedure. All metals are tested with an Olympus X-ray machine for karat accuracy. Best Cast provides a 100% satisfaction guarantee on all of their products.
River Edge, NJ
Carrera offers the widest variety of colors and alloys that are all available and ready to be cast every day. In 18 Karat alone they have over 10 different alloys to choose from, so chances are that if you are trying to match a specific color they probably already have it. Offering gold, silver, palladium, platinum, brass and bronze castings.
New York, NY
Whether you want a single customized piece for a client or are interested in mass-producing a new design for your jewelry store, Casting House's jewelry casting experts will produce a stunning finished product. Offering silver, gold, platinum and palladium jewelry casting.
Chicago, IL
G n W Designs has been at the precious metal casting services for over 15 years. Developing many unique methodologies to produce only the best quality castings from the designs submitted for production. Offering gold and silver jewelry castings. Can inquire for other precious metal alloys.
Carlsbad, CA
With time-tested techniques like lost-wax casting, technological advances like machine finishing and the touch of personal artisans, G&S Jewelry MFG is able to take your design, refine it until you're wholly satisfied and then bring it to life in beautiful 14k gold, sterling silver or another metal of your choice.
Albuquerque / Santa Fe / New York / Los Angeles / Phoenix / Dallas
Jewel-Craft combines their age-old experience with the latest technology to deliver the finest jewelry castings possible. They follow a meticulous casting process to help you capture every little detail and the whole process is done in-house. The casting team works five days a week and can work with all precious metals.
Erlanger, KY
The artisans at MKM Jewelry have the knowledge and skill that it takes to create beautiful pieces of jewelry using lost wax casting jewelry process. Offering brass, bronze, sterling silver, and gold.
Los Angeles, CA
Premier Casting has state-of-the-art casting machines that are equipped with the computer-controlled programs in order to maintain exact control over the entire casting process, ensuring the highest quality porosity-free castings. Platinum castings are the finest. Large gold castings selection in different karats and gold colors is of an uncompromising quality while they also deliver the same results in silver, palladium, titanium, brass, bronze and stainless steel.
New York, NY
Quality Casting has completed construction on a state of the art jewelry casting facility located in Long Island City, NY. Quality Casting's investment in the latest technology and training of employees ensures you, our customer, trouble free jewelry castings at an affordable price. Convenient NYC pickup and drop-off available.
Long Island City, NY
Snell Casting aims to provide the jewelry industry with the highest quality of jewelry components utilizing the Lost Wax casting process. Each step of the casting process is closely monitored to ensure the highest level of quality. Offering mass production gold, bronze, and sterling silver jewelry casting services.
Grass Valley, CA
Since 1981 Specialty Casting has provided jewelry casting and finishing services nation-wide. They offer a full range of services designed to assist you with any part of the jewelry manufacturing process.
Conway, AR
Techform is the industry leader in the casting of platinum group metals. With their unique ceramic shell system, TechForm provides superior quality castings for the jewelry, fine art, medical, and aerospace markets.
Portland, OR
Disclaimer: Halstead does not endorse nor has been paid by the companies listed here. Please contact each company directly for inquiries about their casting services.
Check out our other blogs related to jewelry casting: