Are you considering entering your first jewelry design competition? Having entered my first contest here's my experience on the matter. From process steps and submitting your work to helpful tips I learned during my experience, read all about the process here.
Entering your first jewelry design competition can be both an exciting and scary process! Recently I entered my very first jewelry contest and I was surprised by the number of rules that were involved. There are things you need to consider such as eligibility, fees, and entry dates. Some competitions are based around themes with size limits on the finished pieces. Is it feasible to design a piece, order materials, receive the materials, and finish the piece in the time allotted? What does the entry form look like? What questions are asked about the design idea, process, and the materials used?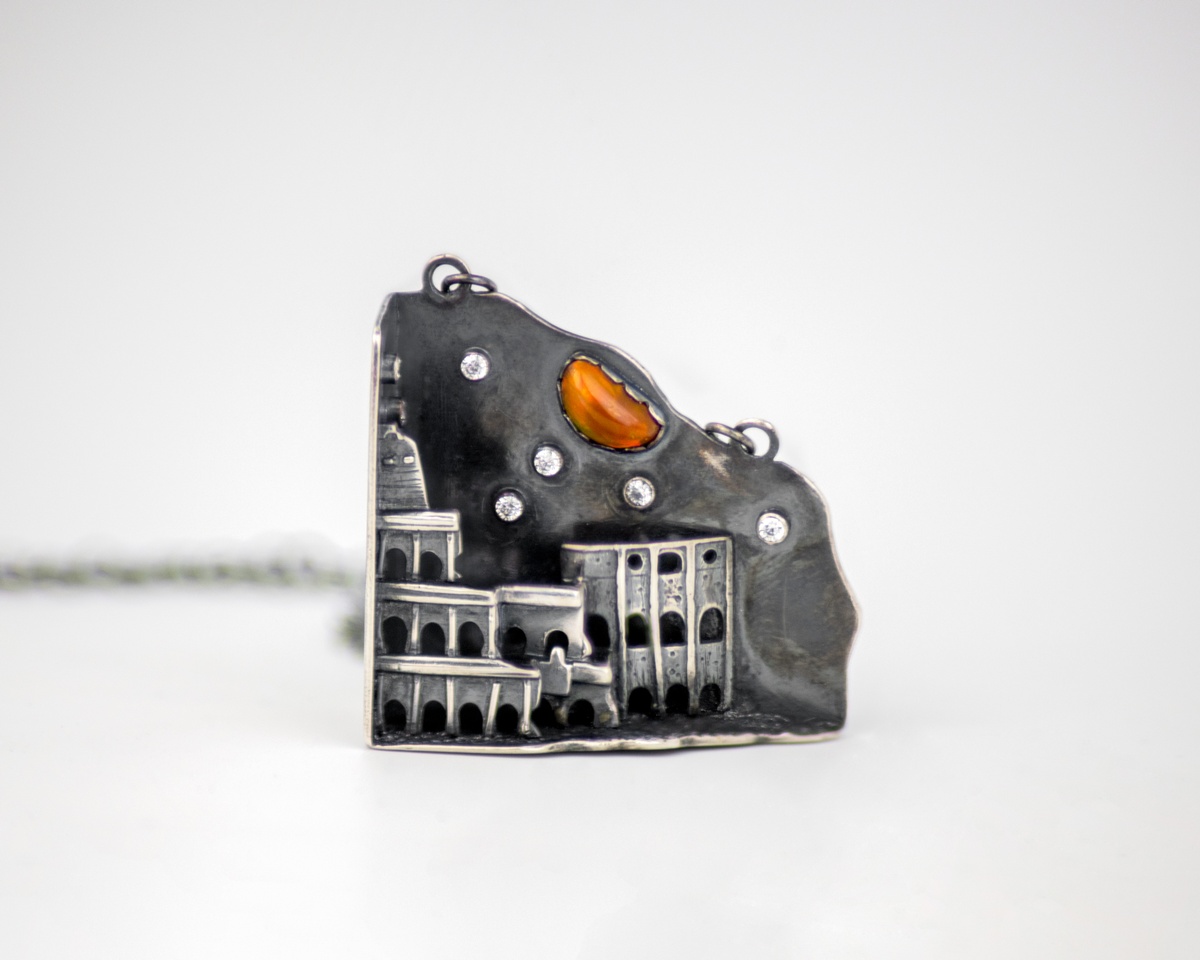 Jewelry Design Competition Process
Here are a few of the important questions and rules that I came across during my design challenge journey.
Bezel wire and fire opal

Jewelry Design Rules

I can't stress enough the importance of not only reading the rules but memorizing them. It's better to prepare yourself for the rules that each jewelry competition has rather than be surprised later on at something you were unaware of. Pay attention to material requirements and maximum item size. Some jewelry design competitions specify selling price brackets. Jurors are immediately turned off by submissions that disregard parameters for the competition.

Planning and Sketching

After thoroughly reading the rules and considering everything, it's time to plan your jewelry piece. Following all the guidelines laid out, including any themes, material rules, and size restrictions, sketch your piece down to the finest detail. If the jewelry making supplies that you need are not on hand, you will need to place an order with your jewelry supply company, and waiting on a second-order may not be feasible later on in the process. So plan and prepare accordingly. Running out of material, or skipping a crucial item on your order could inadvertently force you out of the challenge.

Soldering the 4 layers together

Constructing the columns with wire

Fabricating your Design Challenge Piece

Finish early rather than later. I like to begin a project with plenty of time remaining. Having this mindset will give you peace of mind in case something goes wrong and you need to start over. Because of careful planning, and an early start to the project, I was able to add a new technique to my contest piece, which was creating the look of a road at the bottom of the pendant using sweeps. I had plenty of time on my schedule to watch videos about the process and plenty of time to remove the look if it didn't work out as I wanted.

Process Shots and Notes

I also took the time to document the jewelry contest challenge and take process shots, which could be valuable in so many ways later on. The notes and images that I took, kept the steps in order. It also helped if I left the project for a few days because I could easily refer back to them on certain sizes and widths on the detailed layers on the building. What if you plan to sell your piece at a later date? A few process images and your original sketches and notes may be something the buyer would love to see. What if you replicate it later on? You'll have everything you need right in front of you. How about posting it on social media? Fun, exciting images of your work are always a great way to educate people on how much time and energy is put into a jewelry creation.

Soldering the middle section of the Colosseum

Shaping the Colosseum background

Submitting

This is crucial. The entry date for filling out the required forms and submitting images are usually set in place with a strict cut-off time which may be in a different time zone than your own. Plan to spend that final day filling out questions, including entering the materials, tools, and techniques that were used. Take notes throughout the process and have the set of questions front and center so you can fill them out or add notes to them as you move along the process. Careful note-taking can save you valuable time on submission day.
Additional Considerations when Entering a Jewelry Contest
Contest Fees
Plan to put money aside for the contest fees. Scouring the internet, jewelry competition fees vary widely. Some international competitions, do not have entry fees but shipping your piece could cost you $200 to safely ship it to the location and back. You'll need to pay those fees upfront. Others require entry fees for the original images, but if you pass round one, you'll need shipping fees to send the piece for round two. Plan for the maximum amount of fees that you'll need and place that money aside.
Photographing your Piece

First impressions matter. The photos you submit are usually all the jurors will see of your finished jewelry piece and you'll need to wow them. The colors must be true, the lighting perfect and all of the angles and details visible. Sometimes one shot just won't be enough to get the overall picture, so plan for multiple angles. Plan for a beautiful day outdoors when the natural light is ideal and give yourself plenty of leeways in case the weather is terrible and it needs to be postponed.

For high investment competitions, you may want to consider hiring a professional photographer. This is very pricey, but if you can afford it, it may be worth your while.

Research photography. I've added links below to photography articles to get you started plus there are a lot of helpful articles online as well. Gaining this knowledge will help you throughout your career, so the time required is worth it.
Jewelry Design Competition Images
Another important step is sizing and formatting the final images. Usually, the rules will specify the file size and image quality before they can be uploaded for submission. Search the internet for rules about transferring image files or seek help before uploading them. Plan in advance if you need a friend to come over and help and have a plan B if that falls through.
Social Media
Are you interested in posting your jewelry design competition piece on social media? First, check the rules to see if it's allowed. In my particular case, there were no rules on waiting for the contest results, so once it was finished I announced on social media that I had entered my first design challenge. The boost of support was amazing!
Contest Hashtags
Engage with the community! Hashtags of WIP shots can help you gain followers on social media sites and is a great advertising opportunity for you. What if you put the piece up for sale later? This is an ideal way to get people interested in that piece and your jewelry, in general.
Why Participate in Jewelry Design Competitions?
Entering a contest can tie up a piece for months on end. In most competitions, you submit your piece up to 6 months before the announcements are made. The jewelry piece can't be sold during this time and that can be a financial burden for some. However, approach it as a networking strategy. Spend those months posting WIP shots and engaging with your followers about the contest updates. What if you're a winner or finalist? This could be a networking jackpot! Between the massive advertising that is included in most competitions bringing you exposure, some of these contests include vital feedback from the judges. This is information that can help you grow and expand in your business endeavors for years to come.
Final Thoughts
Remember this phrase? "Rome wasn't built in a day"... truer words couldn't be spoken as far as my Colosseum replica was concerned. By the time I was finished designing, sketching, fabricating, and completing the piece... 2 weeks had flown by. Now that it's out of my hands I can finally breathe again. Enjoy the process and submit to a jewelry design competition when you can, the experience you gain is well worth it!
Update
Honorable Mention Badge

I was so happy to learn that my piece: Starry Night at the Colosseum won an Honorable Mention in Interweave's First Annual Jewelry, Bead and Gem Arts Awards. To see the entire list of Honorable Mentions, check out this article written by Merle White, Editor -in-Chief of Lapidary Journal Jewelry Artist:

The Envelope, Please! 10 Wins in Interweave's Jewelry, Bead and Gem Arts Awards
Notable Nationwide Jewelry Design Competitions
AGTA Spectrum Awards - American Gem Trade Association. Designs are focused around cultured pearls and colored gemstones.
MJSA Vision Awards - Manufacturing Jewelers & Suppliers of America. MJSA features its annual vision awards and design challenges, too.
Saul Bell Design Award - Rio Grande. Unfortunately, the awards have been postponed until 2022. Check the website for updates.
The Halstead Grant - Halstead Bead, Inc. Annual grant competition for emerging silver jewelry artists.
Jewelry, Bead, and Gem Arts Awards - Interweave. This brand new annual competition is open to all jewelry-related makers.
CaFE - various Arts Administrators. An online website with dozens of nationwide calls for entries. Bookmark this site and check back often!
Facebook Group Challenges - Variety. Jewelry-based groups often feature monthly challenges for their members.
Niche Awards - Niche Magazine. Active Years: 1990 - 2020.
Halstead Design Challenge - Halstead Bead, Inc. & SNAG. Active Years: 2016 - 2020.
Continue Reading: