Being a jewelry maker comes with the task of not only creating beautiful pieces, but telling your story when you sell them to strangers. Lisa Lehmann has advice for how to connect with your customers to create a one-of-a-kind experience.
What do you want to be when you grow up? It's a question we have either been asked, or we ask a small person. Innocent enough really. We aren't actually asking them to commit to that career for life! As you grow up you find out maybe it isn't all about the actual career and more about the connections and relationships built along the way.
I want to be a princess, a fire fighter, an astronaut, the president (ok maybe we don't get that one as much anymore lol). But as a child the possibilities are endless and everyone gets to dream!
The older we get that dream begins to narrow. What are we "good" at? What do we love? We begin to ask ourselves what do I want to be when I grow up? Do I even know? It can be daunting.
I think sometimes we grow into our careers. We become without really making a significant plan. We evolve. And sometimes we do an about face, a 180 and flip everything on its head.
All that to say we arrive at our careers in all different ways. And sometimes it looks so very different than what we thought when we were young! And all of that…is normal…it's ok…you are exactly where you should be. But that does NOT mean it doesn't come with a set of unexpected challenges!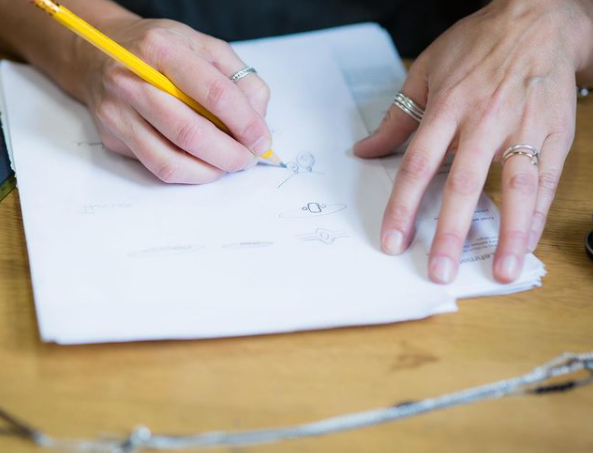 As a child I KNEW I wanted to be an artist. That was always my answer, except the occasional "I want to be a veterinarian" because ANIMALS! But 9.9 times out of 10 I wanted to be a maker, it's in my blood.
What I didn't plan or even cast a thought to, is what that would mean. Would I be painting all day and hoping to be famous when I was dead? What kind of art would I do? And here is the thought I NEVER had, how would I make a living doing my art?
Art school…bless its heart…for all intents and purposes did not prepare me for this either. Yes I was taught fundamentals and execution. Yes I developed a style and techniques. But when I flipped that tassel from one side of my cap to the other I had NO clue what was next. And quite frankly I floundered.
My BFA degree is in photography and illustration. A fancy way of saying I know how to use a camera (a real one mind you and a dark room - yes I am that old) and I can draw. But how in the world did that translate into a career? I had no idea. This was very pre-social media. Starting a career in any sort of art form was ridiculously hard. Gaining clients? Insane.
I decided to learn how to do graphic design. A good combination of my skills. Apple computers were still very new but they were being promoted as an artist computer, so I decided to learn everything I could. On a dial up connection. With CD-roms. Reading actual manuals. Have I lost anyone yet?
I am very grateful to say that was my life for over a decade. It worked. It was successful. But? I hated it.
What DID I want to be when I grew up?
I started making jewelry. Long story short. It became a full fledged business. What did I discover about myself? I am NOT a sales person. It does not come naturally and quite frankly? I detest it. I wanted to design and create and just "play" in the studio. Unfortunately? That does not pay the bills.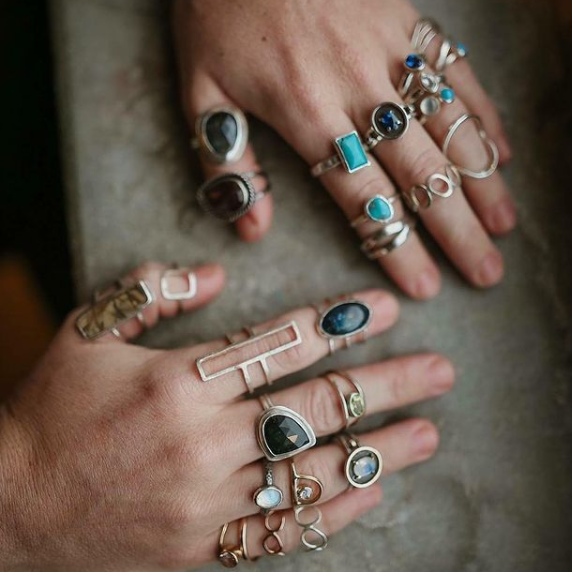 However, over the years I discovered something about myself. I love to write. And I love connecting with people. Like really connecting. I want to know their stories. I wanted to share mine. I knew I wanted to leave a footprint.
So I started sharing. Parts of myself. My stories. My depression. My struggles. But also? Parenting my then 4 small people. Homeschooling. My love of fashion and clothes. Shopping with teens. My passion for cooking.
Instead of selling. I became a human. I am not just another brand on the inter webs. I am a real person with a very real and very messy life. And I live it out loud.
What was the result? I started to get to know people. They would ask me questions and I would always answer. We became….friends.
I have clients that have been with me for decades. They are not just "people who buy my jewelry", I KNOW them, okay maybe not in a real life face to face way, but often if feels like it.
I know I make beautiful jewelry. But so do many others. Why would anyone want to wear my jewelry? Because of the connection. Because we are friends. And this is MY why.
I did not set out to make friends with my audience when I started my jewelry design business. I had no idea. I did not plan it. However, it is the very best part of what I do. The connections I have made and continue to make are priceless. They are the very life blood of my work.
I realize not everyone feels comfortable sharing their personal details online. I completely understand. But what about sharing bits and pieces of your world that others want to see? Not just behind the scenes of your studio…which is awesome, do not get me wrong. But what about where you live? What you like to do in your free time. What fires you up about what you do?

My biggest piece of advice? Be human. The ones who connect with you have chosen you. Your work. Your art. Of all the places they could shop, they chose you! You have so much value and so much to offer. So be present for them. Talk to them. Ask them questions. Create a platform where you can connect more personally. Don't' be afraid to ask the ones in your inner circle what they might want from you. Reach out to them!
You need to sell your work. That is a given. But you have the huge advantage of not being a big box store. YOU are a beautiful human. YOU have so much to offer. YOU have a story. Pull back the curtain a little. Let them in, and then reach out. The people, the connections that will come your way will be indispensable! Will you sell your work? Most likely. Who doesn't want to purchase from a friend?
My biggest word of caution and advice? Be authentic. People are smart. and can smell a fake. Treat everyone who comes your way like a gift. Each connection as a new friend. Friendship takes work, does it not? As will this. But there has been nothing more rewarding in my 20 plus years of creating jewelry than getting to know the people who wear it. They have been the very core of what I do and I love them dearly.
Make friends with your audience. Be real. Create beautiful things. And shine like the amazing human you are.
So. What do you really want to be when you grow up?
---
Lisa Lehmann is a jewelry designer based in Michigan. Also read her advice for jewelry business owners to care for their mental health.
---
Check out these other articles to help create a connection to your customers:
Turn Your Artist Bio Into Your Jewelry Story