A flex shaft (or Dremel) rotary tool is one of the most indispensable metalsmithing tools in the jewelry studio. We use flex shafts for sanding, polishing, cutting and drilling. They shave time off in the studio so we can move on to other projects. I love our flex shaft but the attachments can get complicated, especially for a beginning jeweler. I've broken down the cleaning and polishing attachments that we use here in our studio. Feel free to print them to hang up in your studio if you would like.
These are the two charts that I refer to the most...
1.) Cleaning & Finishing
Our wheels in this category vary from cleaning to finishing. Use polishing compounds only on the wheels and felt bobs marked in the chart below.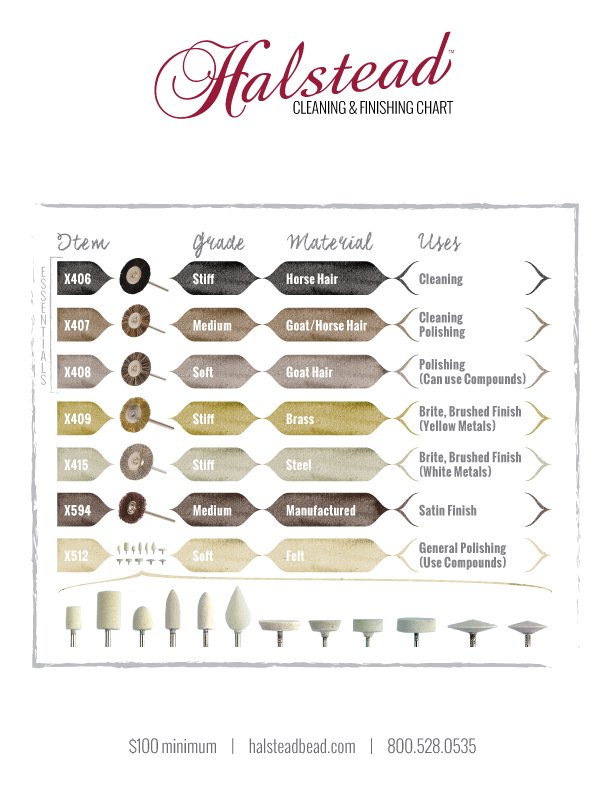 Product List:
X406: Stiff Horse Hair Brush - Use for light cleaning that doesn't require an abrasive.
X407: Medium Goat/Horse Hair Brush - For a very light clean or polish.
X408: Soft Goat Hair Brush - Use with polishing compounds for a shiny look.
X409: Crimped Brass Wire Brush - Use with yellow metals only. The stiff bristles leave a nice brushed surface on your piece.
X415: Crimped Steel Wire Brush - This wheel has the same effects as the crimped brass wire brush above except this one is used on white metals.


X594: Flexible Satin Finish Wheel - I love this attachment when putting a satin finish on my jewelry, however, the bristles break off so I highly recommend long sleeves and an apron!

X512: Felt Bob Polishing Set - For a mirror finish use this set with compounds. The set includes a whole array of different sizes that will fit into all kinds of nooks and crannies. The veins on the item to the left have a mirror finish which is nicely offset with the laser cut imprint.
2.) Radial Disks
We carry 3M bristle disks that have a multitude of uses from sanding away fire scale down to fine polishing. Think of these disks as a sandpaper set, from coarse to fine. You need 3-5 disks for every mandrel so I suggest having one mandrel for each disk type to save yourself from having to change them every time you change grits. Be sure when you mount them on the mandrel that all the bristles are facing the same way and they're all turning toward the right when looking at the top of the mandrel. Follow the chart below from top to bottom to achieve a mirror finish. If you haven't used these, they are sure to become your favorite flex shaft attachment. You do not use compounds with these disks.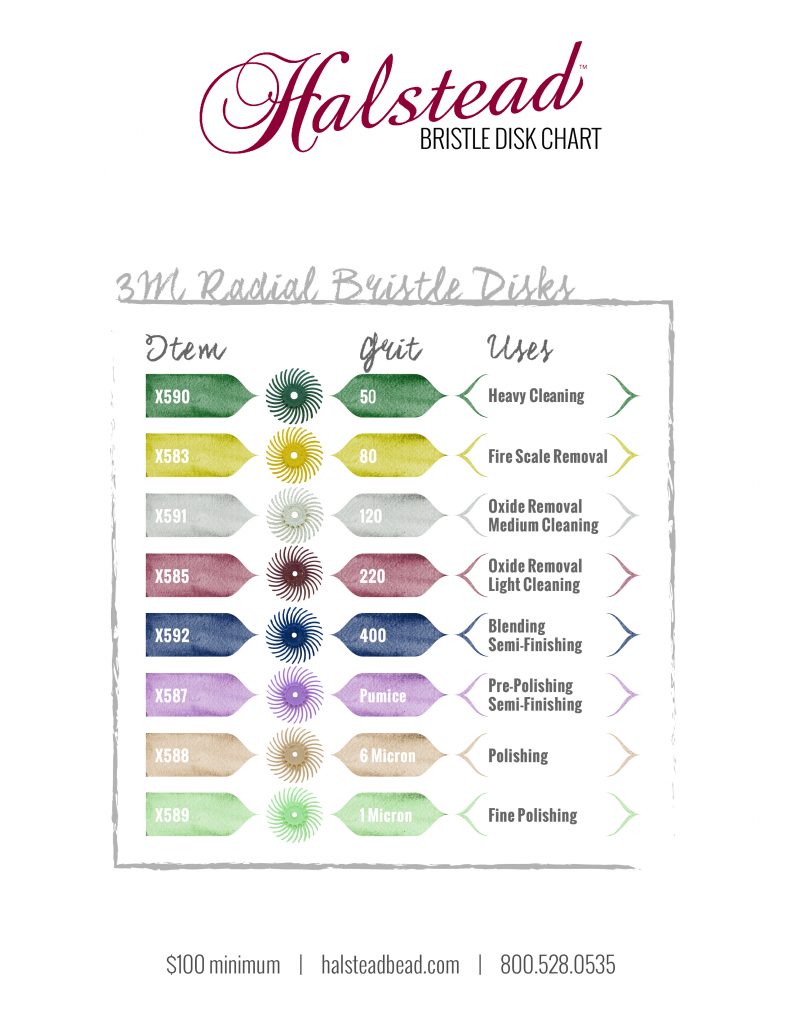 Product List:

X590: 1in, 3M Green Radial Bristle, 50 Grit - Use for heavy cleaning and fire scale removal.
X583: 3/4in, 3M Yellow Radial Bristle, 80 Grit - Use to remove fire scale.
X591: 3/4in, 3M White Radial Bristle, 120 Grit - Use for oxide removal and medium cleaning.
X585: 3/4in, 3M Red Radial Bristle, 220 Grit - Use for oxide removal and light cleaning.
X592: 3/4in, 3M Blue Radial Bristle, 400 Grit - Use for semi-finishing and blending.
X587: 3/4in, 3M Pink Radial Bristle, Pumice - Use for pre-polishing and semi-finishing.
X588: 3/4in, 3M Peach Radial Bristle, 6 Micron - Use for polishing.
X589: 3/4in 3M Light Green Radial Bristle, 1 Micron - Use for fine polishing.
Note: Do not keep the disks on just one spot on your jewelry, you'd be surprised how quickly they can remove material!
These charts are a general list of miscellaneous attachments and what each one can do. To print, click on the right-hand button on your mouse and choose save image as, save it to your desktop and then you can print it. The charts are 8.5x11in.
Got questions? Email our studio coordinator Erica Stice at studio@halsteadbead.com. We'd love to hear from you. Sorry, studio support is not available by phone. Emails only please.
Continue Reading:
4 Metal Surface Finishes for Jewelry
Guide to Jewelry Finishing Sandpapers
Jewelry Bench Polisher & Attachments
Beginner Jewelry Making Projects