Get a sneak peek at rock salt casting: it's easier than you think! Watch a quick video demo and preview some of the designs that appear in the Spring 2018 issue of Belle Armoire Jewelry.
I'm so excited. These rock salt casting jewelry designs were featured in the Belle Armoire Jewelry magazine 2018 Spring Issue, which is a beautiful, mixed media magazine featuring tips, techniques, and projects. I was overjoyed when they accepted the pieces shown below! The article in this issue covered rock salt casting: how to cast and finish your pieces. I thought I would follow that up with a video so you can see the casting process in action.
About Rock Salt Casting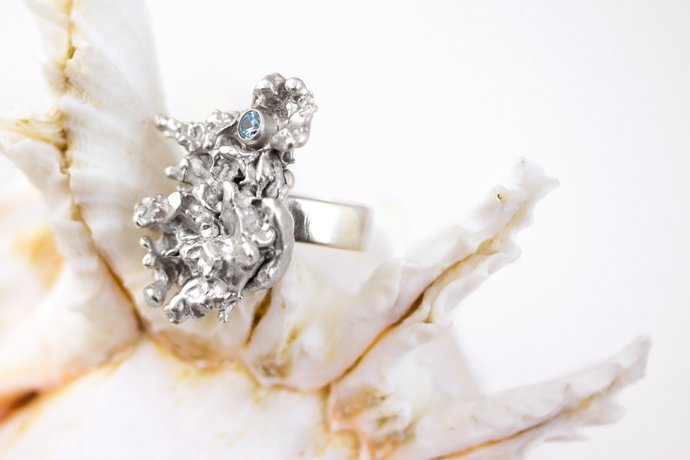 Rock salt casting may seem intimidating at first, but let me assure you it's a lot of fun. Rock salt cast pieces come out jagged and sharp or round and smooth. The fun is never knowing what you will end up with! You can melt and pour metal over and over using studio scrap or silver casting grain just looking for the casting you like, or, you can manipulate the rock salt by discarding big or small pieces depending on the size of the cavities that you desire. A small bag of rock salt is inexpensive and can be used for years. The resulting castings have an organic feel that you can play with in your designs to evoke ocean coral, hot lava or celestial bodies, for example.
Safety First!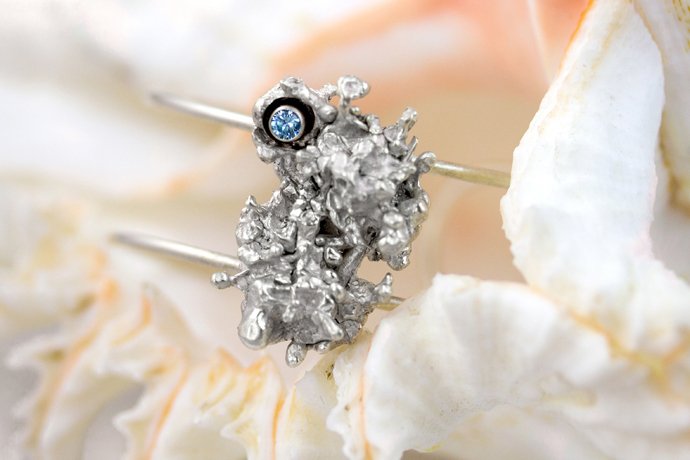 Please remember that safety is always #1. Rock salt casting will pop when the heat hits it so be sure to cover up from head to toe to protect yourself from the popping hot rocks. Try to keep the flame off of the rock salt because the fire will make the salt pop, too. Watch the video below to see the casting process in action.
Rock Salt Casting Video
Belle Armoire Jewelry
Check out the 2018 Belle Armoire Jewelry Spring issue to see more about the rock salt casting process and the finishing steps. To learn more about Belle Armoire Jewelry, find free projects, or to subscribe to the magazine, check out their website at Belle Armoire Jewelry.
Halstead is one of North America's leading distributors of quality jewelry supplies. The firm is celebrating its 46th anniversary this year. Halstead specializes in wholesale findings, chain, and metals for jewelry artists.
Got questions? Email our studio coordinator at studio@halsteadbead.com. We'd love to hear from you. Sorry, studio support is not available by phone. Emails only, please.
---
More jewelry design ideas from Erica:
Two Ways to Create Sterling Silver Tassels
Erica's Bangle, Bracelet, and LJJA Article
Claw Pendant: Highlights & Headaches
How to Make a Hinge for Jewelry
Also subscribe to our YouTube video channel for tips, tutorials and more!.