Setting goals for your jewelry business can be too hard. Read on for tips to help make sure you don't overshoot but don't sell yourself short either.
2011 Halstead Grant winner Layne Freedline offers some great advice on setting goals for your jewelry business.
Whenever I think about how The Halstead Grant changed my business, I keep thinking of the 1964 movie title How I Learned to Stop Worrying and Love the Bomb. I guess it's because, as a business owner, I have in the back of my mind this sensation that if I push too hard, things might just blow up. I am diligently pressing forward toward more business, more volume, more press, yet there is a little voice that repeats, " I don't know how much more we can handle." After the grant, things got busier than ever before, and in this past year, I learned not only to love the bomb, but to embrace growth and all the problems that go with it
Reaching big goals
| | |
| --- | --- |
| | The grant committee offered extraordinary feedback from jewelry-business savvy people. On my first attempt at the grant (in 2010) the feedback I was given for my application stated that my sales goals were too small. After all, a goal is something to reach for, it is not supposed to be easy. When I wrote the next application, I pushed for goals that seemed hard to reach. But during 2012, I clung to my goal and it pushed me. It made me want to prove that I could do it, and you know what? I did. |
Here are some tips on setting goals for your jewelry business.
Think long-term first. What are some achievements you want to see in 10 years?
Next, back that down to a 5 year time horizon. What would you need to accomplish to be well on your way?
Now, get detailed. Set milestones for each of the next four years.
Use numbers. Set goals in terms of number of pieces sold, number of wholesale accounts or revenue earned.
Once you set your short-term goals, consider tasks you need to complete to make them happen
Spending money smart

After winning the grant, I received an influx of solicitation. I have learned to be vigilant about financial decisions, stick to a budget and find money smart ways to grow.
One of the best results of winning the grant was the press coverage. The story ended up on the front page of the Living section in my local paper, in Jewelry Artist Magazine, on Handmadeology, Jewelry Making Daily and more. This serves as great free advertising. I am also taking advantage of inexpensive e-advertising.
I have also learned that outsourcing business tasks that take away time from jewelry making is money well spent. Having more time to concentrate on what I do best has helped me to more efficiently purchase raw materials in wholesale quantities.
THERE IS A PLAN!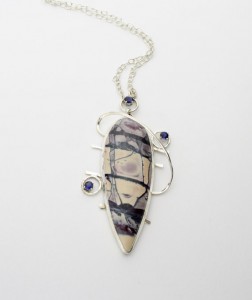 Even though at times things seem a little overwhelming, I rely on my business plan which is a voice of guidance when I feel pulled in many directions at once. It is reassuring to have a thorough plan. It is also reassuring to have trusted advisers. The advice that Halstead Inc offered me has been incomparable, but meetings with trusted business professionals from many backgrounds has been a great help along the way.
Now, a year after winning The Halstead Grant, my company offers a sustainable career for me, and a source of income to others.
Layne Freedline
www.LayneDesigns.com
Philadelphia, PA
---
You may also be interested in these Halstead articles. Subscribe to receive new content for your small jewelry business each week!
Turn Your Jewelry Customers Into Collectors
Getting Noticed by Jewelry Galleries: Wholesaling Your Collection