Stopper beads and slider clasps will stay in place on your handmade jewelry creations thanks to their silicone lining. But, have you ever used one to create a lariat necklace or a slider tassel bracelet? We strung them onto a chain to find out just how well they would hold up and we love them! The small stopper rondells look dainty, they're super lightweight and they make it a quick and easy way to create trendy, adjustable jewelry styles this spring. The larger slider clasps look amazing as bolo lariat necklaces.
What are Silicone Lined beads?
Stopper Beads

If you've never heard of one before, let me explain what a stopper (a.k.a. smart) bead is. The bead itself is seamless and resembles a typical, nearly round sterling silver bead or rondell shape. However, what makes it special is the silicone lining inside the bead. When you place a compatible chain or bangle wire through the stopper bead, the silicone grips it so the bead stays just where you place it. This not only prevents it from sliding around, but it can also be used to hold other beads in place. Thus, the name "stopper" bead. They are available in sterling silver and gold-filled.

Slider Clasps

Slider clasps are similar to stopper beads, however, they feature two holes used mainly for bolo-style necklaces. These are also lined with silicone, which grips a compatible chain and holds it tightly in place. These are available in sterling silver.
Choosing the Right Chain Diameter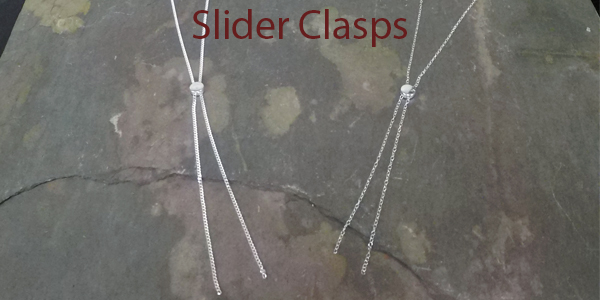 When choosing your jewelry footage chain, pay special attention to the chain diameter. The best types of chains to work with slider clasps are rollo, belcher, snake, and cables. Or, select alternatives with the proper diameter and uniform links for the best results. Since the inside of a stopper bead is made of silicone, it can shred if a chain that is too large is passed through the bead.
If you have a bead hole size of 3mm on your stopper bead or slider clasp and you want to put a single chain strand through it, you would need a 2.8-2.9mm chain diameter. If you are creating a tassel or lariat, and you only have a single hole on your stopper bead you would run two strands through it and they would both need to be 1.3-1.4mm or slightly smaller. You want a perfect balance where the bead easily slides up and down on the chain and is neither too loose nor too tight.
Note: When designing your jewelry, try to limit the length the silicone-lined bead will need to travel for adjustments. These beads are fairly durable but the silicone lining will wear out over time, especially if they are used heavily.
Threading the Chain
Step 1:

Fold the jewelry footage chain in half.

Step 2:

Gently push the chain through with a headpin, a piece of wire or by using string threaded through the chain links.

Step 3:

Once you can grab the chain with your fingers or nylon pliers, finish pulling it through until the bead is about 2-3 inches from the chain ends. Go slowly to minimize friction and wear on the bead. Now you have a handmade lariat or tassel bracelet.

Step 4:

Now you have a handmade lariat or tassel bracelet.
Finishing a Tassel Chain
| | |
| --- | --- |
| Once you have the stopper clasp with the chain through it and you've created a tassel, you'll need to add "bumpers" to the chain ends to prevent the stopper bead from sliding off the chain. Charms and dangles work well. If the inner diameter of the chain link is wide enough, you can use jump rings to connect dangles on each end. If the chain is tiny, you'll need to solder bumpers onto the ends. | |
Adjustable Finished Necklaces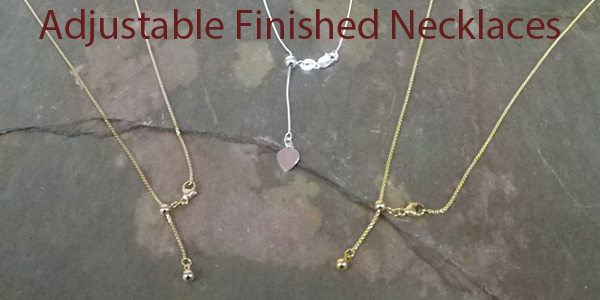 | | |
| --- | --- |
| | Adjustable finished necklaces are ready to wear! They feature the slider bead, with the charm dangling from the bottom, to prevent it from sliding off the chain. If the necklace is 22 inches fully extended, you can slide it to any size lower than that. So you can wear it as a princess length one day and a choker the next. When worn, the charm at the end drops down your back, so wearing it with a backless top adds a nice touch to the outfit. |

Watch the Video!
This video covers slider clasps and adjustable necklaces.
Watch stopper Beads in Action! View the video below to see how they work.
For soldering small chain ends, check out our blog: Tips for Chain End Finishing. It has step-by-step instructions on soldering a jump ring to the end of a small linked chain. Whether you solder or not, this opens you up to finishing your tassel ends using all types of fun findings.
Have you used silicon lined beads in your jewelry creations? We'd love to see your designs! Connect with us on Facebook or Instagram: #HalsteadMakers.
Got questions? Email our studio coordinator Erica Stice at studio@halsteadbead.com. We'd love to hear from you. Sorry, studio support is not available by phone. Emails only, please.
---
Continue Reading:
Two Ways To Create Sterling Silver Tassels
Handmade Jewelry: Types And Techniques
Best Beading Tools Used For Making Jewelry
3 Ways To Set Raw Crystal Points Using Sterling Silver Findings