Thinking of offering custom work but don't know where to start? Check out these tips from Kristen Baird on how to approach custom work to make sure you and your clients both have a great experience.
Welcome to the world of custom work.
Ah, the wonderful world of custom work, or as I call it, commissioned work. What a great way to develop cash flow, push creative boundaries, and work one-on-one with all types of people! It's an artist's dream to be able to design and make specialty pieces, but take a lesson from this designer, it can quickly turn into a nightmare if the proper boundaries aren't formed and the right protocols and processes aren't in place. Let's jump into some of the "best practices" that I've developed over the years, complete with several hard and expensive lessons I've learned.
But first, what is custom work and why do I call it a "commission"?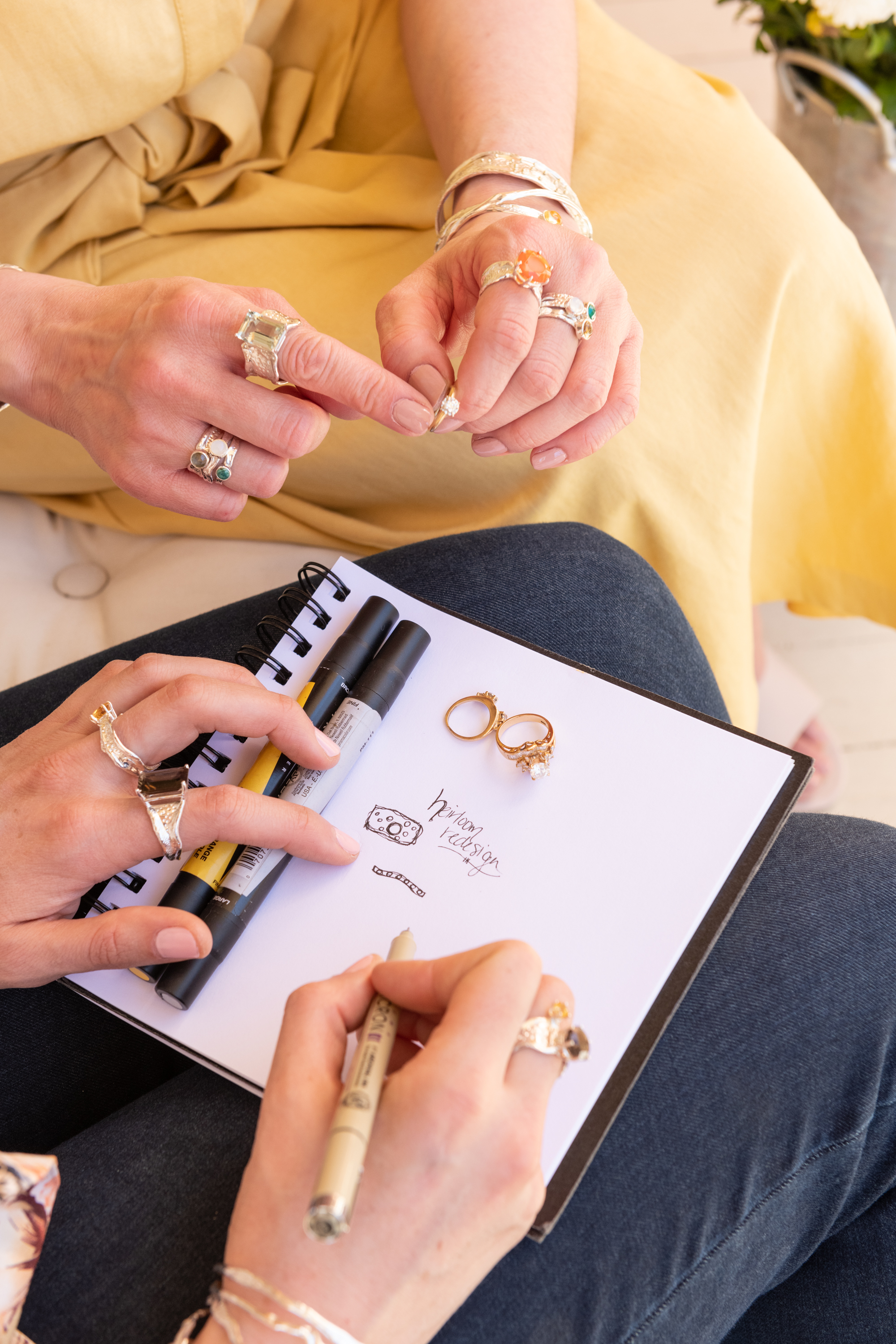 In art, a commission is described as an act of requesting a creation of a piece. In other words, it is a request for a custom jewelry project made in the style of that artist.
Real Talk: Prior to 2016, I called this area custom work and I took any and every project that came my way - partially because I had to for financial reasons. No shame in that game! As entrepreneurs, we do what we have to do to make it another day, especially at the beginning of a venture. Everything was moving along until I applied for the Halstead Grant, placed in the top 5, and received a feedback report from the judging committee. They said this one statement that really stood out to me. After thinking about it long and hard, I realized they were 100% right, and I decided to do something about it. THAT was a pivotal moment in my career. (PLUG: If you're eligible, here's your cue to GO APPLY for the Halstead Grant!) Here's what they said, in a nutshell.
We see that you are at a fork in the road. There are two likely paths ahead for your business and both are promising, it is just not clear which way you are headed. Path one is continuing to pursue custom, one-of-a-kind bridal as your primary profit source as a regional jewelry store…offering a wide range of work (and styles) to appeal to the many different customer segments that might walk into your brick and mortar storefront. Path two is to focus on developing a cohesive signature look and putting the Kristen Baird brand front and center in all you do. (Bridal/Commissions) can still be a part of this business but must clearly show your individual look and aesthetic.
Either one of these models is promising, but we would recommend making a strategic choice with intention and then aligning your decisions with those goals in mind. If you want to pursue both avenues, it is possible but difficult.
Intriguing, thought provoking, and a true test of my decisiveness and willingness to commit to ONE thing. I know, hard for an artist, but necessary for a business owner. I went "all in" on Path Two and decided to lean into developing my Kristen Baird® signature aesthetic through a silver line, gold and platinum line, and a high-end commissioning process.
Systems and structure: get that brain organized!
When I first started creating commissioned work, I quickly realized just how "all over the place" I really was. As much as I adore clients reaching out - the calls, texts, emails, Facebook messages on both my personal and business pages, messages and comments on Instagram. And of course, the notes and details I would come home with after an in-person meeting - it gets really confusing and overwhelming very quickly. Not to mention that communication comes in at all hours of the day, leaving the possibility of important details getting lost in translation. I knew I needed a better system for my workflow, in general. Truly, it starts with intake!
Intake form: the essential tool for establishing expectations

I always have potential clients start with my commission inquiry form. This not only helps me determine the rough parameters of a project before I jump in with both feet, but also helps me ensure that the people who are tossing ideas my way are my ideal clients.
Having the Commission Inquiry Form also allows me to give a gentle disclaimer whether in person or via messenger/email/digitally. My go-to line sounds like this: "Hey, I'm super pumped about your project, and in order to give you the best and most professional KBJ experience possible, it is absolutely crucial for you to start with filling out this form. I'll text/email/message you that link so you can start right there! I can't wait to learn more about your project"
This automatically gives a direction to the client and gives me peace of mind that I will have all submitted project details in one place. Bonus - the form is online, so sharing a direct link to it is a breeze and it's user-friendly.
This works two-fold - the clients who are serious will go straight to the form and fill it out immediately. The clients who need direction will go to the form, pause as they start thinking about the questions on the form, then typically return at a later time when they are ready. The clients with unrealistic expectations will fill in their answers, and the form will make it easier for me to sort those out quickly. This form is an essential tool in helping me categorize clients and projects very efficiently, saving me a lot of precious time and doing so without hurting anyone's feelings!
Real talk: As giddy as I am about every client message that comes my way, I often come across people who simply get so overly excited about running their "fun/unique/zany" ideas by me (aka dumping things on my plate) without having really thought about key elements like timeline, budget, realistic expectations etc. This form gives the prompts needed and helps guide potential clients in the right direction.
Saying "no"
So, someone fills out the form and it's not a good fit. Say hello to "no". Yes, that's right. The "NO" word. I've learned that not every project is a fit for me and while I want to help everyone and take on all the work that comes across my desk, the importance of saying "no" to projects that don't meet certain requirements is something I had to learn - the hard way, a few times.
Kristen's Short List of Reasons to say "No" to a project:
Not in signature brand style/aesthetic
Outside of brand processes and/or techniques and/or skill level
Not a great personality fit

Some clients just don't vibe well and that's Trust your instincts here. Ok. Really, listen and trust.

Questioning/not trusting me as a designer regarding process, pricing, materials etc

Some clients want to "play" designer and try to override the actual designer BUT beware, these same clients may try to throw the responsibility back on the designer when "their" design doesn't work out. Remember - YOU are the designer/maker and you are the expert here. Stick to your process and your expertise.

Being asked to copy someone else's work

Copying isn't cool and a huge no-no in my book! And most times, the same people who ask a designer to copy work, also want it copied for cheaper. Yes, this happens. No, it doesn't feel good. Yes, it's okay to politely say "no" and move on.

Form filled out. Fit feels good. What's next? The Consultation.
One thing that I get asked a lot is how I schedule in-person meetings when I don't have a physical retail storefront and if my process of not having a storefront causes any issues. To me and my clients, that is simply not a problem. While I used to drive all over Savannah to meet clients, I have since streamlined and use one local coffee shop to conduct all my in-person consultations. It works wonderfully. I selected a place that has easy free parking, delicious food, workable hours, a comfortable atmosphere and is local (aka a small business like me)! The local coffee shop gets extra business from me and my clients while we have a great space to work in and do our thing. Win-win!
Prior to 2020, I used to do all my consultations in person and I love meeting my clients face to face, however, since then, I shifted my focus to transitioning to having remote options also more readily available. As an added bonus, this has widely opened up my potential for working with people all around the country!
As far as scheduling, I try to block my time doing back to back appointments as often as possible. This way, I can get into "client mode" and be as productive and efficient as I can be for a particular chunk of time, without breaking up my entire day. For in-person meetings, I always bring my computer along so I can work on emails or other minor things in between clients, if time allows. Streamlining is key when it comes to organization, keeping client projects moving, and having an overall efficiently-flowing process.
Design: leveraging technology
Loom is my favorite go-to platform for screen-sharing and video-recording. Period. Using Loom to communicate with clients for screen-sharing designs, and even being able to share some project processes and statuses with clients, by providing them with a simple hyperlink, has changed my entire process for the better. It's almost like taking me and my studio and virtually bringing us to my clients, but on their time and availability. I find this especially helpful with projects that I work on using CAD (computer-aided design), as I can share a glimpse into the actual modeling of the client's piece and receive "in the moment" feedback - something most designers don't typically do. I prefer for my clients to be involved in the process. Because hey, it's really all about the experience.
Documentation: paperwork, contract, deposit, legal stuff
While it's fun to just go with the flow, I learned very quickly that paperwork, contracts, deposits and the "legal stuff" is AS important as the actual jewelry work. Expectations are key. Written documents and recorded details are super key. Keep everything in writing! Take notes on top of notes. Then take more notes. Leave yourself cues. When it comes to commission work, once you have 5-10-20-30 projects going at once, details get scrambled VERY fast. I have a file for each client, one digitally on Google Drive and a paper file for all the notes and tidbits that I collect (and I take a ridiculous amount of notes). Trust me, it works.
Protect your business. Develop a contract.
Figure out your return/exchange policy
Think about the details for after the fact, like resizing a commissioned ring right after it has been delivered to the client, because it doesn't fit right - who pays for that? Is that included in your commission cost?
Figure out a thorough payment plan. My advice, get a 50-65% non-refundable deposit (let's call it an investment) that is written into a contract. This will help to compensate for the time you spend doing research, sketching designs, gathering materials, etc. Be transparent and cover your costs upfront!
What happens if your client takes their commissioned ring to a jewelry store to have it sized, cleaned, etc., and the store messes it up? What's your clause on "having work done by an outside source"?
Do you provide appraisals with your work? Is this included for free or is this a separate fee? Detail that out one way or the other.
I could go on and on and give a ton of tips here, but since each business/scenario is different and details can vary, I'm going to give you my best tip: think about alllllll the things. Every scenario you can think of. Then, spend the money to talk with a lawyer and develop a contract for your services. You will be glad you did.
Creation: documenting process and focusing on your differentiation factors
I've talked about the "front end" of the commission process a lot, but when it comes to the actual design and creation, there are so many ways to differentiate yourself from your competitors. Be yourself - be creative! This is your time to shine. Your clients who are using your services obviously LOVE you, so treat them like the precious stones you are working with. Cater to them, make them feel special and loved, but be sure to maintain boundaries (like the ones in your contract). They are the people who are driving your business and if they are happy in the end, their referrals will be invaluable for you!! Share the process with them, communicate often, remind them how grateful you are to be working with them. This is the special part of the process. Enjoy it!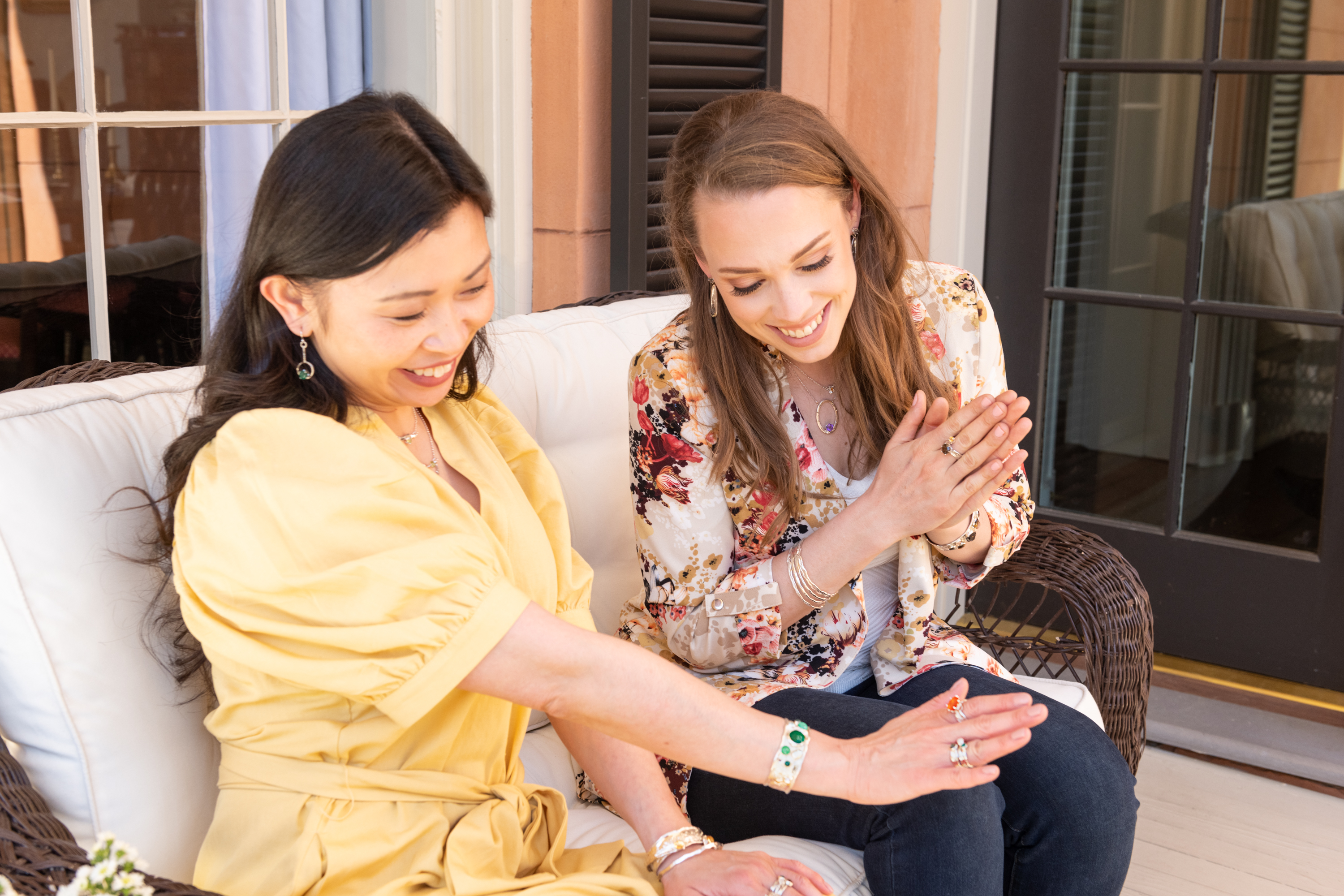 Delivery: insurance and balance payments
Once your piece is done, hallelujah! But also, if you're shipping the piece, insure the mess out of it! But really, consider working with a jewelry-specific insurance company to develop a policy that works for you. I recommend Jewelers Mutual. They are wonderful to work with and I have had a policy with them for years that insures my studio and my shipments. Of course, there are rules and procedures to follow, and yes, it's an investment - but having peace of mind is priceless!
One thing that I'd like to stress is to be sure to always get balance payments before delivering/shipping the final product. This goes back to protecting your business and having a thorough payment plan clearly outlined in your contract. It also helps when I communicate any outstanding balances with my clients ahead of time - "hey, by the way, there is a final invoice coming your way". Whether I'm delivering a piece in person or having the package sitting on my table, happily waiting to be shipped, the last thing you want is to chase unpaid balances and fiddle with finances and numbers. The day the client gets their piece needs to be nothing more but to focus on the beauty, excitement and pure joy around their new piece! And when that happens, go ahead and pat yourself on the back - you did an amazing job!
So there we have it, the wonderful world of commissioned work!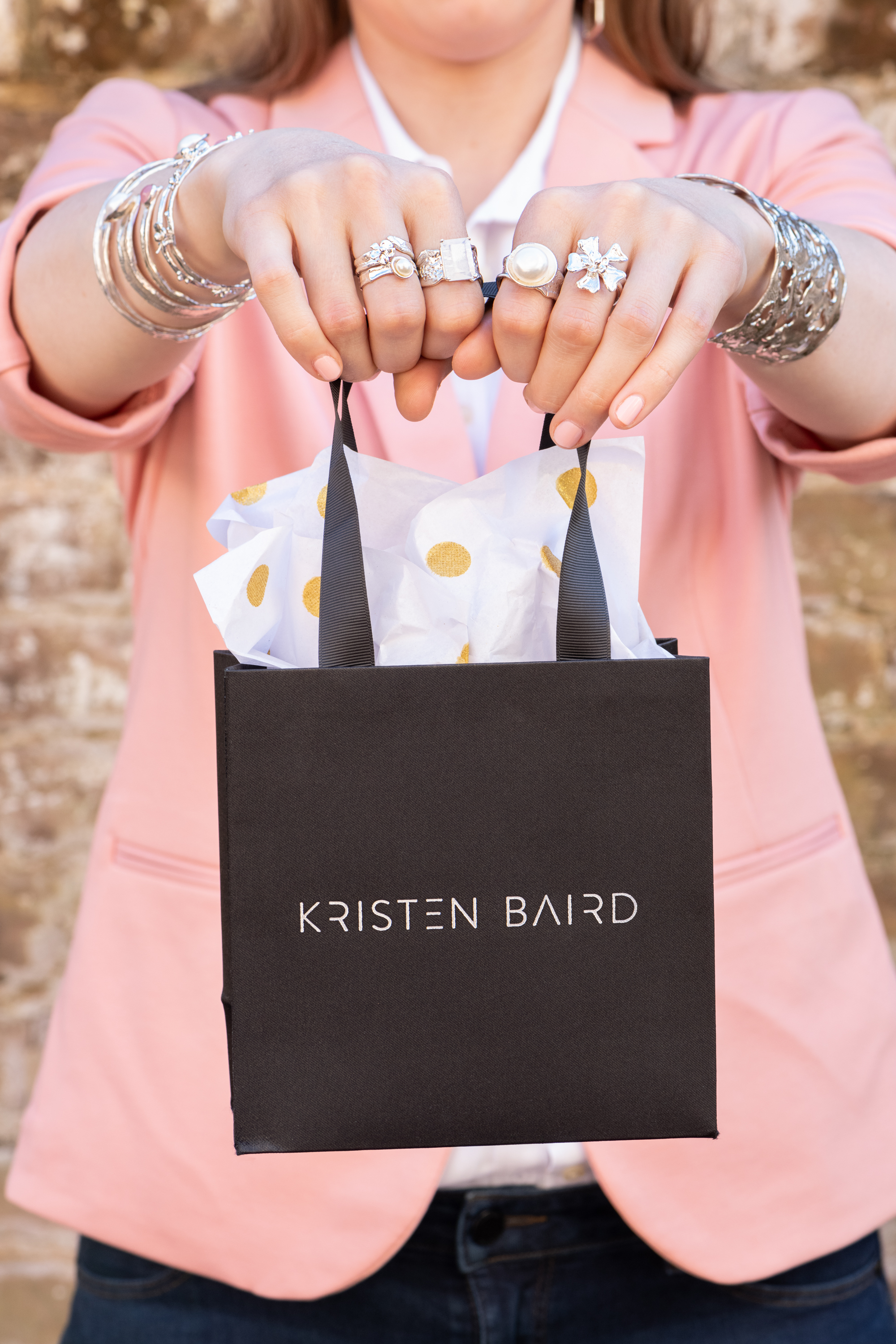 It is a truly special process that opens the door to many, many opportunities. If the right protocols and procedures are in place, the process can and does run quite smoothly. It takes time to build out the right system for your own business, but like anything worth doing, it needs to be done right and thoroughly. The benefits are worth it though - so if this might be the path for you, I encourage you to stay focused, committed, put in the efforts. Then, as time goes on enjoy reaping the rewards of your hard work!!
About Kristen Baird® Jewelry:
Kristen Baird® Jewelry is an award-winning, fine jewelry brand, nestled in historic Savannah, Georgia. In a time where mass manufacturing is predominant, Kristen and her team utilize and preserve traditional metalsmithing skills as they delicately and precisely craft each piece by hand in Kristen's studio. Using sterling silver, recycled 18K gold, and ethically sourced gemstones, Kristen's jewelry is full of color and texture with juxtaposing forms both geometric and fluid. Learn more at www.kristenbaird.com.
---
You may also like these great jewelry business articles:
Making It Personal: Connect with your Jewelry Customers
Building a Contractor Team for your Jewelry Business