We've collected a few money saving tips for bulk jewelry wire! With a fully functioning jewelry studio on-site, we now see the ins-and-outs of studio life in a more personal way. We've had wire tangle while working with it, we've had oodles of scrap piles lying around and have felt the frustration of not having enough stock on hand when it's needed. But wait, before placing your next order of jewelry wire, first check and see if you can get by with the stock you have. Here are a few tips to help you save time and money.
Buy What You Need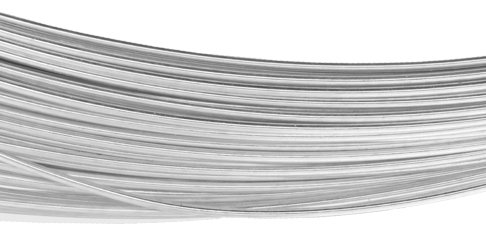 Compare prices
We exist in an online world and just running down to the local supply store isn't as simple as it once was. But take advantage of it, in just minutes you can compare identical items for the best prices on the market. This can save you money and that's definitely worth the extra time you've spent shopping.
On the flip side, be sure to buy from a trusted jewelry supply company, there are a lot of people selling fake precious metals out there. If the price is too good, don't purchase it. The daily price of precious metals is based on two factors:
Daily market value (DMV)
Manufacture Processing Costs
If the cost of the material is below the DMV then you know it's fake and quickly run in the other direction. Just because silver is stamped .925 or .999 doesn't mean that it's accurate and I can't repeat that sentence enough.
This is a fascinating article about the actual cost of precious metals versus the DMV: Why Does Sterling Wire Cost More Than The Daily Silver Market Price You Hear On The News?
Don't overstock by $20 to save $1 per ounce
Many jewelry supply companies offer price breaks at certain quantities. While this may sound great in theory, it's not worth the deal if it's an item rarely used. Purchase what you need and when you need it. The extra money saved by not taking advantage of a deal could be spent toward other metal products that you use often, a much-needed tool or even investing in brand packaging. It seems wasteful to have unused stock lying around, especially if it may be a year or more before you come back to it.
Units of measure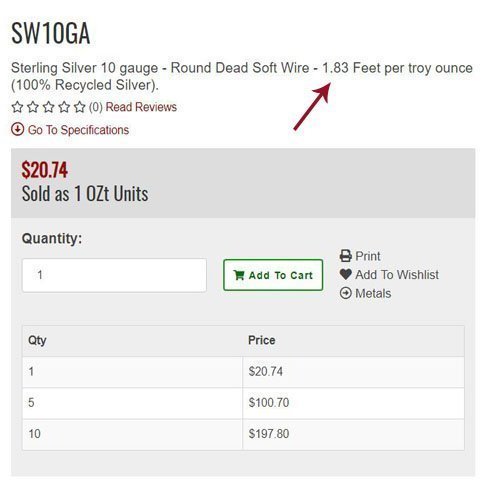 You would be surprised by how many people order bulk jewelry wire without knowing how much they actually need. Unfortunately, this occasionally leads to shortness of stock, which is frustrating if you're in the middle of a piece or you need to fulfill a customer's order. Even waiting a day can be critical in certain cases, so know the amount that you need and the units of measure (UOMs) that make sense for you before placing your next order.
One of the best ways to do this is to always sketch out your designs at 100%. It's easy getting an actual reading this way by using a soft measuring device (string or paper rulers can be used). For certain jewelry wires that are sold by the inch, this measurement can be crucial, however, don't underestimate wire sold by the ounce, because a 10 gauge sterling silver wire is less than 22 inches per ounce. So be sure to always check the conversion of feet to ounces, so you're aware of the amount you're receiving.
By understanding the UOM's, you can make a more informed decision on whether to buy what you need or stock up on it. Let's say for instance that you are making a ring and the wire is sold by the inch. You need a piece that is 2.25 inches long, but you have to buy 3 inches. Rather than scrap 3/4 of an inch, buy the two additional inches to make two rings down the road. That would be a worthwhile item to stock up on.
Here at Halstead, we sell our bulk jewelry wire by the ounce, with the exception of 14kt solid gold, bezels and fancy wires which are sold by the inch.
Minimize Jewelry Wire Waste
Avoid and fix wire tarnish with good storage
Unfortunately, we've all had to deal with tarnished items. It's a pain, but you can really help curb the tarnish with just a couple of items and most importantly, improve your storage practices to minimize waste.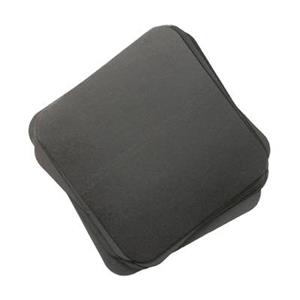 Leave your jewelry wire in coils, place them in a sealed zip seal storage bag with an anti-tarnish tab inside. These tabs will not hurt gemstones or metal plus they are environmentally safe.


Have you tried Ultra Polish Pads? If your item already has tarnish on it, use these pads to wipe it off. These are perfect for bulk jewelry wire, and finished pieces. I love these!
Avoid and fix wire tangles and kinks
Bent, tangled wire is not the end of the world. Yes, it's annoying, but it's also fairly easy to fix. Almost everyone here who has worked with wire has had a spool of 26 or 28 gauge wire spring loose or had a coil drop to the floor where it instantly becomes a tangled ball of wire. If that's happened to you, then you know how easy it is to bend and kink while you untangle it. We carry two tools here that I recommend for straightening the wire when this occurs.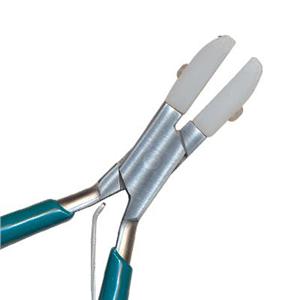 The first is nylon jaw flat pliers, these work really well for straightening wire, plus they won't damage your wire at all. You do need to buy replacement nylon jaws fairly regularly though because they will wear down.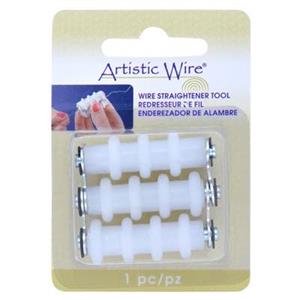 The second straightener I recommend is the Wire Straightener Tool. This looks a little complicated but it's easy to use, and you can straighten wire quickly once you get the hang of it. This is limited to 14 gauge or thinner, however, I've personally only used it on 20 gauge and thinner.
Reuse and Recycle Jewelry Wire
Keep wire scrap lengths organized
Cutting the exact lengths that you need can really help cut back on waste, however, since that's not always possible, store all of those cut pieces of wire to use later. Use clearly marked sealed bags for all of those remaining pieces, with a dedicated bag for each gauge. Later on, when you need shorter pieces, they are there and quickly available. You can use these snippets of bulk jewelry wire for granules, headpins, loops, wire decorations... etc.
Recycle with ingots and your rolling mill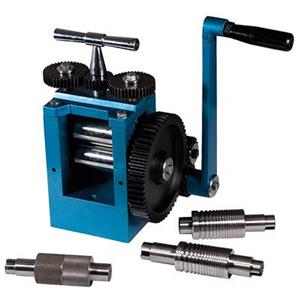 Roll out the gauge you need with a rolling mill. One of the best ways to save money on bulk jewelry wire is by melting your scrap down into ingots. With ingots, you can saw off thin slices and roll them into sheets on a rolling mill. You can also run the scrap wire through the rolling mill, turning a thicker gauged wire into a much thinner one. This process will stretch out the scrap bulk jewelry wire and turn it into a much thinner, longer piece.


---
More great articles:
Soldering Wire Embellishments to the Surface of your Jewelry Designs
Setting Up Your Wire Wrapping Jewelry Studio
Jewelry Wire Work Tips from Melissa Muir
5 Ways to Use a Rolling Mill in your Jewelry Studio and Maintenance Primer