SW20H
20 gauge Sterling Silver Wire - 19ft/ozt Round Half Hard (100% Recycled Silver)
Estimated Stock Availability: September 15, 2021 - September 22, 2021
Don't despair! Contact our service team to find out how we can help you.
Calculating...
$38.13
Sold as 1 OZt Units
| Qty | Price |
| --- | --- |
| 1 | $38.13 |
| 5 | $184.94 |
| 10 | $364.16 |
Specifications:
20 gauge Sterling Silver Wire - 19ft/ozt Round Half Hard (100% Recycled Silver)
Wired. Excited. Adrenalized. Edgy. Give your Wire Jewelry Designs just the Edge they need with the SW20H – Sterling Silver 20 Gauge Round Half Hard Wire. 19 feet in a Troy OZt. It's the Caffeine of the Jewelry Industry. And it's Made In Americano.
Made from 100% post-consumer recycled silver material. Sustainable silver raw material for your jewelry collection.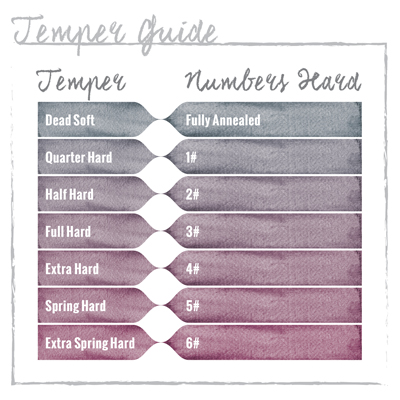 Material: Sterling Silver
Nation Of Origin: United States
Finish: Bright
Manufacturing Method: Machine Made
Anti Tarnish: No

Tariff Code: 7113.11.5000
Weight: 1 Ounce

Notes: 2#. hard You can combine fine silver and sterling silver jewelry wire and sheet items sold by the ounce to reach quantity break levels for mill products. Most styles come in coils of approximately 9 inches in diameter. Please expect plus or minus 10% weight on orders over 1ozt or plus or minus 0.10 ounces on smaller quantities since cutting wire coils is tough to pinpoint.
Reviews:
from Nicola (2 months ago)

Halstead has the best Sterling silver wire at the best price! I use this wire to make many things, one of my favorites is to drill sea glass, and then wire wrap the sea glass beads with closed jump rings between each sea glass bead creating a wire wrapped sea glass link bracelet. I always use some chain at the end so it's adjustable like this one I have listed on Etsy... https://www.etsy.com/listing/898560901/blue-sea-glass-bracelet-adjustable
from Judi Talley (3 years ago)

The first thing I noticed was the ends of the cut were not wrapped around the loops, which (of course) makes for a headache or a waste. The coil was well held together, well marked, and sealed in a ziplock bag. After that start, I figured (rightly) that this was going to be good wire to work with. Love it.
from Far afield (4 years ago)

Very easy to work with. The perfect size for the pieces I had.
Must be logged in and have purchased the product to write a review
Write A Review
You May Also Like:
Recently Viewed: