SW24H
24 gauge Half Hard Round Sterling Silver Wire- 48 feet per troy ounce
Estimated Stock Availability: September 15, 2021 - September 22, 2021
Don't despair! Contact our service team to find out how we can help you.
Calculating...
$40.21
Sold as 1 OZt Units
| Qty | Price |
| --- | --- |
| 1 | $40.21 |
| 5 | $195.03 |
| 10 | $384.03 |
Specifications:
24 gauge Half Hard Round Sterling Silver Wire- 48 feet per troy ounce
Our 24 gauge round half hard sterling wire perfect for looping, wire wrapping and more jewelry making ideas. It is made from 100% recycled silver, making it a great choice for metalsmiths who are looking for sustainable silversmithing supplies. Find the dead soft 24 gauge silver wire version as item SW24GA.
Made from 100% post-consumer recycled silver material. Sustainable silver raw material for your jewelry collection.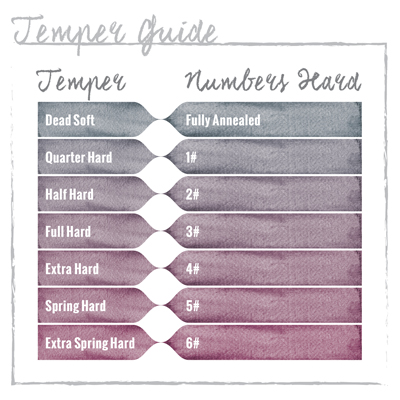 Material: Sterling Silver
Nation Of Origin: United States
Finish: Bright
Manufacturing Method: Machine Made
Anti Tarnish: No

Tariff Code: 7113.11.5000
Weight: 1 Ounce

Notes: 2# hard You can combine fine silver and sterling silver jewelry wire and sheet items sold by the ounce to reach quantity break levels for mill products. Most styles come in coils of approximately 9 inches in diameter. Please expect plus or minus 10% weight on orders over 1ozt or plus or minus 0.10 ounces on smaller quantities since cutting wire coils is tough to pinpoint.
Reviews:
from DH (4 years ago)

Halstead packs their wire in a large circle, not wrapped tightly around a spool, or coiled in a small circle. It gives you the advantage of having practically straight wire instead of having to straighten it out before using it. I love it this way! Perfect hardness for gems with tiny holes, too.
Must be logged in and have purchased the product to write a review
Write A Review
You May Also Like:
Recently Viewed: