Photographing your own jewelry can be a big money saver for your business. With the right setup you can turn out quality photos yourself, versus spending hundreds of dollars having them photographed by a professional. Unfortunately a good setup for photo can be expensive. Read on for tips to create a jewelry photography setup on a budget.
The Camera
First thing first: The camera is not included in this jewelry photography setup. Unfortunately unless you can get your hands on a good second-hand camera, get a hand-me down or are gifted one, you'll need to invest separately in a camera. Some can cost upwards of THOUSANDS of dollars. Which if you can afford one for that much, your time/money may be better spent on a professional. For the rest of us, it's important to find a camera with a good sensor, decent macro capability, mid to high megapixels (for better resolution) and at least 3x OPTICAL zoom (optical is the keyword here; digital zoom = lower quality images). Some sites will tell you optical zoom isn't necessary for product photography, however since many of you will be shooting tiny reflective mirrors giving your camera some space from what you're shooting is ideal.
Please note: Prices and availability may change.
Tools to Get
Tripod
One of the most important tools I use when photographing is a tripod. Tripods are the essential tool to achieve clear, high resolution photographs. As much as you can prop your camera up in different places/on different objects nothing beats the safety and steadiness of a tripod. Tripods are essential to be able to shoot photos at a low ISO for greater photo clarity. Choose your tripod depending on your needs; whether it be a standing tripod (to shoot close-ups by tables or if you plan to do more beauty and/or model shots) or a tabletop tripod (for close-ups of smaller jewelry on tabletop). The AmazonBasics 60-Inch Lightweight Tripod is a fantastic standing option on a budget. A great tabletop option at a similar price is the Manfrotto MTPIXI-B Mini Tripod. This ball-topped tripod will allow you to get good angles from a tabletop position with a sturdy base and strong roller-ball function to hold your camera steady.

Lighting
Good lighting is important for capturing quality photos of your jewelry, especially if you have limited photo editing capabilities. Buying lights for a DIY jewelry photography setup can be tricky since this is an area where generally the more you spend, the better you get. I was able to find a Softbox Lighting Kit by Belle Max (since publication, this item is unavailable on Amazon, however there are many similar options currently available). The kit comes with two softbox stands, two bulbs and a two-sided light reflector. The only downside is that they are single-bulb rigs which provide less bright light than a light with multiple bulbs. Fortunately there are two of them and the bulbs that are included are listed at 2700 lumens so they will still be a decent light source. There are also options like the StudioFX Kit that comes with only one softbox but has multiple bulbs (reflector not included). Which setup you choose really depends on what will work best for your studio. Keep in mind you will need the light and a reflector to properly light up your jewelry.

Background
Lastly, having a good neutral background in your jewelry photography setup is important. White is usually best as it interferes with reflections/colors/etc. the least. Depending on the kind of space you will be shooting in, you might choose something like this Table Top Light Tent or a Photography Backdrop Roll like this. The benefit of a light tent (if you are able to stay small) is that you don't necessarily need a light with a diffuser/softbox light rig as the tent will diffuse the light on its own.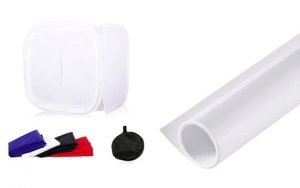 The Studio Setup
All of these items come in at about $100-$150 when buying a tripod, light rig and background. You can tailor the configuration of items you buy to your needs and work them for a smaller budget. One way to save money could be to DIY the lights and background. You can use a light at your house and DIY a diffuser with a frame and some semi-opaque paper or cloth to help soften the light by your jewelry. Just make sure to buy a 5000K or higher daylight bulb with at least 2000 lumens. You can also DIY a reflector with something bright white and/or some aluminum foil on a solid background for stability. Paper can be DIY'd depending on the size of background you need. Sometimes a structure, such as a flat grouping of bright white printer paper is enough (just be sure to hide seams).
---
Continue reading for more jewelry photography tips:
Is Your Jewelry Product Photography Up To Par? 3 Common Mistakes To Avoid.
Jewelry Photography Tips: How To Use Your Phone
Halstead Jewelry Minute: Photo Studio Tips Pt. 2 - Lighting
Jewelry Photography Tripods: Essential Equipment for Professional Images
Ready for a pro photographer? Check out our tips for hiring one!