Learn the ins and outs of sheet and wire gauges and metal tempers so you can make the right choices for your jewelry designs. This popular blog post was updated in 2019.
When you're talking (or reading!) about jewelry supplies, you'll often hear the words "gauge" and "temper." Both are important to know when you're choosing wire, blanks, findings, and sheet to use for your jewelry designs. Here's an overview:
Jewelry Wire Gauges
Gauge refers to the thickness of metal or wire. The measurements are counter-intuitive because the smaller the number, the thicker the metal and vice-versa.
In the chart below, the gauge is listed to the left followed by the actual size of the gauge with the diameter in millimeters and inches in the center. If you print this out, click the link below the chart and download the image. Be careful while printing, the actual size might be skewed. Do not choose "shrink to fit" and be sure to test your printout against a piece of wire.

It's very important to know how to choose the right gauge for the piece of jewelry you're designing. Here are a few examples of popular gauges for these types of projects: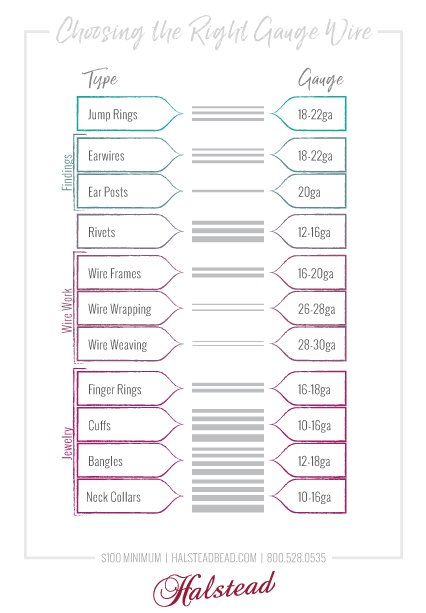 Jewelry Wire Tempers
When it comes to wire, you also need to know about the "temper." Temper refers to the hardness of the wire. Each time jewelry wire is drawn through a draw plate, it increases the hardness of the wire. A wire that has never been through a draw plate would be completely soft, or in jewelry terms "dead soft." If it is drawn through 10 times (spoken as "ten numbers hard"), then it's called "extra spring hard." Precious metal jewelers' wires rarely go past 4 numbers hard or 6 numbers hard.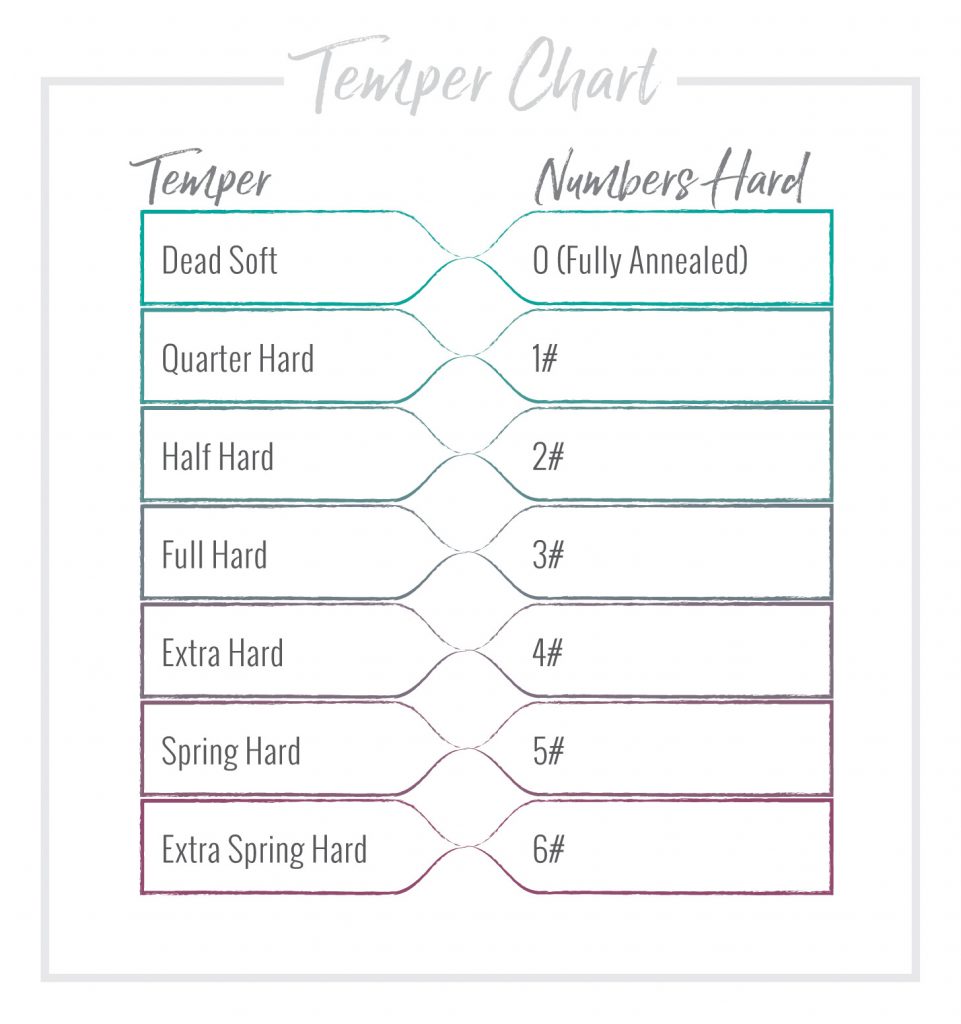 In the chart above, temper terms are listed to the left with the numbers hard (or the number of times drawn through the drawplate) listed to the right. Most beginning jewelry makers start out with copper to practice, which is nearly always considered "dead soft" because copper is naturally a very pliable metal. The most popular type of sterling silver wire for wire wrapping is "half-hard" because it holds its shape for creating bezels and bound wraps. "Extra hard" or "spring hard" wire tempers are typically stainless steel and would only be used for sturdy pieces such as the pin on a brooch.
Halstead stocks the following jewelry wire types:
Sterling Silver: Soft and Half-Hard
Gold-Filled: Soft and Half-Hard
Rose Gold-Filled: Soft and Half-Hard
Copper: Soft
Brass: Soft
Work hardening naturally occurs whenever you work with metal. Manipulating it causes the molecular structure to shift unless you anneal it to soften it back up. Beware of over-hardening wire, which can happen when you're weaving or wrapping very long pieces at a time. When wire wrapping, always bend the wire closest to the work rather than working from the end and bending the entire length of wire repeatedly.
---
Begin soldering! Learn how to safely solder a sterling silver bangle using a small butane torch.
---
Halstead is one of North America's leading distributors of jewelry supplies. The firm is celebrating their 45th anniversary this year. Halstead specializes in wholesale findings, chain, and metals for jewelry artists.
Got questions? Email our studio coordinator Erica Stice at studio@halsteadbead.com. We'd love to hear from you. Sorry, studio support is not available by phone. Emails only, please.
If you've enjoyed this, you'll love our other articles:
Setting Up Your Wire Wrapping Jewelry Studio