Soldered wire accents allow you to create geometric designs with a line drawing feel. But, soldering thin wires onto sheet metal is a challenge. Our very own Studio Coordinator, Erica Stice, has some tips and a video.
Soldering wire embellishments to the surface of your jewelry designs can really get your creative mind flowing. Whether it's geometric or organic, round, straight or zigzag, wire shapes can add some fun to your designs. Soldering wire can be intimidating at first. Some wire is thick and difficult to shape while other wires are thin and fragile; however, it's rewarding to feel the satisfaction you'll have after finishing a piece successfully. Nonetheless, there are certain things you should be aware of when adding wire embellishments:
The wire must lay flush against the sheet's surface.
You can not use rotary tools with abrasive wheels on the wire. It removes parts of the wire in seconds and can quickly damage your piece.
Sweat soldering works great especially on the thinner wire (you can watch a sweat soldering demo video at the bottom of this article).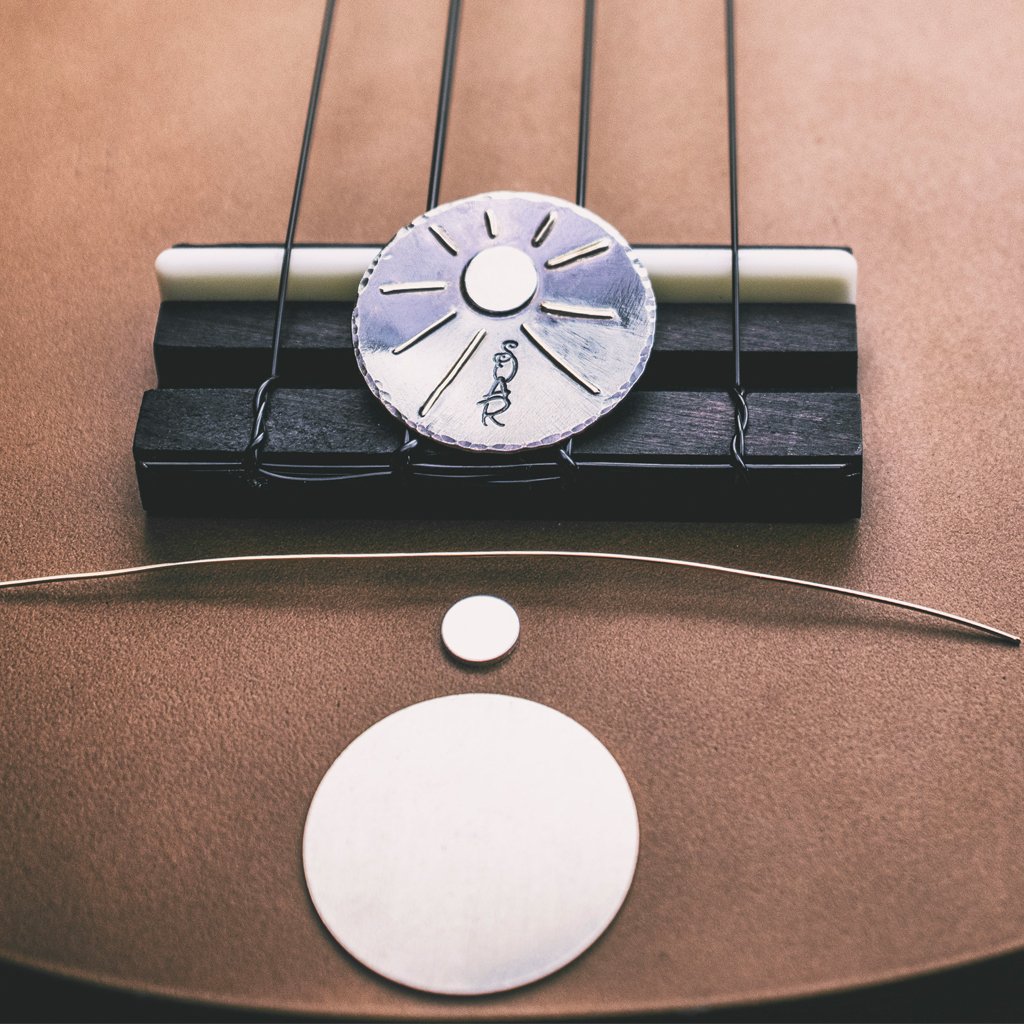 Soldering with Wire
| | |
| --- | --- |
| 14kt Solid Gold Wire | In this project, I sweat soldered 14kt gold wire pieces onto a round 20 gauge sterling silver blank. The key when soldering wire is to control the amount of solder because if you use too much you'll have a lot of tricky cleaning to do at the end. |
Note: I'm using an air/acetylene torch with a Smith set-up and the #0 torch tip. This #0 torch tip is very small so I can focus the heat better on the tiny wire embellishments on this piece.
Choosing the Soldering Material
I chose to use gold plumb solder in this case. Plumb solders are a color match for 14kt yellow gold items so I knew the colors would match perfectly, however, using gold solder in this instance also created a longer cleanup where the solder flowed out from under the wires. But, I prefer to clean the gold solder off of the sterling silver blank than clean the silver solder off of the fragile gold wire embellishments.
If you choose to use silver solder with sterling silver wire and sheet, I would still suggest cleaning the solder off of the sheet rather than possibly damaging the jewelry wire.
Note: For more information read Types of Silver Solder Used in Jewelry. It's full of important information and fun facts.
Choosing the Right Type of Solder
| | |
| --- | --- |
| Since these wire embellishments are so narrow I knew I would have to use pallion chips. Wire or sheet solder would have been too much. After choosing the type of solder, I still had to choose the melting temperature and since I had used medium solder previously for the ornament, I used soft solder for this round. Our soft solder melts at 1325 degrees, which is quick enough to protect the wire pieces yet low enough to avoid reflowing the previous join under the ornament in the center. I took the smallest pallion chips in the studio and used one per piece of wire | Soldering Chips |
Note: Check out this blog post to decorate your pieces with solder ornaments. As you can see in the image of this piece, there is a sterling silver solder ornament in the center. You can see how that was done, using the sweat soldering technique at How to Sweat Solder 14kt Gold to Sterling Silver.
The Importance of Prepping
Prepping is key to getting a great solder join. Not only do you need to remove all of the oils and dirt, but you also need a tight connection. If I'm working with round wire, I always flatten one side by running it back and forth across 800 grit sandpaper. This will allow a wider soldering surface between the join.
What you'll need:
Ruler
Wire cutters
Torch
Pickle
Pickle pot
Quench bowl
Soldering pick
Tweezers
Copper tongs
Soldering board
3rd hands
Flux
Sandpaper (800 grit)
Easy 14KYH gold easy plumb solder (pallion chips) (9 pcs)
20ga sterling silver blank (1 pc)
20ga, 14kt gold wire (2 3/4in)
Letter stamping set (optional)
Hole punch or drill bit (optional)
Finishing tools
and most importantly safety gear (apron and safety glasses)
Soldering Steps
Note: Adjust any of the materials above for the item you want to create. These are very specific steps for the sunburst pendant shown above.
Step 1: Use the ruler to measure the lengths of wire. I cut two = 1/2" pieces, two = 3/8" pieces, two = 1/4" pieces, two = 3/16" pieces and one = 1/8" piece. Cut the 14kt gold wire using wire cutters.
Step 2: Take each piece of wire and using the 800 grit sandpaper, slightly flatten one side of each piece.
Step 3: Place the 14kt gold wire pieces on a soldering board about 1 inch apart. Flux them and place one tiny pallion chip in the center of each piece of wire. Light the torch and put it in your non-dominant hand. With the soldering pick in your dominant hand slowly focus on heating one piece of wire at a time.
Tip: Keep your torch moving at all times running it back and forth along the length of wire. and at the same time, move slowly in with the torch, to heat the flux at a distance. By doing this, the flux will slowly dry which will prevent the pallion chip from bubbling off.
Step 4: Remove the flame as soon as the pallion chip melts and flows across the wire.
Step 5: In the next step, you'll want to heat this from underneath not from overhead. This is important. You can achieve this by using a tripod or a 3rd hand tool. Since the solder moves towards the heat source, you want the solder to flow down off the wire and onto the blank. If you were to heat it from above, the solder would run up and over the wire possibly skipping the blank altogether.
Step 6: Flux the blank and place each wire where you would like it in your design. Next, light the torch and this time heat the piece from underneath with the flame hitting the bottom of the sterling silver blank. Carefully move the flame in slowly to prevent the flux from bubbling up and moving your wire pieces. If any of the wires move out of place, use the soldering pick to nudge them back into place before the solder flows.
Step 7: Once the solder flows, let the piece air cool for a couple of minutes. Once it's cool, drop it into a pickle pot using the copper tongs. When the sterling silver blank is clean of firescale, pull it from the pickle pot with copper tongs and quench it in water and then dry it.
Step 8: You can now use finishing tools. To remove any extra gold solder from the blank, use a flex shaft with 3M bristle disks or a sandpaper set. Be careful not to touch the wires because it just takes a little bit of sanding over the 14kt gold wires to deform them.
Step 9: Add a punched hole for cold connecting your piece as a pendant or link and/or stamp it now, if you'd like.
Have fun adding wire embellishments to your jewelry making designs!
---
To find out more about soldering (including tips and tricks) you may find these articles very helpful:
5 Steps to Start Silver Soldering
3 Torch Tips for Soldering Jewelry
6 Steps to Soldering Earring Posts
Fancy Jewelry Wires: Shaping & Soldering Wire Links
Soldering Half Round Wire & Pattern Wire For Rings
Instructables article & video: Solder Jewelry at Home: Set-up & Bangle Soldering
Got questions? Email our studio coordinator Erica Stice at studio@halsteadbead.com. We'd love to hear from you. Sorry, studio support is not available by phone. Emails only, please.