Texturing is a lot of fun! Discover popular ways to texture on jewelry metals. Watch the video below for even more information on this popular jewelry-making technique.
Texturing is one of my favorite techniques! It's fun to discover new ways to achieve the results that you're searching for, plus I love the dimensions you can achieve by texturing and how the light plays off of the finished pieces. I've reached out to three of our favorite teachers; Tammy Honaman, Brenda Schweder and Eva Sherman to find out what their favorite texturing tools are and to give us a few tips on this beautiful technique. From hammers and punches to rotary tools and rolling mills...
How to Texture Metal with Hammers
Hammers are one of the most popular and easiest ways to texture. Striking with a hammer to shape your jewelry metal blanks takes mere minutes and the longer you practice, the easier it will become to control the strikes. The two most popular hammers for texturing are the cross pein and ball pein hammers. These hammers are common for jewelry studios and easy to find.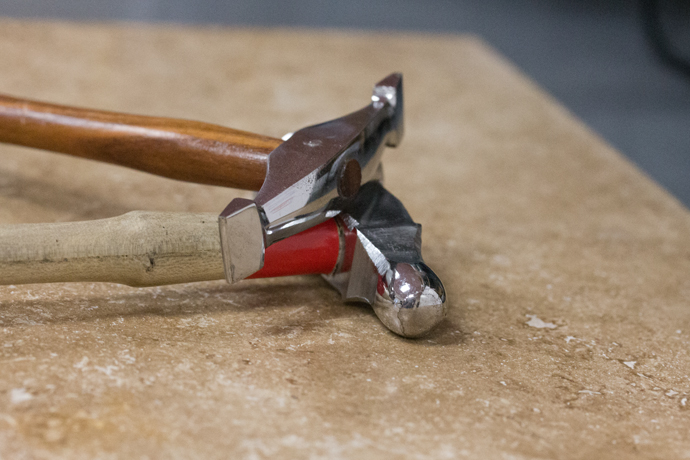 I'm in love with my Fretz texturing hammers! They are a dream to hold and work with. Whenever hammering, it's best to hold the farthest back on the handle you can manage. For the sake of your joints, remember this and think of it throughout your project. I find my hand creeps forward as I work and I've learned to stop every so often to reposition my hand. - Tammy Honaman
Pein Hammers
These two types of hammers come in numerous sizes and they will re-shape the metal quickly at various degrees. Coss peins are wedged shaped and they can have sharp or rounded corners. I prefer the rounded corners because they don't leave drastic, hard lines in your metal. Ball peins have round faces and again, they come in a variety of sizes. These will never leave sharp corners in your metal and are one of my favorite hammers of all.
Cross Pein

The impressions left with a cross pein hammer can be subtle with gentle strikes or with heavy strikes for deep patterns. If you strike the metal at random angles it resembles hills or cliffs. You can do a crosshatch pattern by striking all in one direction then rotate your metal and strike again. By doing this you are creating intersecting parallel lines in your metal which resembles a mesh pattern. If you go straight across your piece it resembles water lines. Cross pein hammers move the metal 180 degrees.

Ball Pein

Ball pein hammers are multi-purpose hammers. They have a flat half-domed face which can be used to strike punches and stamps and flatten metal, too. The other end is round and can be used to shape metal. This rounded end leaves dimples in your metal when you use it for texture. Strike gently for subtle dents and strike hard for deep depressions. This is a great tool to use to leave dimpled patterns around the edges of your piece. Ball peins stretch and form the metal at 360 degrees and they can also round off sharp corners to prevent sharp angles in your jewelry pieces.
Patterned Texturing Hammers
Texturing hammer

These specialty hammers are strictly used for texturing different patterns directly onto your metal sheet and blanks. Although the faces vary depending on the brand of the hammer, below are common patterns you can find.

Note: A good habit to get into when you acquire a new hammer for texturing is to create a sample sheet of the texture that the hammer makes. Mark a number on the handle of the hammer or find a distinguishing mark on it, create your sample sheet (copper or brass are good materials to use for this) and engrave or use a permanent marker to place the hammer number on the sample. By keeping a collection of sample sheets, you can quickly choose the texture for your next design.
Planishing Hammers
| | |
| --- | --- |
| Planishing hammers | Would you like to smooth out any high ridges after peening? Use a planishing hammer to smooth those rough or high edges. These flat-faced hammers flatten and smooth the metal at 360 degrees. You achieve this by placing it on a steel block and strike with the face of the hammer using overlapping blows. This will flatten the metal out. When used with a stake, planishing hammers will flatten it against the stake and also stretch the metal, too. |
Additional Texturing Techniques
Rolling Mill
A rolling mill is an excellent way to add textures to metal sheets and blanks. You can find objects to imprint outside, in the kitchen (I heard scrunched up aluminum foil works well) and in your jewelry studio.
My favorite texturing tool is the rolling mill, the possibilities are endless! For best results, make sure metal is annealed. And to protect your mill, make sure the metal is clean and dry. - Eva Sherman
Sandpaper = Insert a piece of jewelry metal between sandpaper that is folded in half, wrap that in a paper towel, and run it through a rolling mill. This adds a rough, pitted pattern onto your jewelry sheet, which I absolutely love. Try different grits and multiple passes to discover interesting patterns and depths. Don't forget your paper towels! You always need to protect your rollers from damage.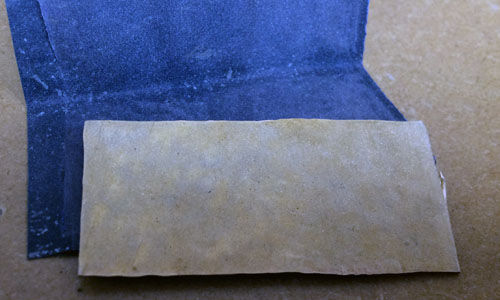 Pattern Plates = Buy brass pattern plates! Running these patterned plates through a rolling mill, along with a piece of annealed metal, will leave the imprinted patterns over and over again. We can generally imprint 8-10 times on sterling silver before the pattern on the brass plates become dull. Remember, run it through only once or you can damage or alter the impression left behind.
Nature = Find twigs, small leaves, and other items outside. If your jewelry metal is annealed, they tend to imprint very well. Run these botanical objects through the mill while wrapped in a piece of paper. Be sure your metal is annealed and that the objects are dry, rust will certainly damage the rollers.
Note: Don't put saw blades or other steel objects through a rolling mill. Steel will damage the rollers and if that happens they will need to be sent out to get resurfaced.
Rotary Tools
Diamond Cutters = Diamond bits and wheels are a great way to leave deep impressions in your jewelry designs. I've textured with these numerous times and I've always been pleased with the results. Be sure to use a diamond cutting lubricant with these rotary tools or they will quickly overheat and wear out.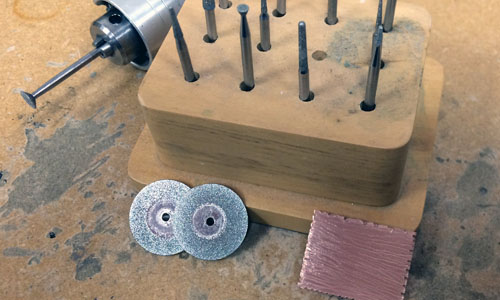 Think outside the box
Pliers = Using a pair of needle-nose pliers allowed me to create a simple v-shaped pattern around the brass frame shown above. Check out your plier rack and see what you can do with them, too.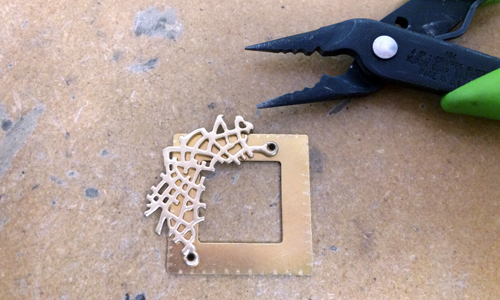 Dapping Punches = If you don't have a ball pein hammer, you can use punches as a similar texturing tool. Just don't damage the end of your dapping punches by using the wrong hammer. Be sure you are using either a brass hammer or a chasing hammer to protect the end of the punch.
I've been using a lot of metal stamps lately, too. These are great for placing very precise designs, like letters and motifs. With some well-placed dots and circles (a nail setter is great for this!) you can add a more targeted "texture" to any design. - Tammy Honaman
Misc. Hammers
The Now That's a Hammer! HammerStakes set shown below is a set of cross pein, ball pein, and planishing hammers with built-in stakes on the opposite ends. A hammer set like this is all you need to texture with!
| | |
| --- | --- |
| | I love playing with a technique I call Texture Painting, where I use more than one Now That's a Hammer! HammerStake to shape and enhance a particular form. - Brenda Schweder |
Final thoughts...
Reshaping your Metal
When hammering on metal, it will curl and bend. To flatten it back down, place your metal face down on a steel block, and hit it with a nylon or rawhide hammer (flip it over as needed). Using one of these two types of hammers is ideal because neither one will mar your metal or ruin your textures. Having one of these hammers in your jewelry studio is a must!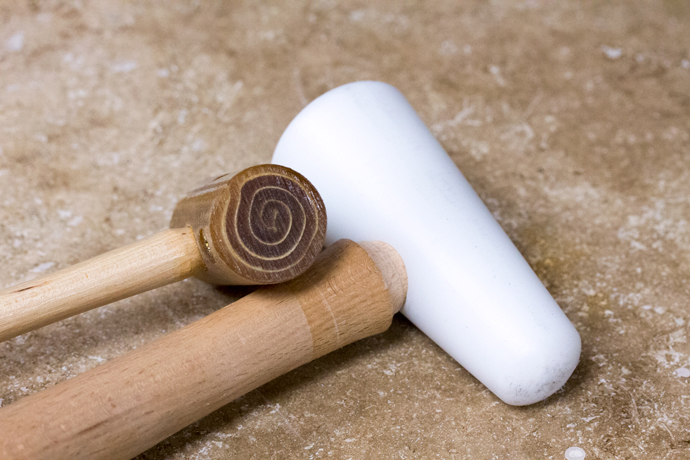 Work Hardening & Annealing
Every time you work with metals, whether hammering, bending or shaping, you're putting stress on the metal. These molecules are moved around to the point where they can crack or break. To see this for yourself, take a long piece of soft scrap metal and texture half of it with a metal hammer. Try to bend the half you just textured with your hands... pretty tough, right? Now bend the side you didn't hammer. See how easy that side is to bend? When you feel the metal begin to work harden, you'll need to anneal it before it cracks and ruins your design. Annealing is easy to do and you can do it multiple times with the same piece. To find out more, check out our article: Basic Metalsmithing: Work Hardening and Annealing.
---
Watch the video!
What are your favorite texturing techniques? Share them with us using #halsteadmakers.
---
Tammy Honaman
Teacher/Artist/Writer/Editor
Tammy Honaman is a regular contributor to articles, books, and TV programs in the jewelry making world. She teaches and demonstrates both nationally and internationally and she has several videos and books available. Tammy is certified for both PMC and as a Senior Art Clay Instructor. Tammy Honaman is currently the Director of Content at Interweave.
Brenda Schweder
Artist/Influencer/Author
Brenda Schweder is a jewelry artist, author, and inventor of Now That's a Jig! and her new Now That's a Hammer! HammerStakes which is a joint collaboration with Fretz Design. Find these tools and more on her Etsy page.
Eva Sherman
Artist/Teacher/ Writer
Eva Sherman is the owner of Grand River Bead Studio in Lakewood, Ohio and the author of two jewelry design books: "Cool Copper Cuffs" and "Organic Wire & Metal Jewelry". Eva travels the country teaching metalsmithing classes throughout the year and is a frequent contributor to Lapidary Journal Jewelry Artist.
---
About Halstead
Halstead is one of North America's leading distributors of jewelry supplies. Halstead specializes in wholesale findings such as jewelry clasps, chain, and metals for jewelry artists.
Do you love to texture? What are your favorite texturing tools or tips? Got questions? Email our studio coordinator at studio@halsteadbead.com. We'd love to hear from you. Sorry, studio support is not available by phone. Emails only, please.
Keep Reading
Texturing Metal with Candie Cooper
Glossary of Hammers Used in Jewelry Making