New jewelers often find themselves jumping from a well-stocked school studio or pre-assembled kits to an empty home studio. Once you're ready to stock your own jewelry studio, read our tips for buying jewelry supplies.
We've all been there. You've taken some really great jewelry making classes with fantastic instructors who provided you with pre-made jewelry kits of all the materials you would need. Now, you're ready to start working on your own. It's exciting! It's empowering! But then you start shopping for supplies in bulk. Talk about a whole new world. Don't worry! We're here to help.
Instructor Erica Stice says, "We see this all the time in the studio. It can be overwhelming for students to figure out what they need. In fact, we have one class that's all about training people how to plan, budget and create their designs. It's a difficult lesson to teach. We quickly see how fast $50 can be spent on buying supplies!"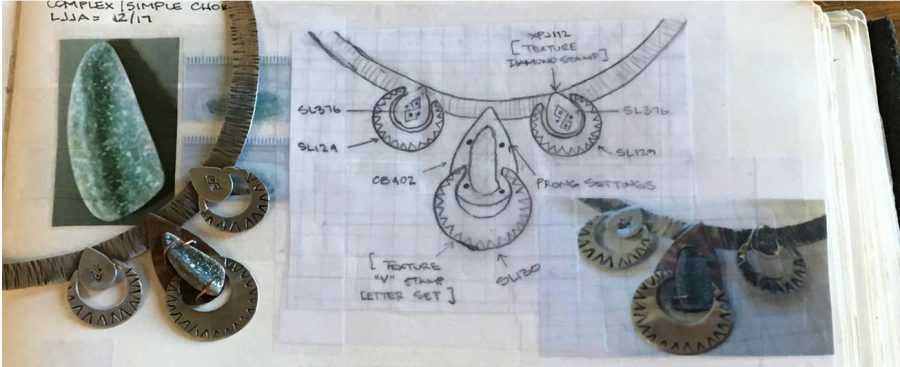 1. Sketch it Out
It's worth it to spend some time sketching your design ideas. Look online or in the catalog to guide you so you know what components are readily available as you plan your design. Be sure to take note of product numbers to make it easy to put your order together when you're ready.
A good sketch can become a valuable tool in your studio later, too. Add item costs near the product numbers and then you can file the sketch and use it to price your finished work or quote custom orders. If you ever intend to have help in the studio, the sketches can be used for training and quality control.
2. Make a List
Determine the quantity of each component you need for a finished jewelry piece and make a list. Be very specific so you'll know what to order now and so you can replicate the design in the future if you decide to make more.
Part of the purpose of the list is also to help you get organized. You might write it all down and then see that you have three different gauges of wire where two would work just as well. Think about economizing where you can. Remember to include standard studio supplies that you'll need such as Liver of Sulfur. Those supplies will need to be replenished when they're running low and placing them on the list will ensure that you take stock of what you have on-hand.
3. Plan for Production
If you are doing production work and will be making more than one piece, calculate your total needs so you can place your order all at once for the best possible pricing. If you're cutting multiple items out of metal sheet, this is where your sketch will come in handy. You can copy the components you drew and arrange them to determine the most economical size of metal sheet you'll need.
Sometimes items are sold in multiples. When you know you'll be making several of the same design, you'll be able to determine which bulk packaging will work best for you, ie. 10 versus 100.
4. Keep your Budget on Track
Check your budget and keep track of component costs so you can accurately price your work later. Keep in mind that some costs are tied to the metals market so they're likely to fluctuate over time.
There are special software programs you can use to track components in your studio, or you can keep it low-key. Artist/instructor Kate Richbourg says, "I keep permanent markers handy and, as soon as my inventory comes in, I take a moment to calculate the cost of the items and write them on the bag they came in."
Moving past kits into buying jewelry supplies is going to open up a whole new world for you. Enjoy it! Find more tips for small jewelry businesses and subscribe to weekly article releases on the Halstead Jewelry Articles.
If you are a jewelry student, the school studio probably has all the tools and materials you need to complete your class assignments. Or you may even be provided with organized kits that include everything you need for individual workshops. However, once you complete your education, you will need to start sourcing materials so you can keep making. Sourcing can be overwhelming at first. It is hard to know where to look and who to trust to get what you need. Here are some tips to get you started.
5. Get Familiar with Units of Measure
I often joke that only jewelers and drug dealers can hold an item in their palm, bounce it up and down a couple of times and guess the gram weight to the nearest tenth. It takes time and practice to get used to all the different units of measure in our field. Precious metal materials can be sold by the gram, troy ounce or pound, to name a few. Some items are sold by lengths like meters, inches or feet while other items are described using conventions including millimeters and gauges. Know how much material you need and the best way to purchase it at that quantity level. For example, volume users will want to purchase bezel strip wire by large troy ounce coils but an infrequent bezeler may want to buy by the inch for just one particular custom piece. It gets really confusing! Two tips here to help you navigate.
I always keep a bench ruler at my desk that has both millimeters and inches on it. My spatial imagination is limited. So, even after decades in jewelry, I still pull it out and look at it to fully grasp the dimensions of an item I may be reviewing online. It is tough to understand the scale of website products without a physical tool, in my opinion.
I also keep several printed conversion charts taped to the wall by my desk. I have memorized some of these but I still refer to the charts often and am so glad I have them right at my fingertips. Our Gauge Conversion Chart shows the thickness of various gauges in mm and inches. Our Jeweler's Conversion Chart gives you a quick reference for some of the most popular measurements used in jewelry making.
6. Find the Right Jewelry Supply Store(s)
Compare sources for the quantity of items you need. Keep in mind that the jewelry business is very fast-paced and all things are not available at all times. Protect your jewelry line against stock shortages by shopping around.
When you're selling your own jewelry, shopping with wholesale jewelry suppliers will nearly always be a more cost-effective choice than retail purveyors. Of course, we recommend Halstead as your primary source for jewelry making supplies. But there are several other reputable suppliers in the trade as well:
Otto Frei
Rio Grande
Stuller
Supplier Reputation
When buying precious metals or gemstones, reputation is critical. Do not search for an item online and pick the first Amazon reseller or Google Shopping ad you see. There is a lot of product out there that does not meet metal alloy specs or is outright fake. Be careful. Ask your suppliers about their quality control programs. At Halstead, we randomly screen products every quarter with lab assay tests to verify alloys are within tolerances. New supplier lines are assayed before they ever go online for sale. We take quality seriously. Know who you are dealing with.
Reputable websites and catalogs clearly describe their products by material and provide thorough specification details. Be wary of the word "silver" on descriptions since this is often used as a color descriptor and does not necessarily mean .925 sterling silver, for example. By the same token, as a new professional in jewelry, you are responsible for learning how to accurately disclose your materials and educate your buyers on their purchases. Learn the lingo and look for complete details.
Build Relationships
Solid suppliers may end up serving you for decades. You don't want to work with a faceless logo. It is important to build relationships with your sources. Find out the names of the other people on the end of the phone line. Know who you are dealing with and ask questions that will help you in your business. It is amazing the lengths that service teams will go for the customers they have come to know over the years. Here are examples of a few things you may want to start asking if an item is important to your line:
a. Is this item usually available in the quantity I order?
b. How long does it take to replace inventory when you run out?
c. Do you offer close substitutes if it isn't available?
d. Where is this item made?
e. What do you think of this item?
Have Back-ups
Use several different sources. Jewelry is a fashion-based business and trends move fast. Stock use is volatile and unpredictable so stock-outs are a regular reality in jewelry supply sourcing. Have back-ups and price some variability in your work so you can cover the materials you need. Think about supply reliability when you design pieces that you want to stock or use in a production line.
Interested in opening a Jewelry Supplies for Students account with Halstead? Review our criteria and register today. A service representative will get back to you once your account is ready to roll.
---
Here are more great resources to help you learn how to buy jewelry supplies:
How to Buy Jewelry Making Metal Sheet
How to Buy Ring Making Material