Learn tips for taking quality jewelry photography with tripods. These are essential tools to have in your jewelry photography studio so you can take the best photos of your work.
Having quality jewelry photography is critical in today's competitive jewelry market. With professional photos you can add perceived value to your jewelry and brand. It is important to have the right jewelry photography equipment to capture the best images. One of the essential accessories for jewelry photography is a tripod. Be sure to watch our video overview above and read the article below for complete details.
Tripods are important to jewelry photography because they keep your camera steady. Your images will be crisper, clearer and cleaner when you use a tripod for stabilization. Stabilization is critical when using the manual settings on your camera. We recommend shooting with an ISO of under 200 for sharper, more detailed images.
Two major brands in tripods today are Vanguard and Manfrotto, both of which we use in our Halstead photo studio. The best places to buy tripods are from retail sites like Amazon.com and specialty sites like B&HPhoto.com.
Tabletop Jewelry Photography Tripods
Tabletop tripods generally range from about $10 to $100. They're best suited for use with point and shoot cameras or mobile phone cameras. Tabletop tripods don't work as well for DSLR cameras, as they are not strong or stable enough for the weight. They are likely to tip over when you add a top-heavy camera to your set up. It is important to get a tabletop tripod with pan/tilt capability to get the most options for positioning. When ordering a tabletop tripod, be sure to choose one that supports the weight of your camera AND lens. You may be curious to know what are the pros and cons of tabletop photography tripods?
Benefits of tabletop tripods: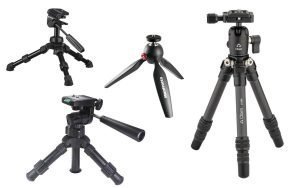 Least expensive
Small and easy to maneuver
Can set up on a table next to your jewelry setup
Drawbacks of tabletop tripods:
Can be top heavy
Minimum focal distance of camera can limit how close you can get to your subject
Limited height options
Full Length Jewelry Photography Tripods
Full length tripods can run as low as around $35 and can be as much as $400 and beyond. Consider how your photo area will be set up when thinking about what jewelry photography tripods to buy. You can save money if your tripod doesn't need to move a lot (aluminum vs carbon fiber).
Full-length tripods stand on the floor next to your photography surface. Again, look for pan/tilt features to ensure that you can shoot from multiple angles. You will also want a height adjustment feature that corresponds with your worktable or light box height.
Benefits of full-length tripods: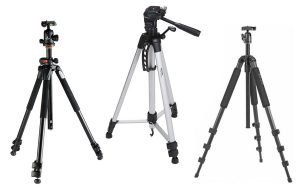 More features
Greater height options
More stable
Drawbacks of full-length tripods
More expensive
May be further from piece
Bulkier for travel
Choosing the Right Tripod for Jewelry Photography
Here are some additional features and accessory add-ons to consider when purchasing a new tripod.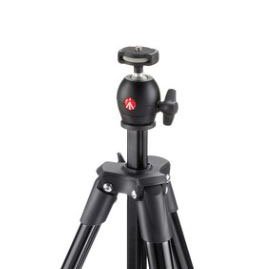 A ball head attachment for your tripod can increase the range of motion on your camera. Be sure to get a strong one so it will support your camera at any angle. Read product reviews to make sure the ball head position can be firmly locked in place. Some cheaper tripods have insufficient tightening mechanisms, so your camera slowly slips out of position during use.
A full-length tripod with an adjustable center column that adjusts to 90 degrees. This extender arm gives you the ability to shoot straight down at your jewelry from an overhead angle.
A remote shutter release (wired or wireless) is invaluable for getting still, clear shots. It allows you to take your photo without touching the camera, reducing movement in your shots. This can be critical especially when using a longer exposure.
You can buy a tripod mount for your phone too! Tripods are still recommended even if you shoot your jewelry photos with your smartphone.
Top 5 Jewelry Photography Tripod Tips
Use the center column to add height to your tripod only when necessary; it makes your tripod less stable.
Did you know? You can even get a tripod mount for you cell phone; to stabilize even if you don't have a normal camera.
Make your tripod more stable under the weight of your camera (especially when setting the center column at a 90 degree angle) by positioning one of the legs of the tripod directly under the weight of your lens/camera.
If you don't have a remote shutter release, use your camera's self-timer function to give enough time to allow your tripod/camera to settle.
Be sure to turn your camera and lens stabilizer settings off when using a tripod. Failing to turn the stabilizer off can cause a feedback loop, in which your camera/lens will detect its own movement, causing camera shake.
---
Visit us at halsteadbead.com for all your tools and supplies. Subscribe now and enjoy these other guides on jewelry photography from Halstead.
Is Your Jewelry Product Photography Up to Par? 3 Common Mistakes to Avoid.
Jewelry Photography Tips: How to Use Your Phone