Earrings are always in style, but they're particularly trendy right now. Here are some tips and tricks for pumping up your jewelry collection with an infusion of handmade earring designs.
When you're selling your handmade jewelry, making earrings a part of your collection is a smart way to expand your line. Earrings are pretty much one-size-fits-all, so there is a lot of sales potential. And, the earring trend is growing. In the JCK 2018 Forecast According to Jewelry's Big Thinkers, Marion Fasel of The Adventurine says, "Statement earrings, hoops, huggies, and studs are all going strong and will continue to do so." Here are some tips for how to create your own earring collection.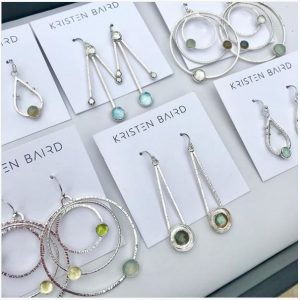 Build A Cohesive Collection.
The earrings should look like they belong with your other work. This may mean making earrings in a certain color scheme or exploring a particular technique, such as granulation or reticulation across your collection.
Remember that people may fall in love with your necklaces and want earrings to match or coordinate. They make great up-sells!
When building any collection, I try to define my theme first. The theme could be a holiday or special occasion: Mother's Day, a Summer soiree or Christmas. Or, I define the style -- long drop or small cluster or maybe a combination of both. Then I try to define the finding I will work with -- French ear wire, simple hook style, or maybe a post. Or, maybe it will be based on color -- the color metal, the color stone, or the color beads. With a few, or at least one parameter set, you have a place to start and then the real fun can begin. - Tamara Honaman - Jewelry Designer
Use Pre-made Findings
Save time using premade earring findings instead of making them yourself. Sure, you could shape wire and and file and polish and do all that good stuff, but it's quick and easy to purchase ear wires, hoops and other earring findings. You might also experiment with unconventional earring findings, if they fit your style. Ear threads, cuffs and jackets are very popular right now.
---
---
Vary Your Price Points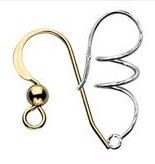 Your higher-priced statement earrings will grab people's attention, while lower-priced earrings make great add-on purchases when they're buying other pieces from you. There is no magic formula for pricing earrings, although you can use our jewelry pricing guide to help find fixed costs and your base item price.
I've been doing so many rings that earrings are somewhat of a new experience for me especially in this quantity. I've designed about 14 new styles with multiple variations in the past month and it's been fun. One of the things I'm finding out that I really enjoy about the earrings is the fact that none of them need to be sized like rings do. When an earring enthusiast comes to shop with me they get so excited and they usually leave with a pair of earrings either in their ears or in their hand. It's also a great way to have a one-size-fits-all 'giftable' option as well. Plus, earrings make great up-sells to a ring, cuff, or necklace purchase. - Kristen Baird - Jewelry Designer
Can You Make Multiples?
If you're thinking about production or will have help from an employee, keep that in mind as you design. Will your pieces be easy to reproduce? Look at the steps it will take to complete each earring and consider whether it makes good sense to add it to your line.


Think About Display
Use an earring card punch to make your own distinctive earring cards. Your cards can coordinate with your jewelry display to reinforce your brand. Use cardstock or paper that reflects your image.
Print the card with your website and care information, if you can. This is a great way to stay in front of your customers, even after the purchase is finished.
Ready to dive in? We sell a wide range of earring findings, earring making tools, earring display tools and more to make it easy for you to build your earring collection. Shop all of our earring making supplies at HalsteadBead.com.
---
Subscribe to our weekly articles for more small jewelry business tips. You may also be interested in these past articles.
Adding Diamonds to your Silver Jewelry Collection