Build your studio bench with Erica's top picks of essential tools for  metalsmiths.
---
---
Here are few essential tools that you'll need on hand if you're building your new jewelry studio. When I first started out creating a jewelry bench at home, I was new to jewelry making and it was a little overwhelming to try to figure out what tools were absolutely essential. Over the weeks and months I was able to get a clear picture of what I truly needed and what tools were on my wish list. I've compiled the list below. These are broken up into categories depending on what you need at the moment. These are great jewelry tools to get started with and later you can improve/replace them as your needs grow.
Essential Studio Bench Basics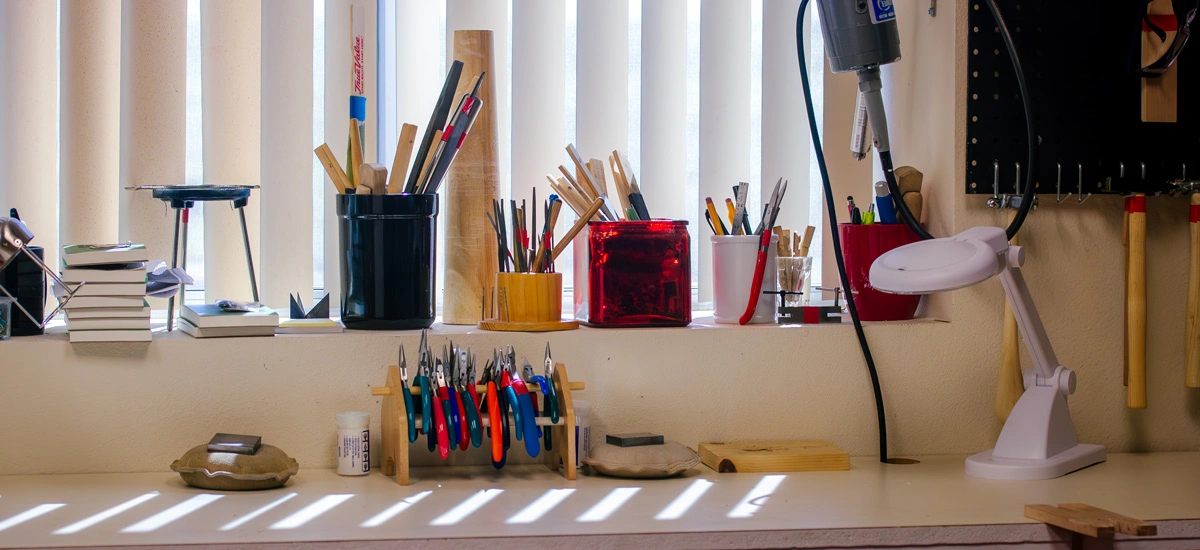 Here is a list of the most popular bench tools we use in our Halstead Studio:
Bench block
Hammers (rawhide, cross pein, ball pein & chasing)
Pliers (flat, chain nose & round)
Cutters (Wire & sheet shears) (Note: You can use a jewelers saw rather than cutters, too)
Bench pin
Saw frame & blades (2/0 to start with, range of metal sheet gauges that you can cut using this size of blade)
Abrasives (files and sandpaper)
Jewelry Soldering Supplies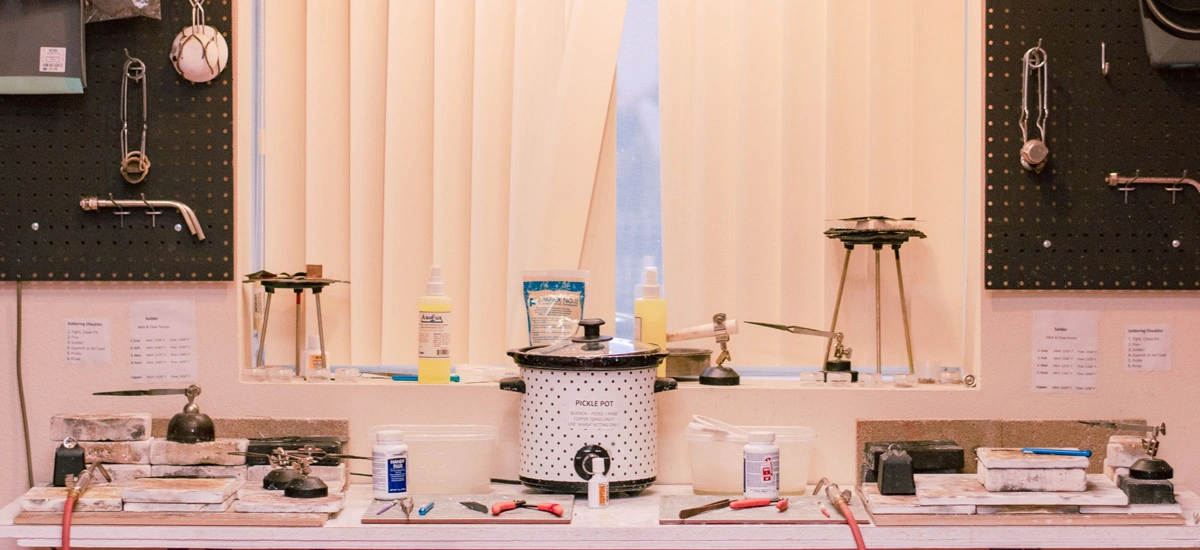 These are the basic supplies that you'll need at a soldering station:
Torch (with a spark igniter, if needed)
Soldering pick
Solder
Flux
Pickle
Pickle pot
Copper tongs
Soldering brick or charcoal block
Quench bowl (water)
Wish list: Flex Shaft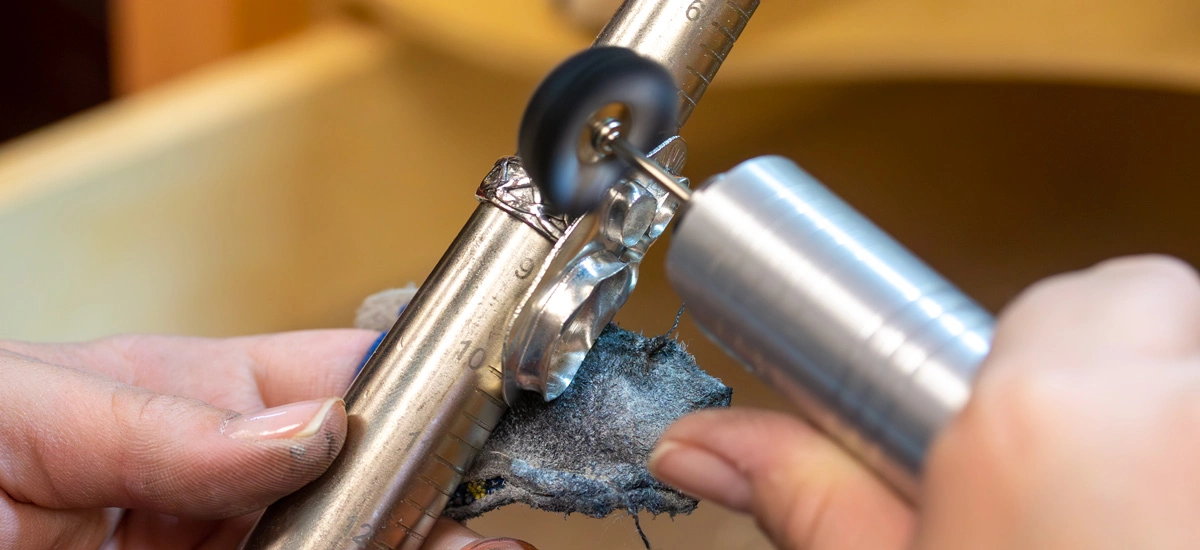 A flex shaft or rotary tool is not a necessary item when starting out with a new jeweler's bench, however, plan for one in the future. After the initial purchases for my studio at home, this was the one tool I purchased rather quickly. It will help cut back on the time you spend finishing your work using just files and sandpaper. I found this was a must-have tool almost immediately.
Attachments:
If you have purchased a flex shaft or already have a rotary tool, a polishing kit will come in handy. It should include radial brushes, satin finish texturing wheels and silicon polishing cones and wheels.
Note: Don't forget polishing compounds for the silicon products!
Last, but not least, Mill Products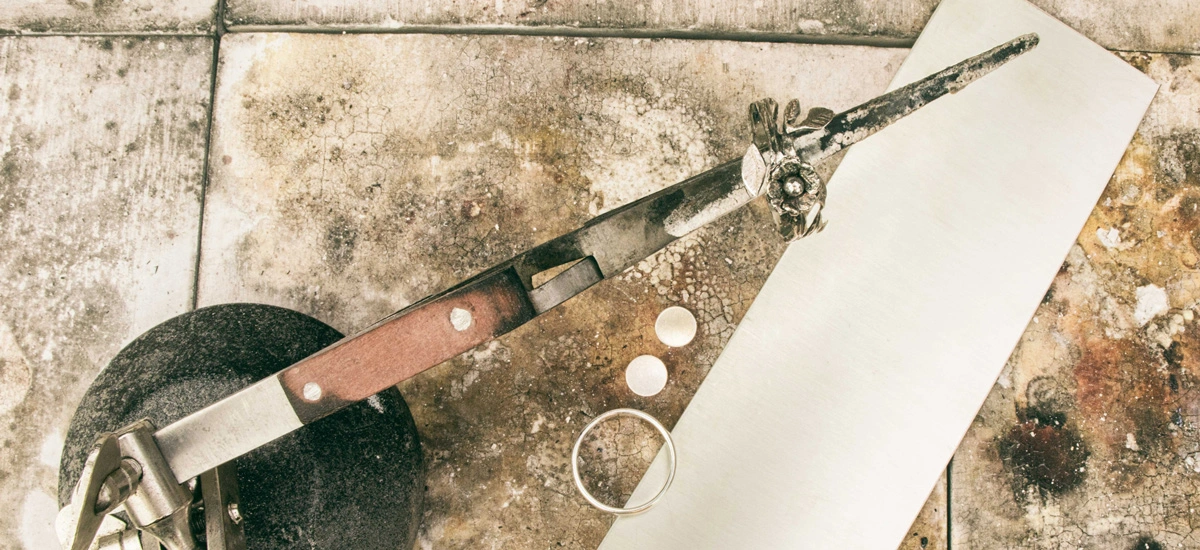 You won't get very far without stock on hand. Raw metal materials are essential for your bench whether it's metal sheet or jewelry wire. I would start out with copper and brass then make your way up to sterling silver and .999 fine silver as your designing and talents improve. These base metals can save you lots of money while you work on your skill sets. One thing I liked to do when I started out, was to begin a project using copper. The final piece could then be completed in sterling silver if it was still something that I wanted to recreate.
Watch the video! Jewelry Studio Bench Set-Up
---
Continue Reading:
Setting Up A New Jewelry Bench
New Jeweler's Guide To The Bench Pin
Flex Shaft Attachments for Finishing
---
Erica is Halstead's resident Jill of All Trades. She has been with the company for 14 years in a variety of departments. Her favorite role by far is what she's doing now as the Jewelry Studio Coordinator. She teaches classes to the Halstead employees on jewelry making and coordinates with guest instructors when they visit.
She has fallen in love with metalsmithing and is excited to share her adventures here on the blog. Erica's top tip for new metalsmiths is: "Practice! Be patient with yourself and have fun with it. Don't be afraid to ask questions. All of us at Halstead enjoy helping people whether it's questions on products or technical help in the studio. We're here for you."
Got questions? Email Erica Stice at studio@halsteadbead.com. We'd love to hear from you. Sorry, studio support is not available by phone. Emails only, please.