Bench Pin 101 for new jewelers. Check out product information and tips for use.
Jewelry making is full of tools and gadgets. To the uninitiated, it is completely overwhelming. I laugh now when I recall one of my first metalsmithing courses when I emailed ahead to find out if I really needed both a jeweler's bench pin and a ring clamp. "Looks like they do pretty much the same thing," I thought. If you don't get how ridiculous that is, don't feel bad. We all start out as novices and there is a lot of knowledge to acquire on the path of studio education.
Anatomy of a Jeweler's Bench Pin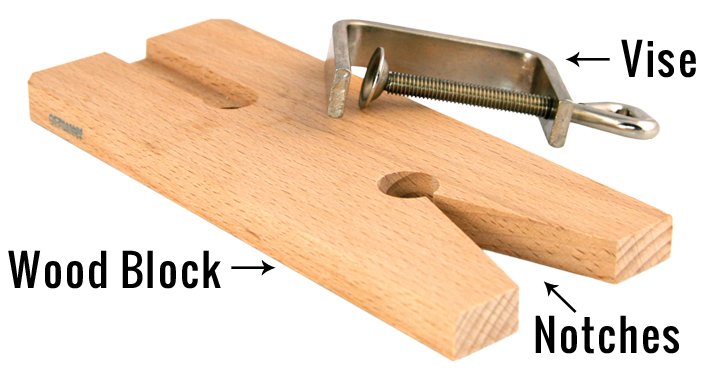 Varieties
The image above shows a common basic bench pin but there are many variations that perform the same functions. The vise is used to attach the bench pin to your tabletop. You will need a table that does not have a lip or carved edge so you can firmly attach your pin.
Sometimes the tapered wood block will just be a wedge that looks like a doorstop without the cutout keyhole in the model shown here. Others have spring clamps built into them that firmly hold your work in place while freeing your hands. Many jewelers like to customize the wood blocks with their favorite types of notches on the sides or front. Some models have a steel bench block or anvil at the base of the pin so you can easily move between different tasks. Whatever model you have you can rest assured that it will be invaluable for the following key functions.
Uses
Sawing
The jeweler's bench pin is indispensable when piercing and sawing metal. The woodblock is shaped to make it easy to grasp or brace against when you need a firm grip on your sheet metal as you saw. I prefer designs with a keyhole like the model shown above because this block opening is great for protecting your fingers. Always make sure you have a wooden edge between your saw and your hand; otherwise, it is easy to become so absorbed in your sawing that you go straight into a finger. It can be a nasty cut you won't soon forget.
Filing
Once again the angles and edges of the woodblock allow you to file your jewelry metals by moving the workpiece around and bracing it against the block as you file.
Polishing & more
You will come back to your pin over and over again as you begin fabricating jewelry. This protruding bench attachment is a versatile work surface that is just plain handy to have around. I use it quite a bit when using flex shaft attachments, polishing cloths and much more.
Your bench pin will not stay clean and bright for long. This is a working tool and you should expect it to get chewed up by saw blades and files. It will accumulate grease, dust, and grime and before long it will become a well-worn and loved fixture in your studio.
And, by the way, ring clamps are for tightly grasping items during work where your fingers might be at risk or the piece might fly out of your hands. Bench pins can't help you there.
---
Halstead is one of North America's leading distributors of jewelry supplies. The firm is celebrating its 42nd anniversary this year. Halstead specializes in wholesale findings, chain, and metals for jewelry artists.
Got questions? Email our studio coordinator Erica Stice at studio@halsteadbead.com. We'd love to hear from you. Sorry, studio support is not available by phone. Emails only, please.
Subscribe now for the latest jewelry-making tips and enjoy these other jewelry tool articles:
Check out these other articles for you jewelry bench:
Setting Up a New Jewelry Bench
What is a Flex Shaft – Why Jewelers Can't Work Without This Tool