Fancy wires are versatile jewelry studio materials. Check out this week's blog to see design ideas and learn how to shape and solder fancy wire links.
We receive a lot of questions about how to use fancy jewelry wires. What are the best ways to solder them? What tools do you use for shaping? How do you cut them? These are great questions! If you ever see something on our site that you're not sure how to use, ask. I remember when I was getting started, I had so many questions about jewelry making products and tools. So share your thoughts and ask your questions, we're here to help. Back to fancy wires, I'd like to share a few tips with you.
Fancy wires include bead wire, twist wire, hammered wire, and diamond-cut wires. They are still round wire, opposed to pattern and gallery wires which are usually flat or low dome strips. First of all, the reason I find fancy jewelry wires so interesting and fun to work with is the large variety of designs that you can create. You can order a diamond cut wire to create stacking bangles with them and then take the little snippets left over to make rings or earwire findings from the scrap. With the thinner gauge wires, I've wrapped them around bezels, created rings, made bangles, earwires, hoops, and fancy jump rings. The thicker gauges are great for ring bands, bracelets, and pendants.
This article will show how to make your own fancy wire links or frames. These fun little findings are easy to make in a huge array of shapes and sizes. Use them for chain necklace adornments or statement earring dangles in your jewelry collection.
Tip: Try to match the pattern or texture on the wire. If you're creating a bangle, for instance, you'll want the pattern to flow where the two ends join instead of having a noticeable break where they don't line up.
Shaping Fancy Jewelry Wires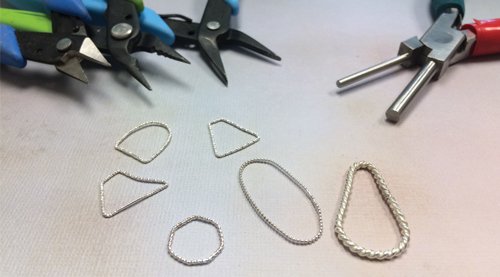 Shaping fancy jewelry wire is simple as long as you have the right jewelry making pliers. I use the Xuron needle and flat-nose pliers for straight lines or corners when forming squares and rectangles. The needle nose tips can get into the tightest spaces and make perfect 90-degree angles. I cut the wire using Xuron micro shears, especially if I need to get in super close when I'm wire wrapping. There's a good reason why people rave about Xuron shears. For thicker gauges, I use their sheet shears which cut up to 12 gauge wire.
If I need to create loops or half-round shapes, nothing beats Wubbers bail making pliers, especially with the thicker gauges of material. Wubbers also offer a wide range of mandrel pliers to help you quickly and easily create wire shapes like triangles, squares or diamonds.
Tip: You can use a rawhide hammer along with the pliers to help form the wire around the jaws.
Soldering Fancy Wires


When it comes to soldering, the best method depends on the thickness of the wire you are working with. For the thin fancy wires, I will pick solder the piece which alleviates a lot of the heat from the wire. It would also be a great idea to use pallion soldering chips. Since your fancy wire has a design on it if you use too much solder it will fill in the pattern on the wire. When I solder thick wire such as heavy twist designs I hold the piece about 6-8 inches off the work surface (piling soldering bricks and a third hand achieves this). Next secure the wire, add solder along the join and then heat from below. When hot enough, the solder will flow down through the join and keep the wire texture clean.
Tip: You can also use Wite-Out on either side of the join to form a barrier that prevents the solder from flowing over the pattern. If you do use this method, wear a mask and have a good ventilation system on!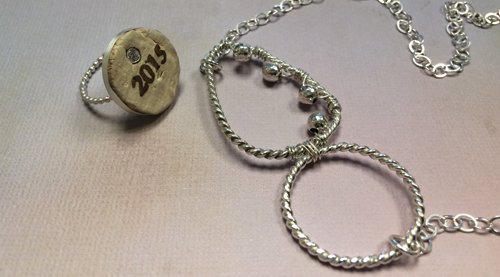 As you prepare to finish your jewelry creation, keep in mind that you want to use as little abrasives as possible. On certain fancy wires, too much sanding and filing can quickly distort or remove the design effect altogether. Keep it simple and plan your solder joins ahead so you can stick to just light polishing.
---
About Halstead
Halstead is one of North America's leading distributors of quality jewelry supplies. The firm is celebrating its 46th anniversary this year. Halstead specializes in wholesale findings, chain, and metals for jewelry artists.
Got questions? Email our studio coordinator Erica Stice at studio@halsteadbead.com. We'd love to hear from you. Sorry, studio support is not available by phone. Emails only, please.
Other Inspirational Articles:
Best Beading Tools Used For Making Jewelry
Wirework Bracelet Making By Brenda Schweder
Soldering Half Round Wire & Pattern Wire For Rings
Soldering Wire Embellishments To The Surface Of Your Jewelry Designs