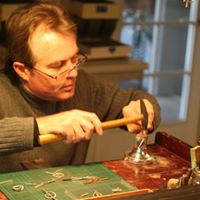 With over 40 years in the metalsmithing and jewelry industry, Michael David Sturlin has written nearly 100 magazine articles and books, won awards and recognition around the world, and taught many eager minds; and now he'll be helping to award the 2018 Halstead Grant as this year's guest judge. "We are honored to work with Michael on the Grant," said Halstead President, Hilary Halstead Scott. "I'm excited to hear his insights and advice for this year's pool of candidates. This is a tremendous opportunity for new artists to get feedback from a respected leader in our field."
Michael is a studio jewelry artist, goldsmith, writer, educator, and industry consultant. He took his first class at the Revere Academy in San Francisco in 1986, where he says "I learned more in 5 days of a professional workshop than I had in the previous five years unguided." This led to the career altering realization that instruction and formal guidance are an essential part of mastering skills. He is now widely known for teaching the Marketing Designer Jewelry class from 2005 - 2015 and developing the curriculum for the Jewelry Biz Essentials program that was a popular capstone at the Revere Academy starting in 2015.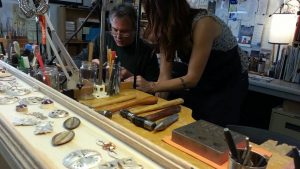 In addition to creating his own work in his studio, Michael now devotes much of his time each year to passing on the knowledge and skills he has gained to students of all levels - from beginning fundamentals to professional advancement. Michael is a respected mentor and business coach. He frequently holds classes at the Bead & Button Show in Wisconsin and teaches workshops at studios and other shows around the country and internationally. Each January-April, Michael offers his In-Depth Retreats. These intensive 5-day guided workshops at his Scottsdale studio create an opportunity to develop your skills in an intimate, creative, professional environment. Erica Stice, Halstead's Studio Coordinator, recently participated in one of Michael's classes with metalsmiths of various skill levels. She said,
Just listening to Michael speak was golden. He took time to explain helpful design advice to me and shared an array of tips and tricks to help each of us.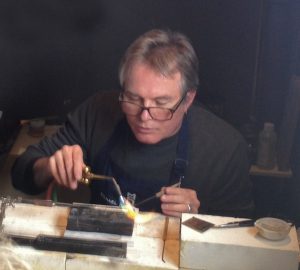 Michael believes in taking a minimalist approach to jewelry-making; not just in design, but in his studio setup and the select tools he uses. His philosophy involves working as directly with the material as possible and using fewer tools during the process. He believes in maintaining mindful focus to stay fully invested in the work of the moment without distractions. Repetition is key to mastering a skill; taking the time and intention whenever beginning a new skill and repeating it until it is easy and comfortable. Read Michael's recent article for us on repetition to master jewelry skills. Connection with tools of the trade is a lesson he hopes students will take to heart as well. Stice said,
He took his time out to show me his studio tools, even when I wouldn't be needing them for the task at hand.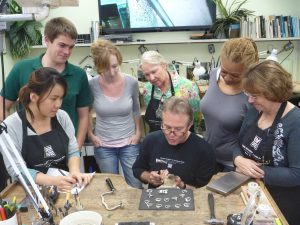 Over the years, he has been honored with awards and recognition from, among others, the World Gold Council, the American Jewelry Design Council, and Jewelers of America New Designers Gallery. This list includes the Gold Trends 2000 Jewelry Design Awards and the 2014 Excellence in Jewelry Artistry Award.
On working with the Halstead Grant team this year, Michael said: "As the guest juror for the 2018 Halstead Grant Award, I look forward with excitement and enthusiasm to reviewing this year's contest applications. I expect we will see a strong field of talented entries from candidates who are well poised to take the next major step forward in their jewelry career.
During the 12 years I taught the Marketing classes at Revere, we stressed the value and importance of the Halstead Grant application, used as a practical development exercise. Answering the application interview questions will clarify one's thoughts about career objectives and strategic planning and will help them fully develop both sides of their business - as a professional craftsperson and a successful entrepreneur.
I am thrilled to participate in this year's Grant award. This contest will be a major benefit in the careers of many worthy entrants. I welcome this invitation to share my experience and my career insight in such a personally fulfilling and meaningful way."
Michael has mastered marketing, public relations, and pricing strategies for the jewelry industry, which will make his insight for Halstead Grant applicants invaluable. He will join Hilary Halstead Scott, Halstead President; Thomas Halstead, Halstead Founder; and Kelli Vanyek Greene, Halstead Business Development Specialist, on the 2018 jury.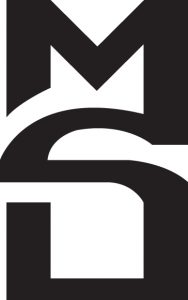 Postscript: After judging the Halstead Grant, Michael wrote these insightful articles to help small jewelry business owners succeed in this tough field.
Finding Your Creative Identity Through Design
Pricing Strategy Tips for Jewelry Business Profitability