Read about Studio JSD, a jewelry school we highly recommend for locals in the Midwest and visitors! Get a lakeside cottage for the weekend and enjoy all that Julie Sanford's studio can offer.
Where to Find Studio JSD
Studio JSD in Grand Haven, MI school opened its doors in 2011 to offer students a full range of metalsmithing courses from 5-week Fabrication 1, 2 and 3 to specialty technique workshops and private lessons. One day workshops include: spinner rings, stone drilling and torch fired enameling. Getting married? Studio JSD Jewelry School also offers a wedding band metalsmithing class for couples and singles. From visiting artist workshops to open classes, this jewelry design studio has it all!
The Founder
Studio JSD is the creation of award winning metalsmith, Julie Sanford. With 25 years in the business, her fine art jewelry is featured in books, galleries, magazines and museum stores across the country. She has studied at The Kalamazoo Institute of Arts, Oxbow Summer Institute of the Chicago Institute of Arts plus the Kendall College of Art and Design. With her degree in Art Education from Western Michigan University, Julie currently spends her time teaching both nationally and at Studio JSD in addition to being a full time jewelry artist. Julie is one of our favorite instructors. She is a gifted teacher who brings patience, skill and charisma to the classroom.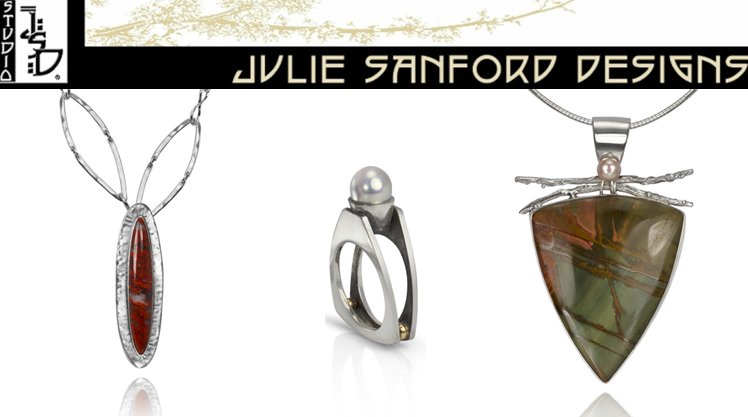 "I became interested in the art of jewelry making at an early age, my father was a silversmith and lapidary artist. Developing my skills and working with the metals gives me a sense of closeness with him.
"My work is hand fabricated using various hot and cold metal techniques. I enjoy experimenting with textures and forms that imply materials other what I have used. I draw on the unique characteristics of each stone as inspiration in creating compositions, allowing a natural organic balance between stone and metal." ~ Julie Sanford
World renowned instructors teach visiting artist workshops at JSD on a regular basis. Visit the website now to book upcoming summer classes with Richard Salley and Michael David Sturlin.
Click the video below to watch a tour of Studio JSD!


Halstead, is one of North America's leading distributors of jewelry supplies. The firm is celebrating their 41st anniversary this year. Halstead specializes in wholesale findings, chain, tools and metals for jewelry artists.
---
See more content from Julie Sanford of Studio JSD:
Learn Sawing From Our 2019 Featured Metalsmith, Julie Sanford