Located just two hours south of Halstead Headquarters in Phoenix, Arizona is a thriving metalsmithing studio school. We took a day trip to check out the space, chat with the instructors and hang out with all of the KP Studio cats!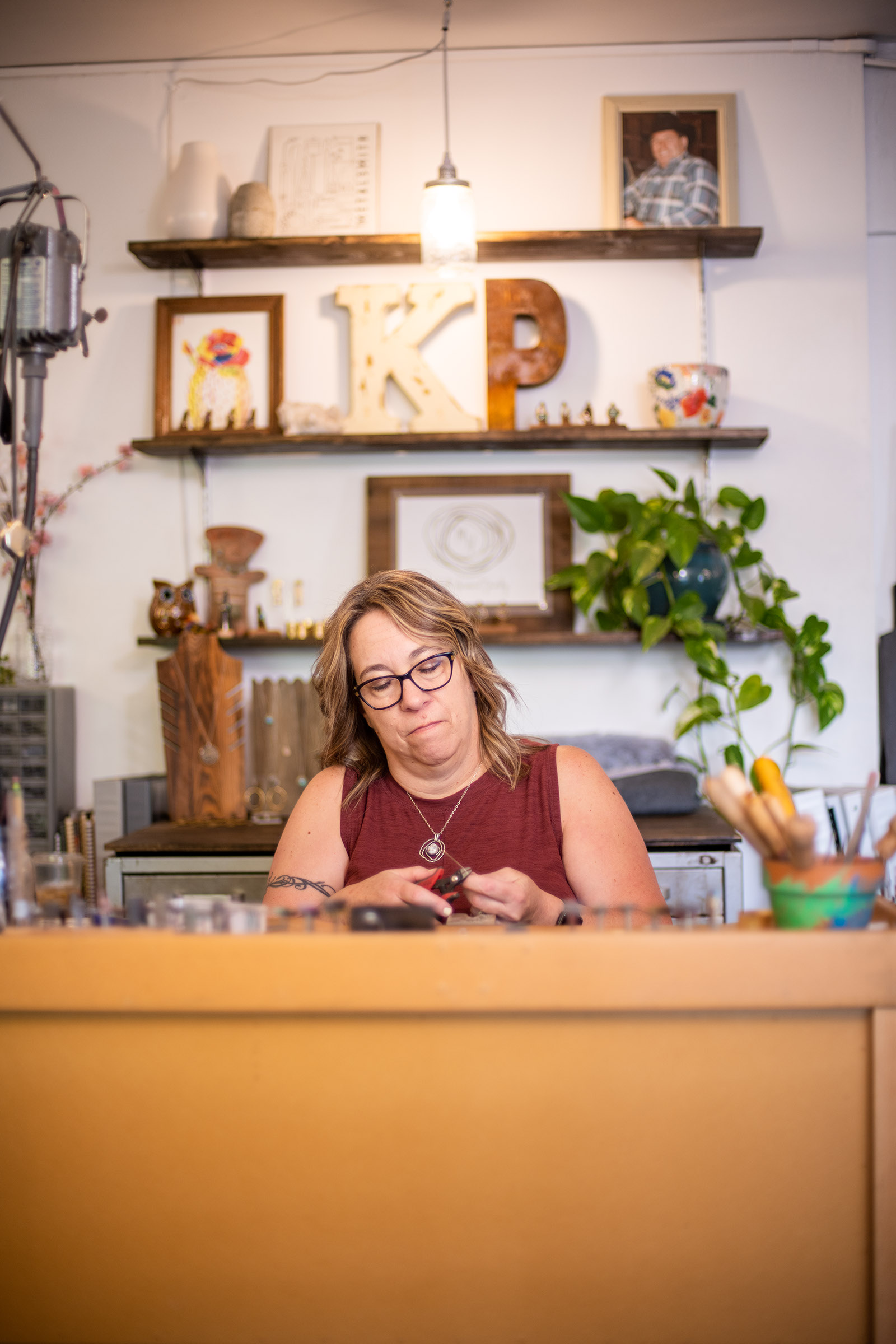 Michelle Moyer, who started teaching metalsmithing classes in 2013 made her dreams come true in 2016 when she opened her very own jewelry school. Her goal when starting KP Studio was to create a community of metalsmiths and a welcoming environment for people interested in learning the craft.
Michelle and her two resident instructors, Carmen McNeil and Jen Derickson, set the vibe for the studio. They are all so friendly and bring different energies to the space. On top of running the studio and teaching classes, all three women also have their own small jewelry businesses:
Interview with Michelle Moyer - Owner and Instructor KP Studio
I got some time with KP Studio owner Michelle to discuss her passion for metalsmithing and being a hub for creatives in the Phoenix area. I was also interested to find out more about her feline studio mates.
What is the most rewarding part of being a studio school owner & instructor?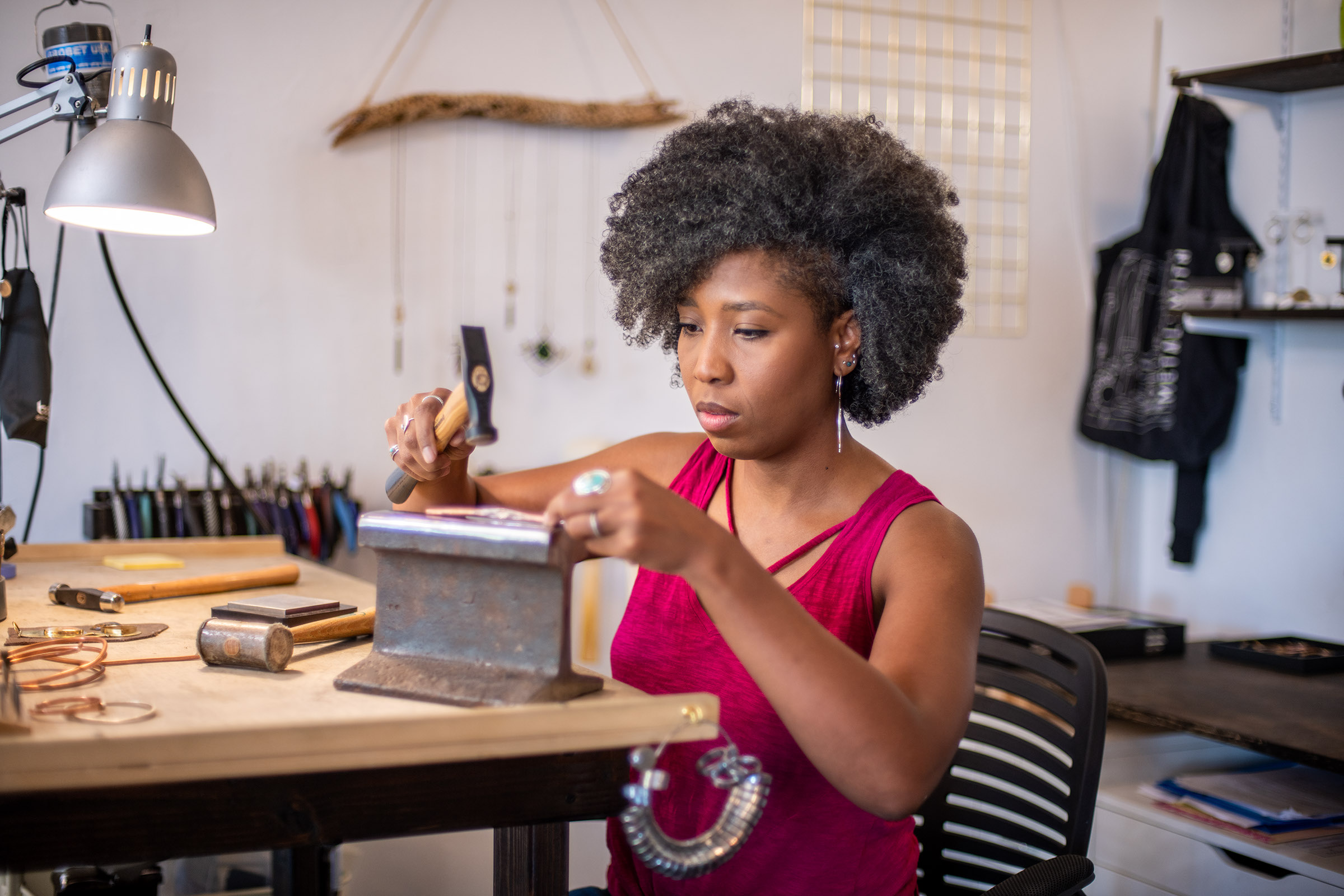 It is truly hard to identify just one. First, I love sharing what I know and seeing student's work and creativity progress throughout the classes. Probably my favorite thing though is knowing that we are a creative outlet or respite for people. Students are always happy to be here and that makes me happy. I have had students come take a class to escape the day to day reality of difficult situations. I had a student who was going through cancer treatments, students who had lost a loved one, students going through breakups and divorces, job changes, births, basically all of life's good and challenging moments and this was where they chose to take a time out and have some fun and make new friends.
What was the most challenging part of getting your school up and running? What has been the most challenging part during the pandemic?
Honestly, it all came together really quickly and easily. I felt like the Universe just opened all the right doors and exactly the right moment. It can be challenging thinking about how much responsibility it is to own a business and having to make all of the decisions all of the time. The pandemic has definitely been the most challenging situation but I made the decision early on when everything was shutting down that it wouldn't take the studio down. I think having the knowing that I was going to do whatever I needed to make it through helped to keep me going. I spent every single day coming into the studio while we were closed to the public. I wanted to keep the energy flowing in the right direction. I had to think about how I could shift and how I would do business once we reopened.
What is your favorite class to teach and why?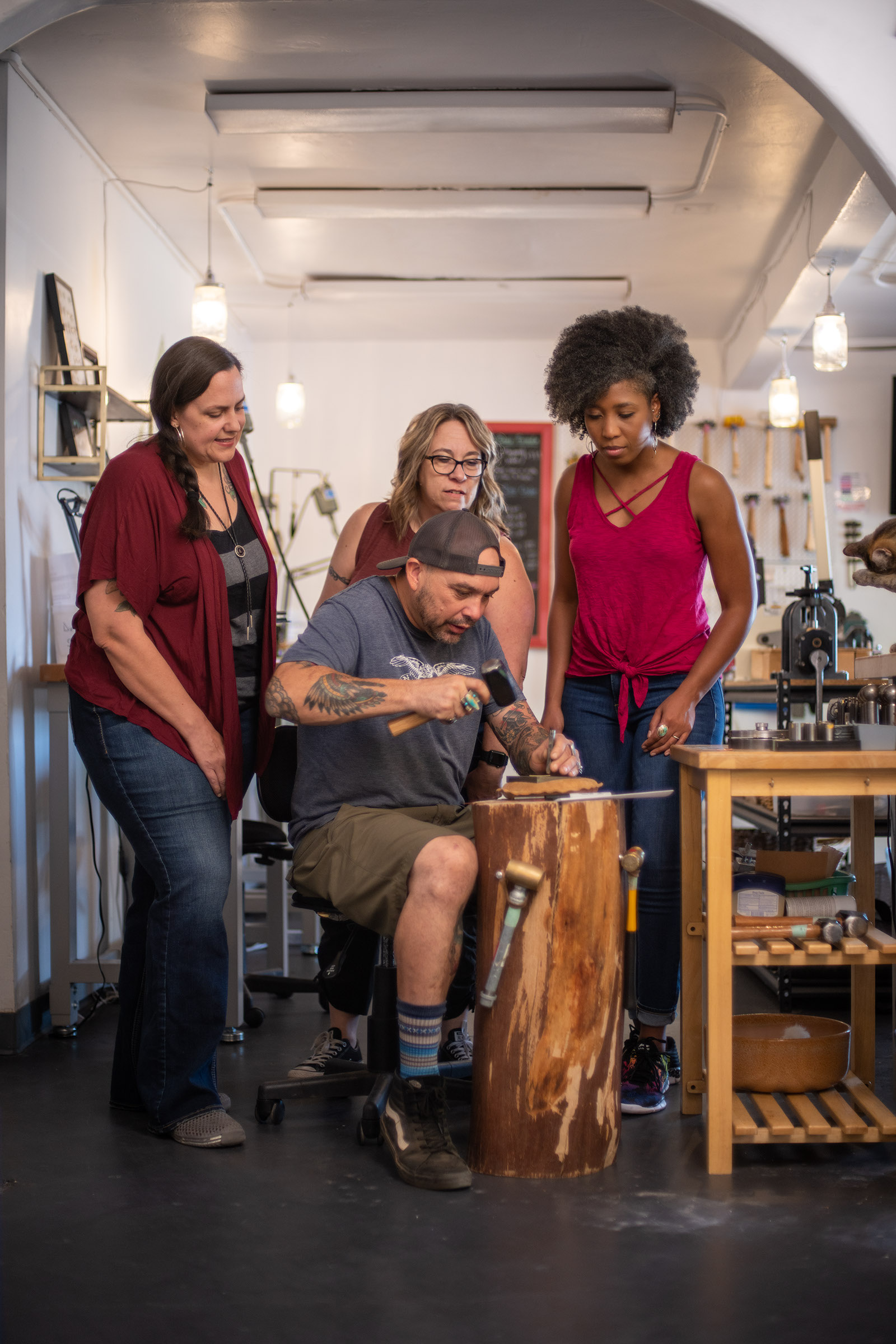 Oh geez. I love them all for different reasons. I love teaching beginning jewelry because I believe the foundation is so important. In particular I love teaching the soldering lesson because I love the torch (see arm tattoo) and honestly I am really good at soldering. At least most days. Ha.
What advice do you have to other metalsmiths looking to build community and opening a shared studio space or school?
Go for it! Life is too short to not follow your dreams. AND, make sure you figure out some balance for yourself. Starting any business can take every second of every day and you have to resist the temptation to not take time for you. Also, surround yourself with great people.
When and how did Carmen and Jen become part of KP?
Speaking of great people! I met Carmen doing jewelry markets before I opened the studio. When I opened, she came and took one of the first classes and kept taking classes and hanging out. We became great friends and her work just got better and better and eventually I asked her to teach and built her a bench so she wouldn't leave. Jen took a class and kept taking classes. She was someone I just clicked with instantly and I loved her energy. She spent all of her free time in the studio perfecting her craft. So eventually I started having her teach a bit and then a lot.
Tell me about your location?
So my location is really what solidified my plan. I had thought of opening a studio but didn't really take myself too seriously until one day I was pulling into the parking lot to get supplies from SJ Jewelry Supply and it just hit me. That is the location. Those are my customers. Literally within a month of that day, I had looked at the space, written a plan and had keys in hand.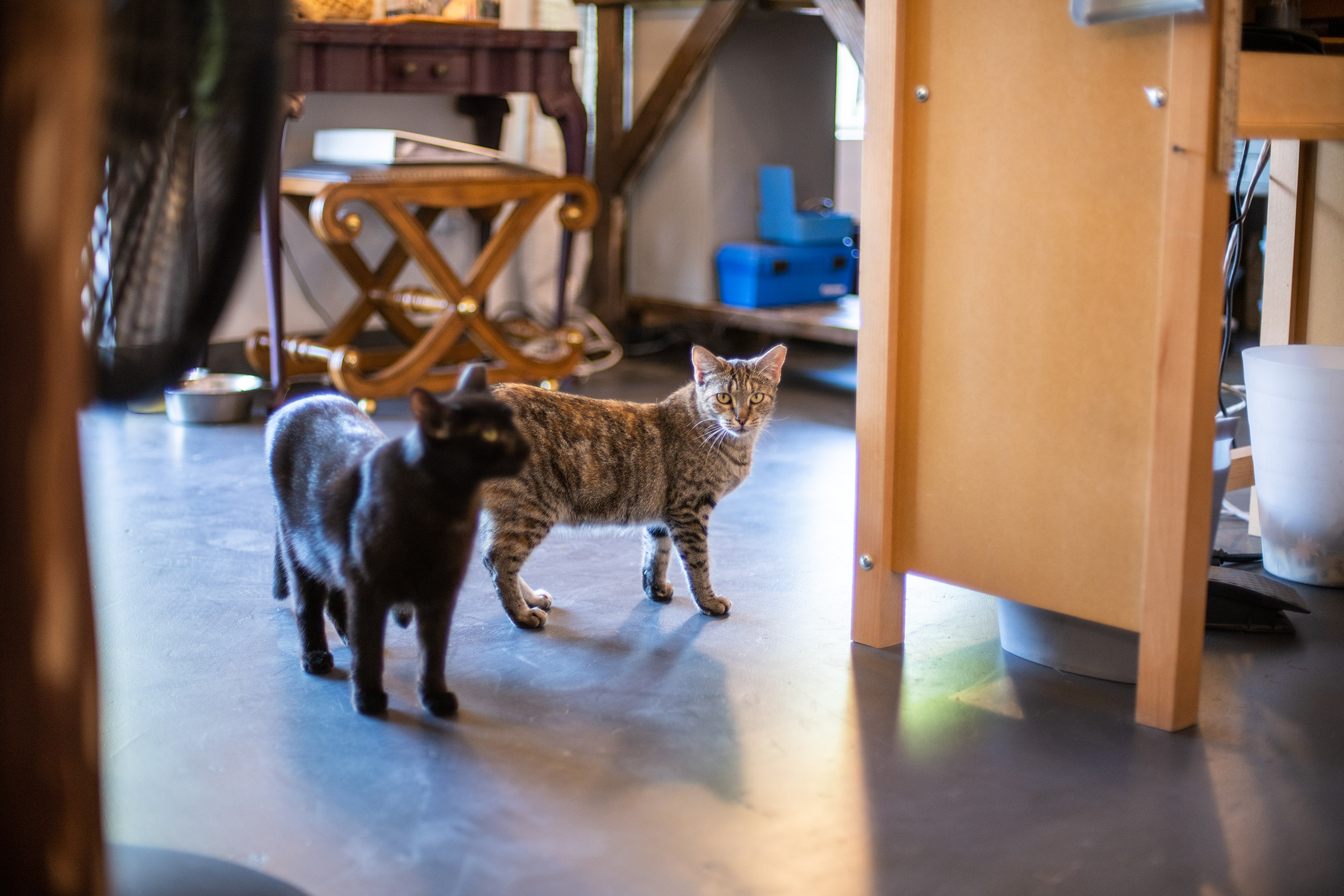 How did you get the studio cats?
The cats are all stray cats that live in the alley behind the studio. They kept showing up and a neighbor in the same business complex was feeding them so we began to help feed them. We wanted to stop or slow the growth of the colony so we started trapping, getting them spayed and neutered and then releasing them. So far we have spayed/neutered 22 cats. There have been a handful that come and hang out in the studio with us and have become super friendly. Currently, we have 4 (Billy, Magenta, Cathy, and Lola) that also sleep in the studio. Most students really love the cats.
Metalsmithing Classes & Workshops
KP Studio offers both online and in person classes. They have a fully equipped metalsmithing studio and offer jewelry making classes for beginning to advanced jewelry artists. In addition to their 8 week beginning, intermediate and advanced jewelry fabrication courses, they offer a wide variety of workshops. The projects range from bolo ties and fold forming to inspirational cuffs and stone setting.
Studio time packages are offered to have access to all of the equipment and work independently in the studio. There are also instructor assisted open studio times for beginning and intermediate students. Instructors are available to be booked for private lessons too.
More info about KP Studio
Want to learn more about KP Studio? Be sure to check out their website and follow them on Facebook and Instagram.
---
Check out these articles to see other jewelry studio schools Halstead recommends.
Halstead's Preferred Studio Schools
Jewelry School Profile: Julie Sanford's Studio JSD