We are proud to present Julie Sanford as the 2019 Halstead Catalog featured metalsmith. Learn more about Julie, check out her tips for using the jeweler's saw, and watch her demo video in this article.
Here at Halstead, we love to provide support to help small businesses succeed. Our annual grant is the highlight of our year as we get to see all of the talented up and coming jewelry artists living out their dream, such as the 2018 grant winner, Emily Shaffer, and the top 10 finalists.
Each year we also like to introduce you to the work of amazing established artists. This year, we're showcasing Kris Schaible as our featured lampworker and Julie Sanford as our featured metalsmith. .
Julie's Top 10 Tips for Jewelry Piercing
Have a sturdy bench pin.
Wear proper protective eyewear.
Relax your grip on the saw.
Go slow and steady - don't push into the metal.
Breaking a saw blade isn't the end of the world.
Use cut lube, beeswax or even regular candle wax on the blade to make cutting smoother.
Use pliers to grab a blade from the center of a new pack.
Angle blade teeth down toward the saw handle when you reload a blade.
Tension on the blade is good when you have a small "tinging" sound.
Saw straight up and down.
Meet Julie Sanford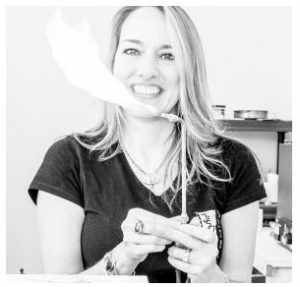 Award-winning metalsmith Julie Sanford grew up in Kalamazoo, Michigan. She always had an interest in rocks and jewelry. Her dad was a serious rockhound who did lapidary work, silver jewelry fabrication and made a living electroplating organic jewelry components. He passed away at age 39 when Julie was 16. She was devastated. She decided all she wanted was to become a jewelry maker so she could use his tools, metals, and stones that he collected and cut by hand.
Julie's education includes a Bachelor of Arts in Art Education from Western Michigan University. She also completed studies at the Kalamazoo Institute of Arts, the Oxbow Summer Program of the Chicago Institute of Arts, Kendall College of Art and Design and the Revere Academy of Jewelry Arts in San Francisco.
Julie has been creating quality bench-made jewelry for over twenty-five years. She enjoys combining organic elements and textures with contrasting contemporary details creating one of a kind pieces that are fabricated, soldered, fused, formed, hammered and reticulated with various metals, final finishes, and extraordinary gemstones. Her work is featured in galleries, books, magazines and museum stores.
Julie's teaching experience includes visual art classroom instruction with an emphasis on curriculum integration, art history, ceramics, and jewelry. Julie also has extensive experience leading jewelry-related classes and workshops at national trade shows and conferences, technical schools, universities, private studios, and galleries.
Studio JSD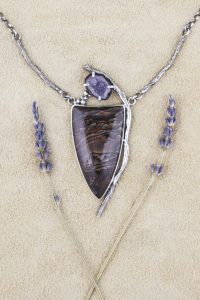 In 2007, Julie moved her home studio to an 800 sq. ft. commercial space and called it Studio JSD. She grew out of her little basement area and wanted a public space to teach classes. Since then, Studio JSD has evolved, grown and relocated twice. In 2015, they purchased the amazing 3500 sq. ft. space where they are currently located in Grand Haven, MI.
Check out the studio in our Studio Tour feature with Julie below.
Julie is an artist within Studio JSD. The studio supports an exciting, vibrant, living, growing community of makers as well as local and regional instructors, artists and students. They support two private studios, 6 bench rentals, and 20 instructors with more than 100 class sessions and hundreds of students. The studio is about the people in the community, their stories and their journeys as makers.
Along with her successful jewelry design business, Julie is also the director of Studio JSD and serves as Vice President of The Michigan Silversmiths Guild.
Get all of Julie's best advice for sawing in the video below:
Connect with Julie:
Facebook: Julie Sanford Designs
Studio JSD: www.studiojsd.com
---
More Great Articles:
Hiring Your First Jewelry Studio Assistant
How To Market Your Jewelry On Facebook
Finding Your Creative Identity Through Design
How To Start A Jewelry Business The Right Way