Here at Halstead, we sell a lot of finished and footage jewelry chain in a huge variety of styles. But, sometimes, you just want to make your own jewelry chain. We sent jewelry designer Jill MacKay a coil of sterling silver wire and she turned it into this shimmery, organic handmade chain. Here's a little bit about her design process and how she assembled the links to make her own unique statement.
Jill MacKay's Chain Making Process
Wire links ready to be soldered

"Using my imagination comes into play in my basic perspective. Even how I look at, relate to and think about my materials. Thinking about chain makes me think metaphorically because links, like rings, are very symbolic. Lots of little circles linked to form a larger circle. To me this speaks of relationships, community and life.

Envisioning how I would like to make my chain look, I think of the difference between looking and seeing. Looking is our conditioned concentration that obscures most of what we view. Seeing is more about focus and paying attention. It relates closely to knowing.
Most chains are perfect and have a combination of links creating patterns. I decide on a wonky chain as I would get bored easily doing the same link over and again and, like our lives, each day seems the same but in truth our days are very different. And, what a difference one day can make in the changes of our lives."
I use different size shaping pliers to create the variety of ring sizes and shapes using 18-gauge sterling silver wire. Or, you could use a ring mandrel as a guide for shaping the links. Making clean flush cuts with good pair of flush cutters will make soldering go faster.

I hammer each ring, which makes them out of shape, so I reshape each one and re-trim if necessary to make the ends flush.

To make a 34 inch chain, I need approximately 64 inches. That's a lot of links! I connect sections of the chain at a time and head to the solder station. The soldering is made easier by using a third hand to hold the links.

Soldering a wire link
Once all of the links are soldered together, it all goes into the pickle pot. Next, I polish and polish and polish until it reaches a high shine. I love it!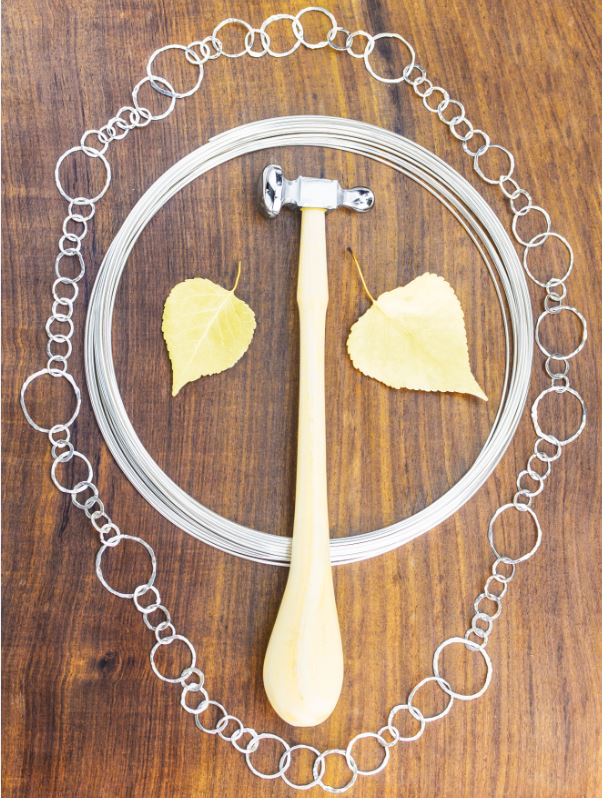 ---
Subscribe to our YouTube channel!
Check out our Halstead YouTube channel where you will find product, tool & how-to videos, just to name a few.
Further Reading:
You may also enjoy these guides from our archives:
Five Steps to Start Silver Soldering
Multistrand Necklace With Brenda Schweder