Staff votes are in! Here are a few of our favorite things about working at Halstead in no particular order...

1.Birthdays cake, food & fun! Without fail we celebrate birthdays every month with a catered lunch, and if there isn't one during that month we usually find a reason to celebrate anyway.
2.Friendly, family-oriented work environment. - Our 8-5 work schedule really means 8-5. No one stays late or works overtime so we can get home for family time. Flexible scheduling means we can make it to school plays and soccer games so our loved ones know they are the top priority.
3.Jewelry- Who doesn't love working with bling! We have a pretty cool product line.
4.Awesome customers! - We have a creative, talented and kind customer base. We love talking on the phone and emailing back and forth with customers who have been with us for decades as well as new accounts just starting out with Halstead.
5.Dog-friendly - Furry therapy at work! We have had several canine companions at the office over the years. Our current resident pups are Seth's dog, Tuper, Ashley's little bundle of wiry fur, Mavis, Allen's tiny Chihuahua, Eragon, Hilary's mangy mutt, Daisy and Janelle's gentle beast, Kota. Bring cookies and you will have friends for life.
6.Winter vacation One of the best perks at Halstead is the annual holiday closing from just before Christmas Eve until the first workday after New Year's Day. We feel lucky to spend winter break with our families each year.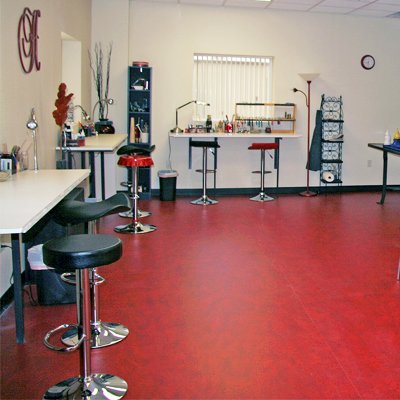 7.Our studio Employees take jewelry making classes in the Halstead studio. Studio time gives us hands-on experience with the products we sell so we can provide better quality control and service. Plus, classes are just good fun. We crank up the music and have fun being creative alongside colleagues from every department. Watch our video tour of the Halstead studio here:
8.Training Professional development extends beyond the studio at Halstead. The company invests time and money in training employees on software systems and workplace skills through both internal and external programs.
9.Profit-Sharing - Each quarter that the company is profitable all full and part-time staff members receive profit-sharing checks based on seniority, attendance, and performance. The generous bonuses can really add up.
Working at Halstead offers the opportunity to grow in a fantastic working environment. We feel lucky to be part of this team each day we come to work.
---
Employee Testimonials
"Besides the great people and work environment, the fact that I can bring my dog to work makes Halstead one of the best companies you can work for."
Janelle - Marketing team since 2015
"I have worked at Halstead since 2002 and I plan to work here as long as I can continue to be helpful and productive for the company. The Halstead family business is the best company I have ever worked for in my thirty-plus years of employment. Halstead really cares about the quality of their service and the products they sell and most of all, they care about their employees, customers and all their families as well. The Halstead family holds themselves and their company to the highest standards in a world where quality and honor are sometimes lost or forgotten. I consider myself very blessed to be a part of the Halstead family and I look forward to each and every day working at Halstead!"
Bryan - Admin/IT team since 2002
"Excellent and enjoyable work environment with friendly staff and management. Lots of fun too!"
Seth - Admin/ Purchasing Agent since 2002
"Honestly, this is the best job. Anyone working here is truly lucky. I can say with complete confidence that I respect and look up to all of our management working here. I have been with the company now for 3 years and am really excited to continue growing within Halstead. Halstead has such a great working environment, everyone is down to earth and we have a lot of fun together. I highly recommend anyone who is looking for a long term position within a company that values their employees and happiness, to look no further. Halstead is the place to be! Not only will you work with an all-star crew, but you can receive such generous and wonderful benefits here as well."
Brooke - Customer Service team since 2016
---
Don't miss our day in the life of Halstead:
---
Want to learn more about Halstead? Check out these other great articles:
Halstead Jewelry Supplies Goes Green
Top 3 Reasons Jewelry Supply Customers Refer Halstead