Use gallery end caps and bead cones to create simple, striking drop earrings or challenge yourself with a center banded technique. The star of each piece is the raw crystal adorning each one.
Set raw crystal drops and points into beautiful sterling silver jewelry. You may think setting raw crystals might be tricky but it isn't. I recently received a bag full of crystal points. After sorting through it for matching pairs, I decided on creating earrings and a ring out of my favorite pieces. The earrings were fairly simple, but you do need to know basic wire wrapping skills for one of them. I had so much fun with the first pair of earrings, I ended up making a total of 3 pairs that day using a variety of sterling silver findings. I found it quick and easy to complete a pair within 10 minutes including a few minutes of waiting for the adhesive to set. The raw crystal ring was a bit trickier since it involves multi-layered soldering and bezel setting skills.
End Caps
With just a few sterling silver findings you can replicate these nice drops!
Run a thin stream of Starbond glue around the crystal tip and slide that into the gallery end cap, then wait a couple of minutes for the glue to dry. Tighten the caps as needed around the crystals. Run hoops, earwires, or similar earring findings through the loops on the end caps. SHOP BEAD CAPS >>
Tip: Be sure to use a minimum amount of glue. If some spills out on the crystal remove it immediately.
Bead Cones
Re-purpose bead cones to create beautiful caps! Cones are tapered so they will fit a wider range of crystal diameters. SHOP BEAD CONES >>
Tip: The tapered interior in cones is more forgiving than end caps so you can fit a wider range of crystal point widths.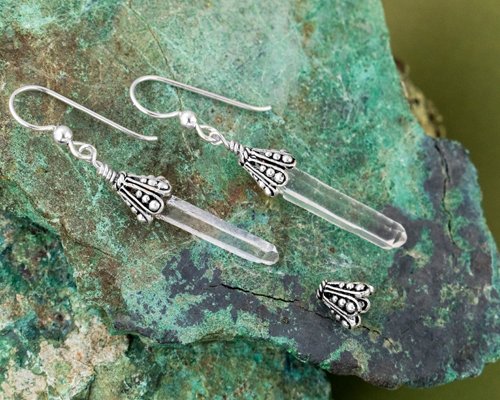 Bead cones make beautiful caps for crystal shards. With a minimum of materials needed, you can quickly create stunning earrings. Thread the headpin up through the bead cone to create a loop, then add a stream of Starbond around the tip of the crystal where it touches the bead cone.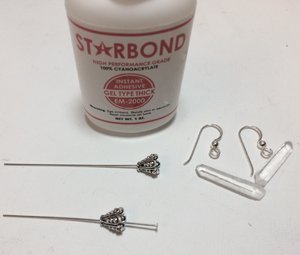 Tip: Be sure the head of the headpin is larger than the small hole ID on the bead cone.
Center Banding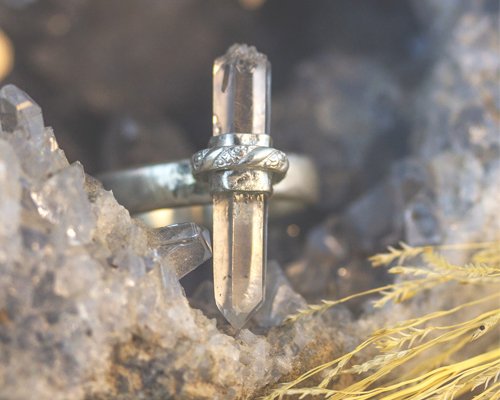 Use this technique to create a trendy silver ring like this one or get creative with other center mount design ideas.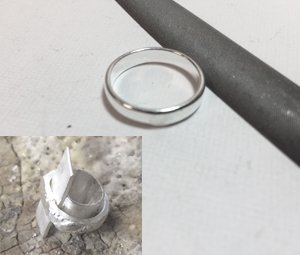 I built the center band out of flat strip and pattern wire first. I soldered it together and then chose which finger ring band it worked well with.
Tip: A great way to create a tight loop in a thick pattern wire is to shape it with a Wubbers bail making plier. The adjacent jaws hold it perfectly in place while you're creating the circle.
Next, I checked to make sure that the bezel wire still fit over the crystal point. This is important. I didn't need to use glue on this piece because the bezel wire is so tight the crystal will never drop out.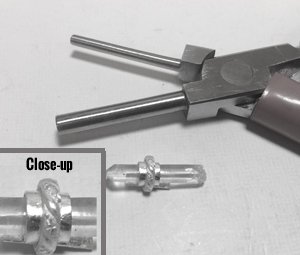 Use a third hand to hold onto the ring band during the soldering process. It's critical nothing moves while soldering the ring band. Finishing these sterling silver findings is simple. 3M radial bristle disks fit perfectly inside most finger ring bands, to quickly clean the center and also around any tight spaces. I also dropped the ring into a tumbler with steel shot in it for 30 minutes before setting the crystal.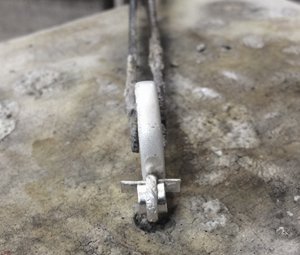 Tip: Plan ahead! I used hard, medium, soft and extra easy while soldering this ring together.
---
Learn to solder!
Halstead is one of North America's leading distributors of quality jewelry supplies. The firm is celebrating its 46th anniversary this year. Halstead specializes in wholesale findings, chain, and metals for jewelry artists.
Got questions? Email our studio coordinator Erica Stice at studio@halsteadbead.com. We'd love to hear from you. Sorry, studio support is not available by phone. Emails only, please.
Additional Instructional Articles:
Granular Stacking Rings Tutorial
Setting A Cabochon Pendant Tutorial
Riveted Pendant With Gwen Youngblood