Selling your jewelry? Educating your customers benefits your business in a multitude of ways. Here are some tips and free, printable inserts!
Here at Halstead, we love sharing small business tips for jewelers. One of our favorite topics is the importance of educating your jewelry customer. Education can be a powerful part of your brand and will help drive people back to you and your website for more information and purchases.
When you're in the business of selling your own jewelry, it's important to set yourself up as the expert. By sharing your knowledge with your customers, they'll feel empowered, too, and will have better success when it comes to taking care of the pieces you've lovingly created. You may even nudge them toward becoming collectors of your jewelry.
Here are a few areas that are ripe for educating your jewelry customer and promoting your brand.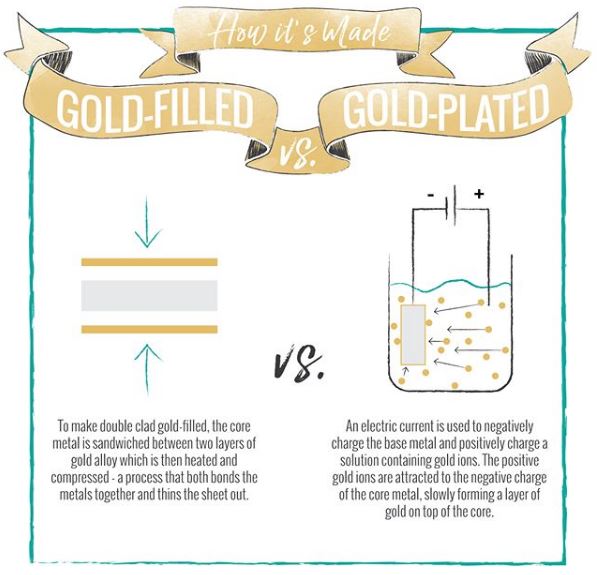 Material
Talking to your customers about material is a perfect way to establish yourself as an expert. When you can knowledgeably explain the differences between gold-filled and gold-plated jewelry or between sterling silver and fine silver, your customers will learn to rely on you for that information. They'll trust you as an expert in your field. Material can be an important selling point and it's worth backing it up with some marketing collateral.
Some of our best blogs cover material FAQ's. Choose your biggest audience and address material questions and concerns via that platform, whether your focus is metal or gemstones, lampwork glass or something else. Begin with what you know and then do some research so you can provide accurate information. The online marketplace is so saturated now that you can really stand out by providing the details of your jewelry. Use our free sterling silver care & info and gold-filled care & info to help educate your customers about their purchase.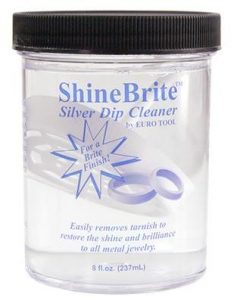 Cleaning & Care
Teaching customers how to clean and care for their jewelry does more than ensure that the jewelry stays in good condition for as long as possible. It's also an opportunity to market your brand. If you give them a branded card with cleaning and care information, you have the opportunity to keep your name in front of them over time. Cleaning and care instructions on your website also help drive web traffic to you and give you a chance to infuse some of the flavor of your brand into the text.
For information about cleaning sterling silver, read our blog about Silver Cleaning & Care. Learn about cleaning gold-filled in our blog What Does Gold-Filled Mean - 6 Things You May Not Know. Download our free sterling silver care & info and gold-filled care & info inserts to pass on to your customers.
Last Thing On, First Thing Off
This is one of our favorite tips and ranks right up there with the five S's (don't spray, shower, swim, sweat or sleep) for educating customers about how to treat their jewelry. You might have some catchphrases of your own! Any of these are good things to print on a little card or post as Instagram sayings.
A lot of brands include non-tarnish bags with purchases. This is a nice gesture and an opportunity to include your brand, whether you produce an insert or place a sticker on the outside of the bag. It reminds your customers that there are steps they can take to care for their jewelry.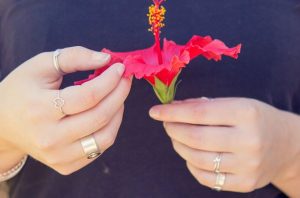 What's My Size
Customers will turn to you for help with sizing, so be prepared with as many different tools as possible. Of course, the best way to measure a customer is in person. But, there are many other resources you can use. If you have a chart that people can print out, make sure it includes your logo.
For repeat customers, do them a favor and keep their favorite necklace length, ring size and bracelet size on file. It helps them out and makes it easy for loved ones to purchase gifts. See below for an easy way to help customers keep track of their own sizes.
Collecting Basics
You can teach your customers to have collectors' mindsets by encouraging them to record the stories of the jewelry they buy.
Encourage your customers to record and share their purchases.They could keep photos, sketches or business cards along with information about the piece.
Take the Next Step
Now that you have a few educational topics to use with your customers, go ahead and take the next step by making insert cards, putting the information on your website or sharing it on social media. Then, begin planning Phase 2. What other topics would be of interest to your customers and create a branding opportunity for your business? Symbolism & Meaning, How to Buy Colored Gems and About Ethical Sourcing are just a few more ideas.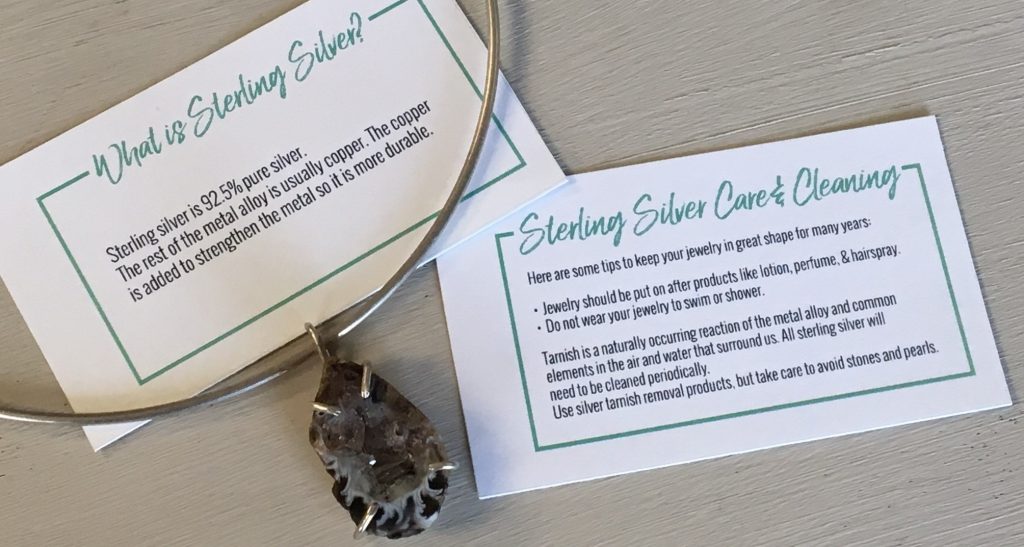 Download our free care and info inserts:
Our free jewelry inserts are formatted for printing on any Avery 2x3.5 inch business card templates. You can use the Avery template tool on their website to place a single image on all the cards on a sheet, or you can individually place images on a template yourself. Consider using both sides of the printable cards to put definitions on one side and cleaning instructions on the other. Or, add your business logo and contact information to one side instead.
---
Subscribe to our weekly articles for more valuable business tips for your jewelry studio. You may also be interested in these past articles:
10 Cash Flow Culprits in Your Jewelry Business
Finding Your Creative Identity Through Design