Every jewelry designer loves a little press coverage! Read on for tips to create a media kit that will easily put your business and designs in front of editors and influencers.
One of the questions I get most often from jewelry artists is about how to get editorial coverage in magazines and on influencer blogs. Want to be included in holiday gift guides, style articles, and other features? A media kit is a great first step to attracting coverage on your jewelry business.
What is a Media Kit?
In the old days, artists would create glossy pocket folders with printouts of jewelry photos, brochures, and business cards neatly tucked inside. Now, the digital age makes media kits, sometimes also referred to as press kits, easier than ever. You can assemble a kit from files you probably already have on your hard drive so it is ready at your fingertips when opportunity knocks.
Why do You Need One?
Small businesses have to market on a tight budget. Public relations (PR) is a cost-effective way to get the word out about your brand. But, great PR doesn't just come knocking on your door. You have to go out to get it by pitching editors about your products, networking, and being prepared for when chances for coverage arise. Get ready and have an updated bundle of materials prepared for the media or press.
What Goes in a Jewelry Artist's Media Kit?
A media kit should have all the items that a writer or editor might need to feature you and your work in an article or photo spread. But, it is important not to inundate them with too many files that they would have to sift through to get what they want. Here are the key components of a solid kit. Include each item as a separate file and keep text files to one page or less. Also, include a single consolidated PDF of all this information in one file.
Business Overview – One paragraph describing your product line materials collections, location, and business profile
Artist Statement – One paragraph describing your brand, what inspires you, and why you make jewelry
Bio and/or Resume including your education, experience, and all your social media handles and contact information. Be concise and use bullet points. No one has time to read your life's story.
5-10 separate print quality photos of jewelry pieces that are currently available for sale. Older portfolio work is not desirable.
1-2 graphic files of your logo and any signature promotional images
Jewelry Fact Sheet including a list of places where your work can be purchased retail and your range of retail price points.
Make sure that every text file includes your name and website address right at the top. Use Alt Tags to include your artist name on all photo files. That way, if an editor downloads a file separate from your media kit, they can easily identify who it came from.
How to Prepare your Media Kit
If you will be at a trade show or event, you may want to have a couple of physical media kit folders on hand just in case a media contact stops in your booth. It is impressive to give them the option to receive a hard copy kit or a digital version if you have both available. For a hard copy version, a plain pocket folder with neat print outs and glossy photos is sufficient. Use a label to get your logo on the front cover.
Digital media kits can be assembled into a single Dropbox or Google Docs file. Always keep an updated media kit file available through one of these free programs so you can quickly fire off a link via email upon request. When press opportunities arise, they are often on short notice with firm deadlines. Writers do not have time to wait for you to gather everything together. They want it now, or even faster than now, if possible.
Try to keep a few physical copies as well as a few USBs of the digital copies with you at shows. As jeweler Jennifer Lesea has discovered, some people prefer one over the other. Offering someone any of these 3 options will give you a greater chance of reaching out to more people.
When You Need a Media Kit
If you will be exhibiting in a trade show or festival event, there is a chance that editors or influencers will cruise through your booth. If you're lucky, they may stop and strike up a conversation. If you can provide them a media kit immediately during that encounter, your odds of coverage shoot up considerably. However, even if you aren't featured in their work right away, don't despair. Sometimes your work just isn't right for their current assignments but it may be a good fit in the future.
Media kits are outreach tools as well. If you are looking to attract editorial coverage from targeted publications, you will need to send a brief pitch of bullet points explaining your angle with a link to your more detailed media kit in case you pique the contact's interest. A successful pitch makes it easy for the writer to get everything they need as quickly as possible.
Customize your Kit
Make your media kit easy to customize for various outlets. Jeweler Kristen Baird usually keeps a generic one on hand while at shows but will tailor it for each outlet. Her layout stays the same, but sometimes she'll need more photos or change out the written information to be relevant for a certain topic.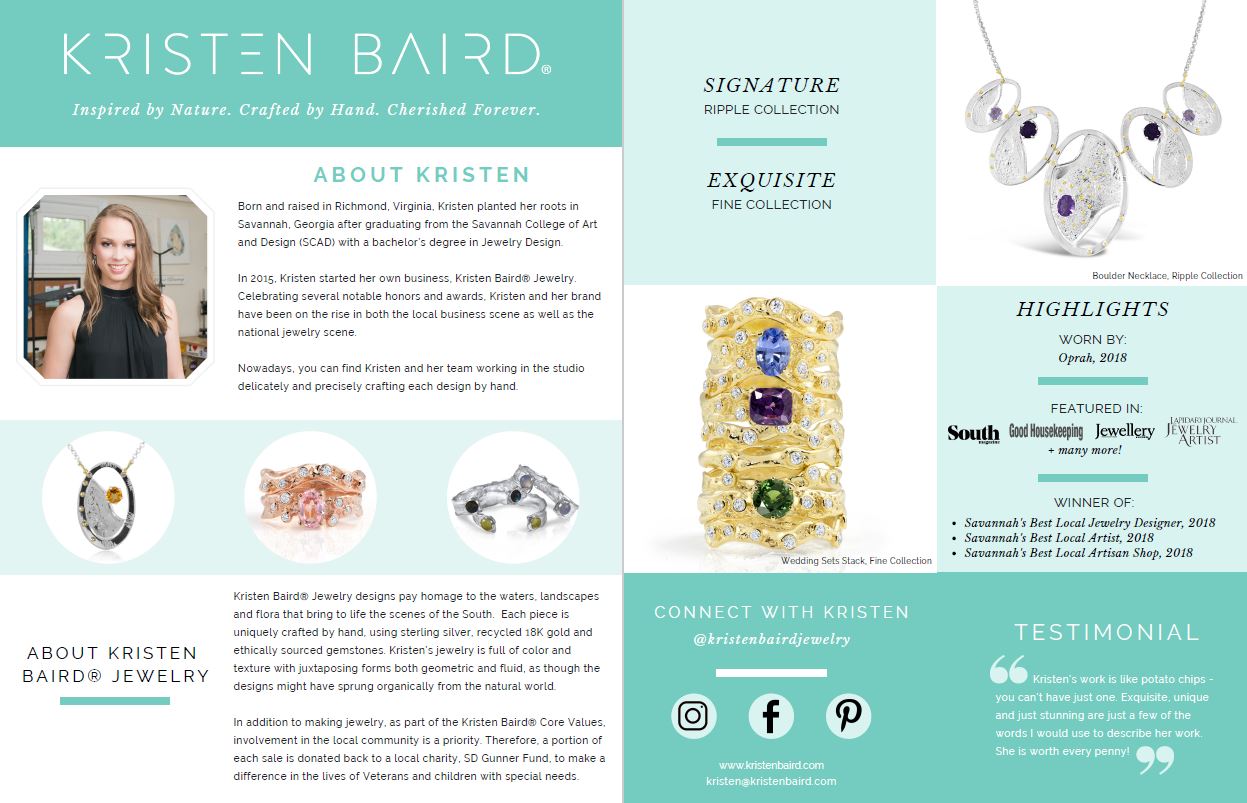 How to Pitch Your Jewelry to the Media
This is a substantial topic but here are a few tips and examples:
Do your research to understand the publication and the editorial sections they typically offer. Also, look at their editorial calendar. Most print publications close on the holiday issue several months before in August or September. Make sure you are pitching on schedule for the coverage you are requesting.
In the body of your email, be concise. Use bullet points with story angles.

Jewelry has been worn by a celebrity at a recent event
The most salient point in your personal journey story
Recent news from your small business

Lead with what you know about the audience you are pitching and where you believe there is an opportunity to feature your work in their publication. Name the section if it is appropriate.

I understand your readers appreciate fine jewelry and will be shopping for Mother's Day soon.
I read your magazine and appreciate that your young, trendy audience is looking for local artist-made goods. I hope you will consider editorial coverage of my work in your Local Business Briefs section.

End with a specific call to action in the form of a question.

A link to my media kit is included below. Can we schedule an appointment so I can show you my collection in person?
Will you consider including my work in your annual holiday gift guide?
Will Media Kits Guarantee Coverage?
As Kristen says, "It's a marathon not a sprint." You're not always going to get a response back right away - in fact Kristen considers it rare if you do. But know that editors keep information on hand. Your pitch may not be what they need now, but perhaps 6 months down the road it will be exactly what they need. Building a relationship isn't quick and easy. Jennifer suggests following your target writers and media outlets on social media and start by commenting on their posts. Now, when you send them your pitch they'll have some idea of who you are already. Kristen is only just starting to see some of her pitches pay off even after working with some outlets for years.
There is no guarantee that your work will get picked up for editorial features. Jennifer estimates her placement rate is about 1 publication in 10 attempts. But a well thought out and professional-looking media kit might increase your chances. She also suggests to follow up. Give your contact a few days to read your pitch, but if you haven't heard from them after 7-10 days try to email them again. You'll need to be persistent with some editors and writers.
Keep Your Chin Up
Sending a cold call pitch isn't always easy. Like Kristen, you might feel like you're emailing too much or being an inconvenience. But as she puts it, it is quite literally their job to work with people like you and find content to share with their audience. You are actually helping them. Jennifer also suggests you cast a wide net across a variety of outlets: magazines, newspapers, blogs, TV - and don't forget to include local outlets in your strategy! PR is a crazy mix of persistence, timing, networking, and luck. Keep working all the levers and you may eventually strike gold. If not, just keep pushing. PR is a long-term game. But, a solid media kit is your ticket into the arena.
---
Kristen Baird is the owner of Kristen Baird Jewelry and the 2017 Halstead Grant winner.
Jennifer Lesea is the owner of Jen Lesea Designs based out of Colorado.
Check out these other great jewelry business tips:
Tips to Nail Your Jewelry Sales Elevator Pitch
How to Guest Write for a Jewelry Publication