Make whimsical jewelry designs with silver jump rings and stone settings. Practice your soldering skills and flex your creativity with this inspiring technique from Eva Sherman.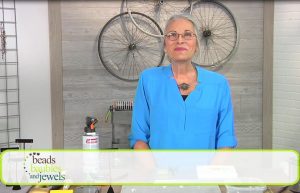 Halstead Preferred Teacher Eva Sherman shows one of her favorite techniques: soldering jump rings on episode #2612 of Beads, Baubles & Jewels on public television nationwide.
At the end of this post, watch her demonstrate how easy it is to solder rings and tube settings together. She also shows how to set a CZ inside a tube setting.
Eva is an architect turned bead addict who teaches jewelry making at Grand River Bead Studio and across the country.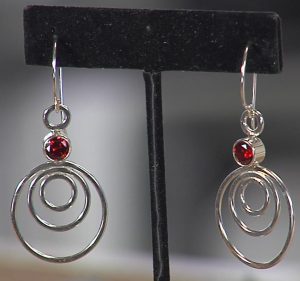 Halstead is proud to sponsor this season of Beads, Baubles & Jewels, which has been educating people about jewelry making for more than 10 years.
This is a very versatile method. Eva says, "I've taught this technique as a ring, a bracelet, and a pendant, too. There are a lot of design possibilities just soldering jump rings together."
To try this technique, you'll need 16-18-gauge sterling silver jump rings in a variety of sizes. You can purchase premade silver jump rings or use 16 or 18-gauge round sterling silver wire with jump ring making pliers to make your own. You'll also need tube bezel settings & CZ loose stones, along with a basic soldering set-up and selection of jewelry findings, including ear wires.
Eva's Rules of Soldering
Arrange the design on a solderite or charcoal board. The metal must touch (no gaps). Rings should touch in at least two places but three is better to give your piece more stability.
The metal must be clean with no fire scale. Pickle often. Hint: Twist rings on a length of copper wire to make it easier to fish them out of the pickle.
Use flux to keep the metal clean and help solder flow.
Hammer wire solder flat to keep it from rolling.
A little bit of solder goes a long way. Use less than you think you need.
Solder flows toward heat. Heat the metal, not the solder.
In order to avoid melting the silver, place solder under the join, and use the heat to draw the solder up the join.
Silver has a relatively low melting temperature. When it begins to glow red, you are very close to the melting temperature.
Soldering is 95% set up and 5% torching. Be patient.
---
Halstead is one of North America's leading distributors of quality jewelry supplies. The firm is celebrating its 46th anniversary this year. Halstead specializes in wholesale findings, chain, and metals for jewelry artists.
Got questions? Email our studio coordinator Erica Stice at studio@halsteadbead.com. We'd love to hear from you. Sorry, studio support is not available by phone. Emails only, please.
If you enjoyed this content, you may also be interested in these videos and articles from Halstead:
Tube Setting with Melissa Muir
Soldering Wire Embellishments to the Surface of your Jewelry Designs