Flashback from decades past? From the 70's craze of earring jackets to the oversized hoops from the 90's, the last couple of years have seen old favorite trends return in full force. In 2016, the choker trend began (again) with thick, tight, large chokers in the spotlight and the trend just keeps going with 2017 chokers scaled down to thin, narrow, looser collars. It looks like these trends are here to stay for awhile. The collars below were all made using unfinished neck collars and were created to give you some great options on how to finish them. They range in difficulty from easy to hard.
Ball End Collar (skills: torch & finishing)

If you're new to the torch or are in a hurry, a quick way to finish rough wire ends is simply heating the ends. The heat of the torch causes the metal to roll up into a ball. For best results, point the wire downward as you heat the metal.
Item used:
Tip:

Keep your wire straight up and down and heat the wire from below with the flame aiming straight up. If you keep the heat on for too long, the rolled-up end will fall off.
Hook & Eye Collar (skills: filing, shaping, drilling, finishing & assembly)

The great thing about this collar is that it requires no flame, for those of you without access to a torch. Round out the ends of the collar with a file, then use a Flex Shaft or drill press to pierce a hole on each side. Use jump rings to attach a hook and eye clasp.
Items used:
Tip:

Be sure to use a hook and eye set that can handle the weight and tension of the collar.
Magnetic Collar (skills: soldering, finishing & assembly)

Solder jump rings onto the ends of an unfinished neck collar, then add chain to each side. Use jump rings to connect a magnetic clasp between the chains.
Items used:
Tip:

Be aware of which way you want your jump rings to face before soldering them onto the wire ends.
Heart Collar (skills: soldering, finishing & assembly)


Cut and lightly file the ends of your unfinished neck collar, then solder a filigree heart charms to each end. Add chain, a lobster claw and an accent bead or charm as the finishing touch.
Items used:
Tip:

The filigree wire hearts are easy to melt, so sweat solder your collar ends then solder-on the hearts while keeping the flame underneath the piece.
Tool Alert
| | |
| --- | --- |
| | This 8" steel necklace mandrel was used to shape a few of the collars shown above. Use it with a rawhide or nylon hammer. It works great for shaping collars! |
As Seen in Lapidary Journal Jewelry Artist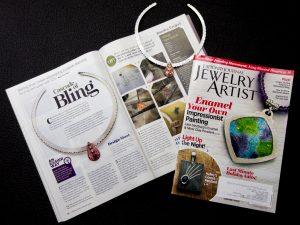 Check out Lapidary Journal Jewelry Artist December 2017 issue for even more great ideas for finishing neck collars.
---
Keep Reading:
3 Types of Necklace Chain Extenders