Learn about the different types of earring findings and how each can be used for unique jewelry making ideas.
Earring findings are nothing new, but they have evolved over the years. First popular with men dating back to the Persian Empire, it remained that way for centuries until eventually the tables turned and women began to dominate ear adornments. In the 1970s piercing reached new heights as nurses began attending ear piercing parties at department stores, alleviating the need for home piercings using a needle and a prayer that infections wouldn't occur. Eventually, ear-piercing guns were invented and improved sterilization techniques were used which promoted further adoption of fashion piercings.
Piercings continue to evolve to this day with variations in body adornment. However, this blog will focus on traditional earring findings.
Post or Stud Earrings
Earring Posts - These types of earrings create the illusion of floating on an earlobe, they are also the first earrings you wear after piercing your ears. Post earrings consist of the post that goes through the piercing and embellishment that is fused or soldered to the front. Designs can be enhanced with drop rings for dangles. Post earrings stay in place using a clutch or butterfly backing.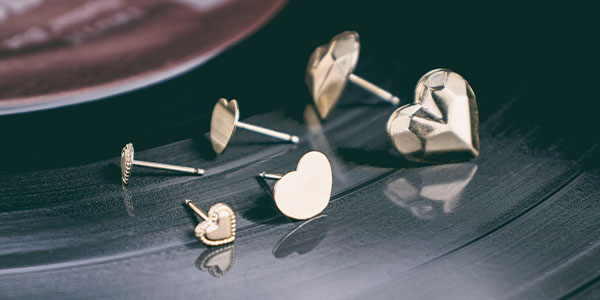 ---
---
Earwires
French or Shepherd Hooks - the most popular of all pierced earrings, hook earwires are inexpensive and easy to make by forming wire. Many variations exist by changing the shape, altering the wire or adding ornaments to the hook itself. The drawback of earwires is that they often push forward out of the ear when the end-user wears certain hairstyles, scarves or turtlenecks. A rubber back stopper can help to secure these earrings in place to avoid losses.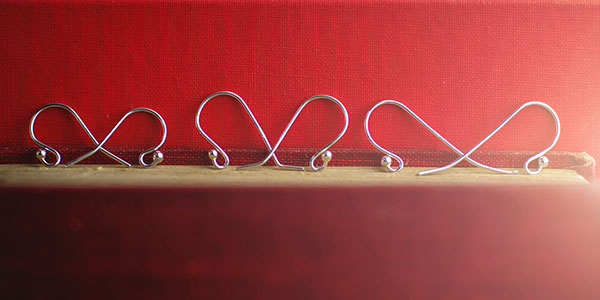 V-wires or Marquise Wires - this type of earring findings is a popular variation on the standard hook shape. V-wires are typically larger than standard earwires and can support heavier dangles.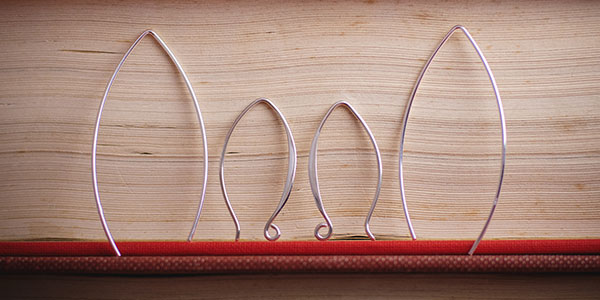 Ear Threads - these long earrings thread through the ear and out the opposite side so dangles appear both in front and behind the lobe for an interesting illusion effect.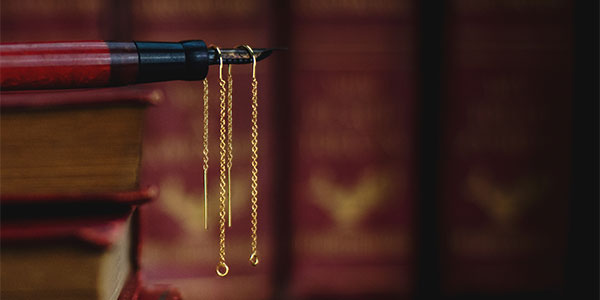 Kidney Wires - are made from wire shaped like a kidney with a hook that latches the finding together. Kidney wires are an inexpensive type of earring findings and more secure since they rarely push out of a piercing. Current variations include larger wires that hang lower from the ear.
---
---
Hinged Ear Findings
Leverbacks - are premium earring findings. These findings have a hinged backing that securely snaps into place behind the ear lobe.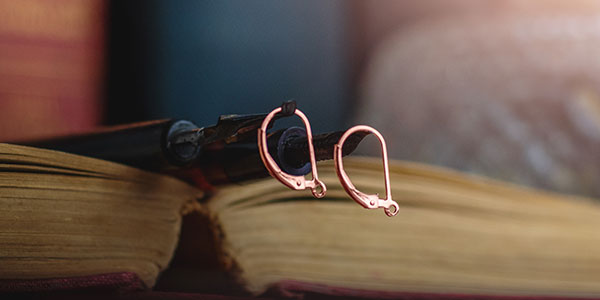 Ear Harp - shaped like a harp, these findings consist of a post and hinge backing that snaps in place for a secure hold.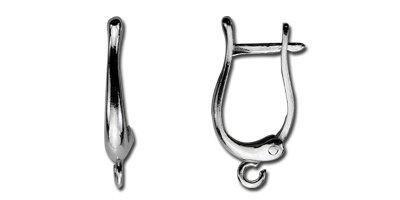 Hoops
Wire Hoops - these lightweight and inexpensive hoops are ideal for beading or wirework additions. Wire hoops usually have one end flattened and pierced so the hook end can latch into the hole. Or, they may have a circular loop at one end to receive the bent latch hook. Wire hoops come in all shapes and sizes.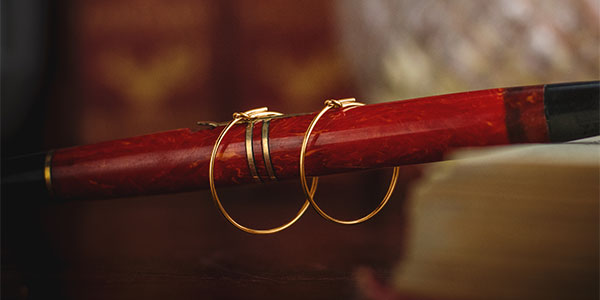 Hinged Hoops - are a more expensive, premium type of earring findings. These earrings have a hinge that securely latches it into place. Hinged hoops are often made with hollow tubing or solid castings. The larger surface area on the hoops allows for more ornate patterns, shapes and designs.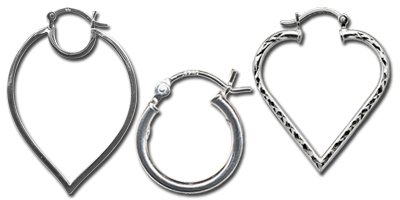 Endless Hoops - are primarily made from hollow tubing. The top arch is a finer gauge wire that goes through the lobe and then inserts into the open end of the tubing to create an "endless" loop shape.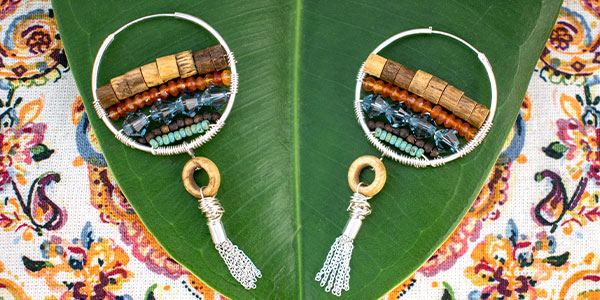 Non-pierced Earrings
Clip-ons - are the most popular non-pierced earrings. They just snap to the lobe to hold it in place but do tend to slip off fairly easily when dangles are too heavy.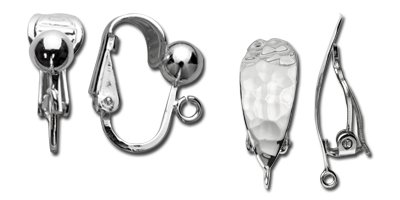 Screwbacks - literally twist into place, holding the earring finding securely to the lobe.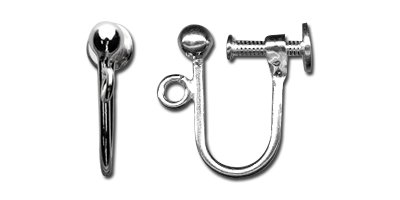 Other Earring Findings
Cuffs - wrap around the cartilage in the middle of the ear. They are purchased as a pre-made cuff or many designers create their own using ear cuff blanks. These are often embellished with a charm or a chain is added linking it to another earring located elsewhere on the ear.
Chandeliers - usually hang from an ear wire. These resemble a chandelier and create a cluster effect in jewelry designs.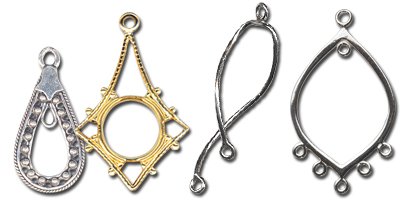 Ear Climbers - These non-traditional types of earrings are usually oriented with the design "climbing" up the ear lobe instead of dangling down below. Use these ready-to-wear bestsellers as upsell items with your jewelry collection. Or, alter and embellish them as base findings.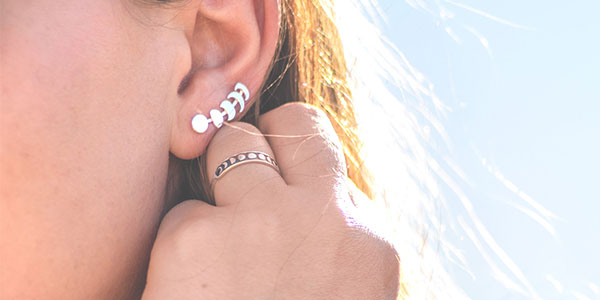 ---
---
About Halstead
Got questions? Email us at studio@halsteadbead.com. We'd love to hear from you. Sorry, studio support is not available by phone. Emails only, please.
---
Further Reading
How to Create Your Own Earring Collection
6 Steps to Soldering Earring Posts