Jewelers hear the same advice over and over again, photography can literally make the difference between success and failure in the field. Quality images help you to get into more shows, receive better PR coverage, and ultimately sell more jewelry. However, getting professional photos isn't always easy. Read on for tips to hire a professional jewelry photographer.
When you first start your jewelry business, chances are you'll have to DIY a lot of things to save money. Jewelry photography will be one of those things. We've got a lot of great tips for you to keep in mind while you photograph your own jewelry. But at what point should you consider hiring a professional jewelry photographer?
Photographing Jewelry is Different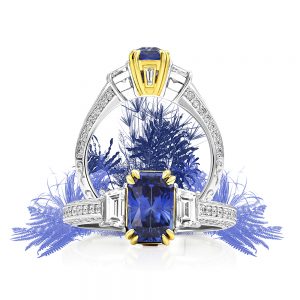 Photographing jewelry is no easy task and not just any photographer can do it well. If you're going to spend the money to professionally photograph your jewelry, be sure you have looked through a photographer's portfolio for other jewelry photography. Photographer Sara Rey has found that many clients come to her after hiring an inexperienced photographer to save money. So what about hiring a professional wedding or portrait photographer? They're very skilled at capturing beautiful moments, people, and even the occasional piece of wedding jewelry. But most are still not specialists at jewelry photography. Sara says, "jewelry is one of the most difficult things in the world to photograph, so working with someone who doesn't specialize will most likely not yield the results you're looking for."
Why is Jewelry Photography so Different?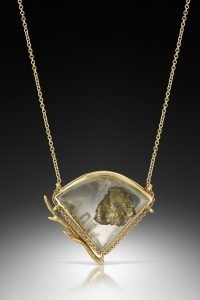 Getting your lighting right, avoiding bad shadows or blowouts, capturing minute detail...most photographers can speak to these challenges, according to Cole Rodger. However, add in the challenge of working with metal, which is often like a tiny mirror with its reflectiveness, and jewelry photography becomes a unique specialty. As Sara Rey says, the photographer wants "to show the reflectiveness of it, without actually seeing the reflection" of anything in the studio.
If your jewelry has gems or diamonds, the setup can be very different than a purely metal piece. Special lighting and camera techniques are required to capture the color and translucence of stones. Jewelry photography is also, by nature, considered macro photography. This means a small object becomes larger than life in a photo. Any minor flaw can look much more prominent than it actually is, according to Sara.
Additionally, as a jewelry artist, you've probably thought long and hard about how you want your piece to look. From the design itself to how customers see it, makers are "as intimate with their piece as they are with their own reflection and have acquired very distinct thoughts on how they'd prefer to be viewed" according to Cole Rodger. Many portrait photographers are not necessarily accustomed to working with a fellow artist. So they may not be able to pick up on what Cole describes as the "maker's language." Professional jewelry photographers have become accustomed to working with other artists and have a better sense of how you might want your piece shown to the world.
The Jewelry Photography Process
Don't assume a jewelry photographer will simply click a picture and send it to you! You're not paying them for the simple picture, but for the work that goes into setting the piece up and digital editing as well. All photographers will have their own process depending on their styles, but generally, they'll follow a similar path as Sara Rey:
After shooting the pieces, the first step is to clip the images in Photoshop. Clipping separates the subject from its background. This alone can take quite a bit of work so it doesn't lead to the "clumsy scissor cut-out effect" as Cole Rodger notes. The photographer then places the image of the jewelry piece onto a pure white background (or a scenic background if that's the look you've chosen). The photographer will then retouch the image. This may include removing minor flaws such as dust or scratches, color correcting any metal and stones to bring out the true color, and adjusting brightness, tones, etc. as needed.
For Sara, this retouching work can often take just as long, if not longer, than actually photographing the jewelry pieces. Have you ever seen an image that doesn't look right because the shadow is crazy? You shouldn't get that from a professional jewelry photographer.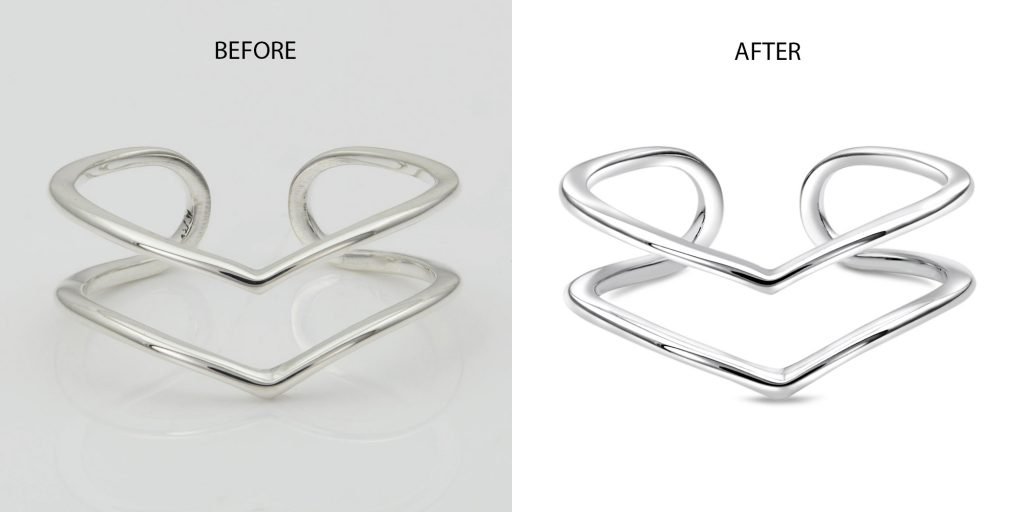 And this is the reason you pay a professional jewelry photographer: Anyone can snap a picture, but not everyone can figure out the lighting needs and digital editing tools to make your jewelry look its best.
Don't be Nervous About Shipping
Unless you're willing to pay extra for on-location photo shoots, you'll most likely be shipping your jewelry to the photographer. This might make you nervous, but if you follow Sara and Cole's tips it'll be easy!
Send the parcel by 2 day or overnight shipping. UPS, FedEx, and USPS all offer these options. The less time your piece is in transit, the less likely it will get damaged.
Use a third party shipping company that specializes in jewelry such as ParcelPro.com or IFS Inforsure. Since they specialize in jewelry shipping, they can help you out the most if the worst should happen. They may even be able to save you some money!
Add insurance and a signature requirement. The signature lets you know it's arrived at its destination and who received it. That way if there's ever a question, you have that information. Insuring any high-value item is always a smart idea to protect you in case of damage or loss.
Get a receipt when you drop off the package so you have the proof of you handing the item over to the shipper.
Follow any packaging requirements such as double boxing or inner shipping labels.
Just remember it's always better to be safe than sorry. If you're wondering if you should do or request something, just do it.
When to Hire a Professional Jewelry Photographer
Cole Rodger believes it's great for jewelers to start out photographing their own jewelry. It will help you see "how the view from a camera lens differs from the perspective of an eye" and give you an idea of how your pieces can be shot. If you find yourself enjoying the photography process and are able to produce the images you need, that's great! If, however, you find yourself pulling your hair out it is definitely time to consider a professional.
Julie Sanford has been taking her own jewelry photos for years. However, when she needs absolutely amazing and high-quality photos in specific formats she turns to a pro. This is usually for jury photos, gallery shows, and the occasional booth shot. If you hope to put your jewelry pieces in a juried show, they may require specific image formatting - which a professional can easily give you. They'll also give you high-resolution shots that can be used for many different things.
When your business takes off though, do you really want to put more work into your photos and less time into your studio? "You hire me when you're not one of those...overachievers [who can handle every one of their own needs], you can't be bothered, you suck at Photoshop, and you need your work to look at its best," as Cole puts it. Let's face it, Photoshop isn't the easiest program to learn inside and out and if your business is taking off you won't want to take too much time away from precious studio time. And, as Sara Rey points out, "since most people will be seeing your designs for the first time in photos rather than in person, it's critical that those photos are the highest quality possible."
You'll most likely feel it when you're ready for a professional photographer. Don't get overstressed at setting up the perfect shot or editing the possibly 100s of images to get a few good ones. Photography is really one of the first things you should outsource when you have the capital available. Julie Sanford was nervous the first time she invested in a photographer. At $50-$100 per image (and do you need multiple images of a piece?) it can make you wonder if it's worth it. But once she saw her images and put them to work for her she said, "I knew it was worth it."
Tips to Find a Good Jewelry Photographer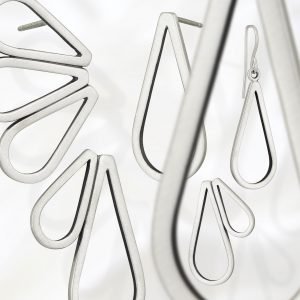 Talk to your personal network for recommendations - someone you know has probably worked with a photographer they loved (or maybe they have ideas of who not to use)
Look in jewelry books and magazines for photos you like, then look for a photo credit
Do some Google research. Find photographer's websites and portfolios to see their jewelry photos.
Make sure any photographer you pick is comfortable with shipping and handling high-value items. Maybe they even have a safe to store your jewelry in.
Be detailed in what you want from your photographer, but also understand they're the professional. Be open to their ideas on how to photograph your jewelry. You just might find they make it look better than you ever imagined.
---
Sara Rey is a professional photographer specializing exclusively in jewelry and gem photography. She has over 10 years experience and is based in San Diego, CA.
Cole Rodger is a product photographer who specializes in jewelry photography. She has over 25 years experience and is based in Oxford, NC.
Until you're able to hire a magnificent pro, use some of these tips to keep your DIY jewelry photography looking good:
Halstead Jewelry Minute: Photo Studio Tips Pt. 2 - Lighting
How To Photograph Jewelry On A White Background
Build A Jewelry Photography Setup For $100