Check out our handy jewelry ring material conversion chart and learn how to calculate the right material length for each finger ring size with this tutorial.
There are a lot of pre-made rings out there for sale, but as a jeweler and metalsmith, there are times when making your own custom rings makes more sense. You may want special ring shanks for certain stone(s), you may need the bands to be a specific width or thickness, or you may just love to create completely handmade pieces. Regardless of the reasons, you still need to know how to buy metal for rings. The blog below will help guide you in choosing the right material, step-by-step instructions on figuring out the ring formula plus we've added a downloadable quick reference chart when ordering ring making material. SHOP JEWELRY WIRE >>
---
---
What is ring material?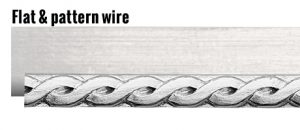 The most popular ring materials are a dead soft, flat or domed wire that comes in different gauges and widths. Flat wire is preferred if you will be adding custom stamping. Half-round or low dome wires are traditional for bands or shanks. There are also different fancy and pattern wires that are perfect for making interesting bands fairly easily. Ring making metals are usually made from a thicker gauged wire so that they can withstand everyday wear and tear, and they are dead soft so they are easier to manipulate. Ring material is typically between 20 gauge - 12 gauge. SHOP PATTERN WIRE >>
Choosing the right ring making material to buy
When buying ring making material a lot of the choices are personal but you should also think about the target audience. Will this ring be worn by a woman or a man? Women tend to like thinner widths in the 2-4mm range whereas men like the wider bands in the 4-8mm range. Will this band or shank eventually hold a stone and will that stone require a wide or a thin band? How often will this ring be worn? Thicker gauges are stronger. Plan everything ahead because it will end up saving you time and money in the end.
Measuring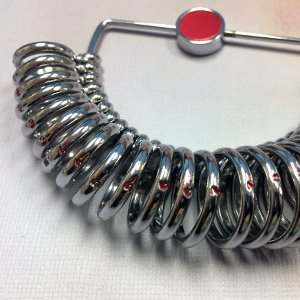 Besides designing the ring and deciding what material you will need, the most important consideration is the ring size. I would recommend to anyone starting out to purchase a set of finger ring gauges. These gauges are made up of individual rings that are pre-marked with the ring size on them. It's a quick way to get a person's ring size, they simply slip on each ring until they find the one that fits them, plus you'll use them to figure out how much material you will need to purchase. Below is the formula which is used to figure out how much material you will need.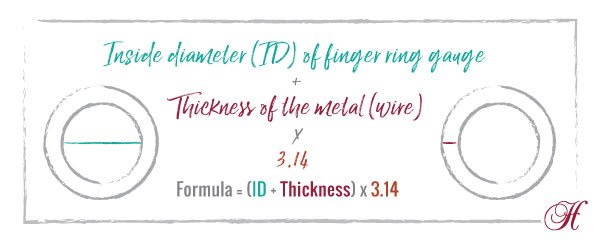 So let's say I need a size 7 ring, following the chart above, here are the step-by-step instructions for figuring out the length of ring material you will need: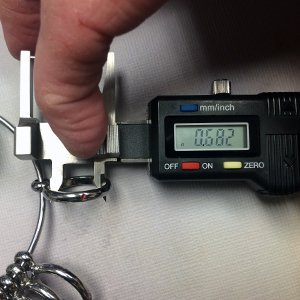 Step 1: Find the ring size (in my case it is a size 7). Take a set of calipers and measure in inches across the inside of the ring. You can use your gauge set as a model. As you can see, it comes out to 0.682in. You now have the inside diameter (ID) of the finger ring gauge.
Step 2: Next, you'll need to know the gauge of the metal you wish to work with. Let's say you chose an 18ga flat wire, you'll need to convert the 18 gauge into inches so all your measurements are in the same units. The chart below will help with those conversions.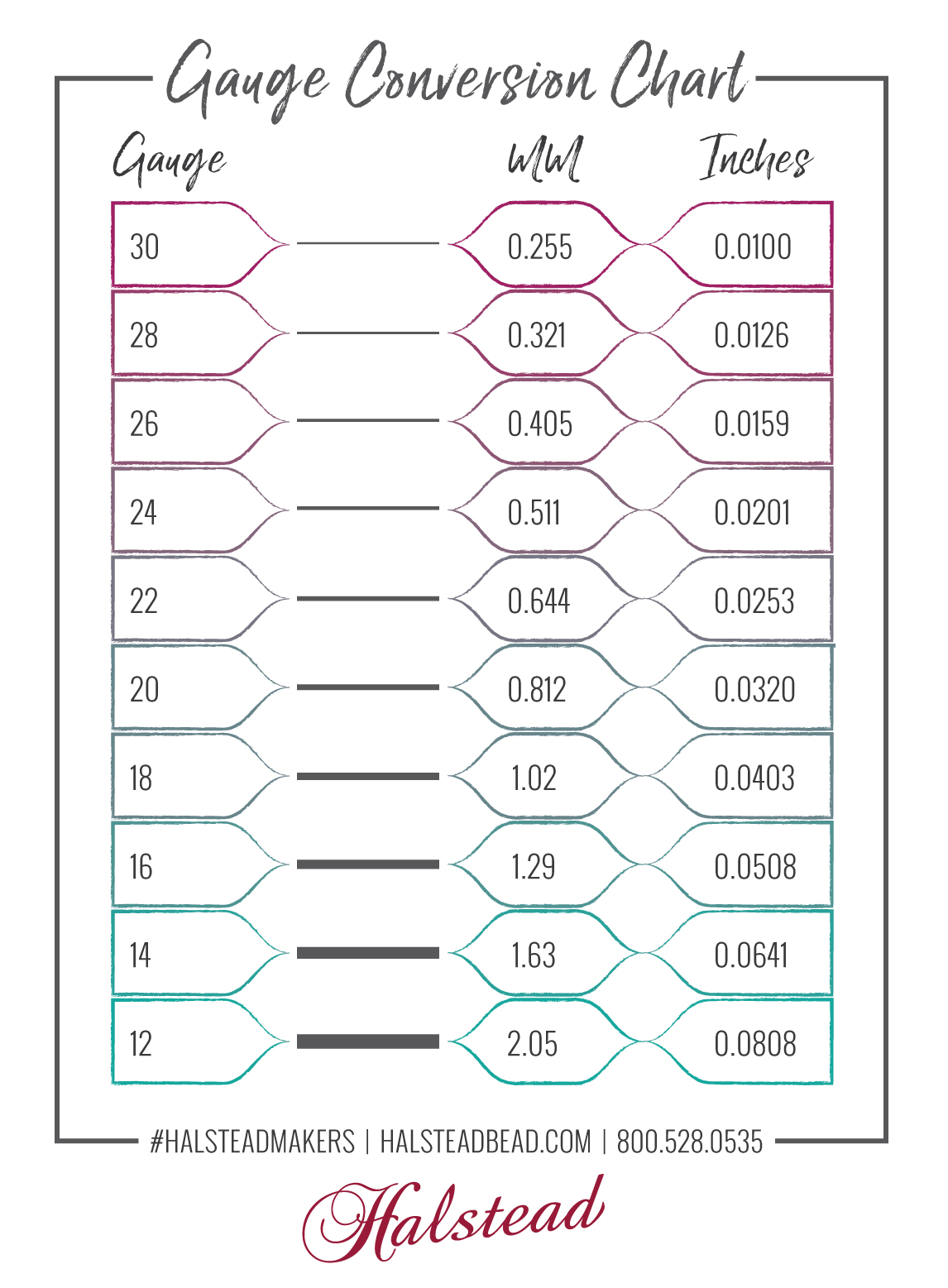 Here you can see that the 18ga equals 0.0403in. Now you have the thickness of the metal.
Step 3: Now you are ready to do the math. Add 0.682 + 0.0403 = 0.7223 inches. Next, multiply 0.7223 x 3.14 = 2.268022in. Round that off to 2.27 inches as your final number.
Placing your order
First of all, find a reputable jewelry supply company. The majority of them now sell pattern and ring making wire by the inch, which is extremely helpful if you're only creating a few rings. Since you know you will need 2.27in when you place your order, you will need to round it up to 3in. This will leave you with extra wire to work with.
Note: Keep in mind that a pattern wire ring always looks better when you can match the pattern together at the join, so before cutting and filing the 3in piece of wire see if you can line it up.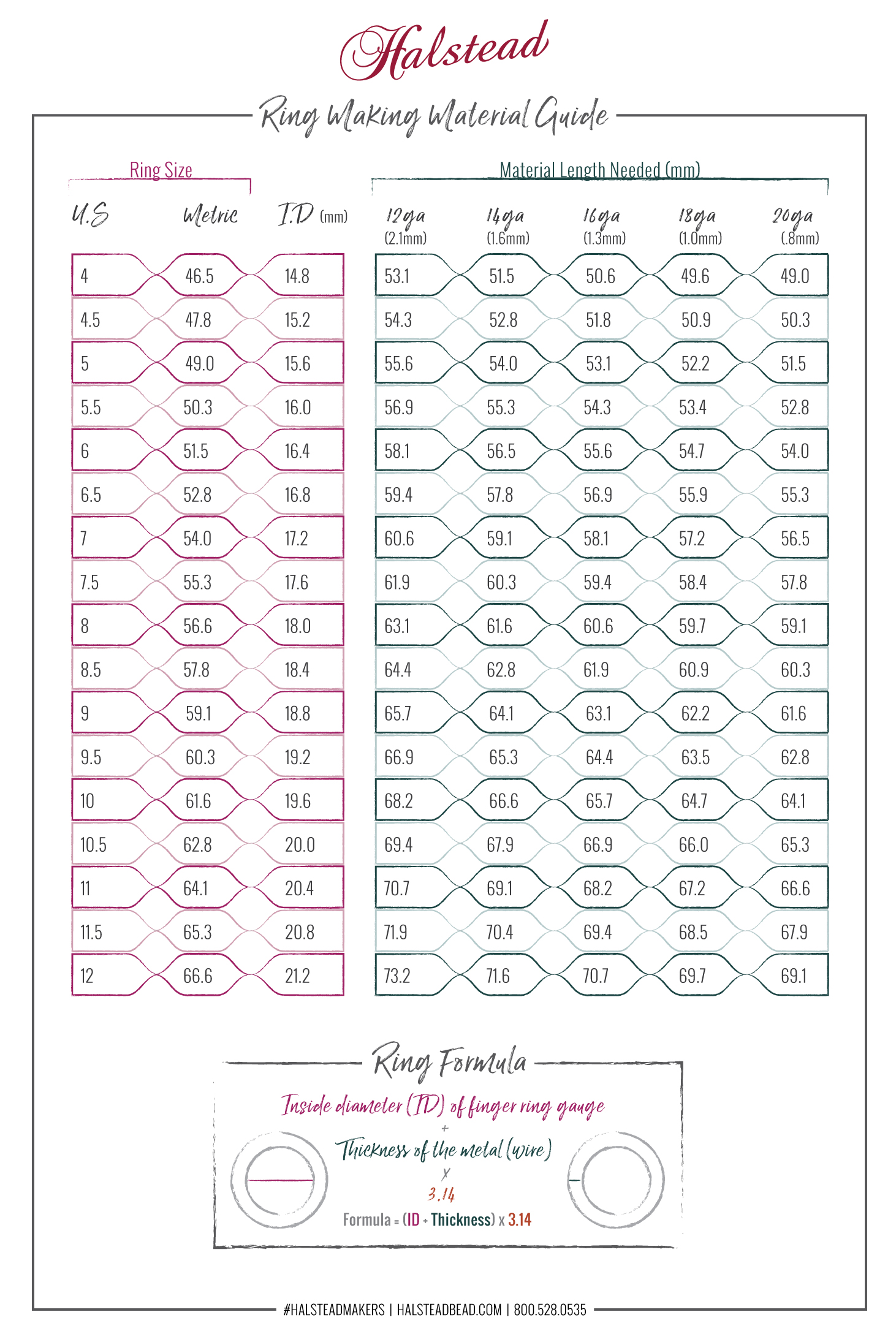 The ring making material guide above lets you know how many mm you need between the ring size and the wire gauge. Feel free to print it as a reference guide when placing your order, however, don't forget to round up as shown in the paragraph above.
---
About Halstead
Halstead was founded in 1973, it is a family-run wholesale jewelry supply company. At Halstead, you can shop for ring making material, time-saving ready-made silver ring bands, findings, chain and more!
Got questions? Email our studio coordinator at studio@halsteadbead.com. We'd love to hear from you. Sorry, studio support is not available by phone. Emails only, please.
---
Read on for more ring making tips and ideas:
Soldering Half Round Wire & Pattern Wire for Rings
Jewelry Ring Design Tips & Ideas