Learn how to photograph jewelry on a white background for website store listings or professional marketing.
Why photograph your jewelry on a white background? White backgrounds are a standard in today's competitive jewelry market. They are the most versatile and timeless background you can have for your jewelry photography. White does not interfere with the color of your items and presents your jewelry with the least distraction. It is essential in giving your jewelry photos a clean, consistent look on your social media or website. Having good, consistent jewelry photography is critical to bringing and keeping traffic on your website.
Choosing a White Jewelry Photography Background
When choosing white backgrounds for photos, it is most important to consider the scale at which you will be taking photos. If your jewelry photography will all be in close range, it will not be necessary to purchase a large background. You should also consider the angle at which you will be photographing your jewelry. If you will be photographing at a flat or a very slight angle, it will not be necessary to acquire a large background. A smaller white piece of poster board, ironed cloth or paper will work.
However, if you want more flexibility or will be shooting at different angles, it may be better to get a larger "infinite" type of background. Using a sheet of white background material creates an infinity effect so you don't see a background crease or edge in your images. A roll of pure white paper (sized according to your needs) makes a fantastic seamless background, which can be cut and advanced when it gets dirty. You can also purchase some wrinkle-resistant cloth. Either can be suspended from a mounted dowel rod or dispenser arm.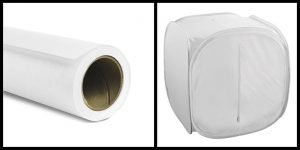 One final option would be a photography light tent. These offer a wider angle of white background. Ultimately, your decision will be based on what works best for your setup and budget.
Challenges with Photographing the Color White
Photographing jewelry on a white background can pose some challenges, but there are simple solutions.
First, it may be difficult to find the shade of white and texture you desire. It is best to buy as pure a white as possible, which could mean spending a little more money. Buying a clean, smooth, bright white background will save you more editing time and effort in the long run.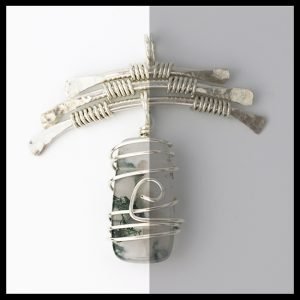 Second, white can get dirty fast. It is important to keep your background clean and clear of debris and dust. Wrinkles and creases also show up as darker lines on your photos. A good work around however would be to buy a roll of white paper that can be unrolled with the excess cut off if the paper gets dirty or creased.
Third, shadows can affect the look of your jewelry in images. Shadows can be used artistically, and can keep your jewelry from looking like it is floating on the page. You can even shoot your items on a reflective surface to add a little detail as well. Having consistent shadow areas for your jewelry photos is most important. Your product spread (on your website or social media) will look strange if the shadows are all going in different directions.
Lastly, when you start photographing your jewelry on a white background you'll discover something that may shock you at first: white backgrounds don't look white when shot. Instead they generally look gray or pick up the tones of the light in the room. Lighting your backdrop can brighten the white; however you can also make the adjustments in your photo editing software.
Consider Clipping Your Jewelry Photos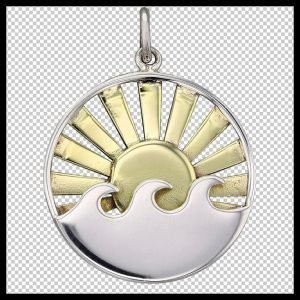 Another option for premium white backgrounds would be to have the image clipped with a photo clipping service. Photo clipping is a service that many websites offer on a per-image basis. Clipping an image involves cutting out the subject from the background. This can be helpful if you want a pure white background for your subjects, as you can just have the item clipped then artificially add in a white background (a shadow can be added, but keep it subtle). Remember to still shoot the item on white if possible, as white offers the least interference. Many clipping services can also do light and color correction on your images. Photo clipping companies often offer free sample images, so it is a good idea to send a few representative images to several sites to find which company does the best job for the best price.
What Lens is Best for Jewelry Photography?
Which lens you decide to use for your jewelry photography will depend on your budget and photographing needs. In general, if you have a DSLR camera, the kit zoom lens the camera came with will suffice (generally 18-55mm zoom). When shooting theme shoots, where I will be switching out a lot of different setups and jewelry, I prefer the versatility of the zoom lens. A zoom lens is a great starting lens and will generally suit your needs for most of your jewelry photography. If you have a lot of smaller items to photograph (for example earrings, or small pendants with detail) and you have the budget, I would recommend a 100mm macro lens. This will allow you to get a clearer close-up without setting the camera/lens too close to your items (which will add shadows/reflections on your jewelry).
Lighting for Jewelry Photography
There are several lighting options to choose from for your white background photography setup. Three of the most common are using natural light, using a soft box or using a light tent. Which you choose will depend on your personal preferences and setup; you can also utilize all three (though it is recommended to stick with one for more consistent photos). For more information on each of these lighting options, read our Jewelry Photography Lighting blog.
Tripod for Photography Stabilization
Tripods are a critical tool for your jewelry photography. It is the best way to keep your camera steady, giving you more flexibility with lighting and camera options. Read up on the best tripod for your studio setup in our article Jewelry Photography Tripods.
Tips on How to Photograph Jewelry on a White Background:
If space allows, always keep your photography station set up for shooting your jewelry. It takes a surprising amount of time to position all the equipment to prepare for a shoot. Or, you can even use tape on your floors to help remember tripod and light placement.
Write down/document your photography setup and camera/light settings so you can duplicate the look of your photos again and again.
---
Subscribe now for the latest jewelry business tips. You may also like these budget-friendly jewelry photography articles:
Build a Jewelry Photography Setup for $100
Jewelry Photography Tips: How to Use Your Phone
Ready for a pro photographer? Check out our tips for hiring one!