Learn wire jewelry frame fabrication tips from one of our preferred studio teachers, Melissa Muir. She shows you step by step how to make this gorgeous wire work cuff using Halstead's Sterling silver supplies and a beautiful cabochon!
To create the bracelet start with a sketch denoting the size desired. In this case I wanted a 6" cuff. I measured out the length on a sheet in my sketch book and determined the base frame shape. I use this sketch as a guide to bend and shape my wire. Solder all joins together once the frame is the desired shape and size.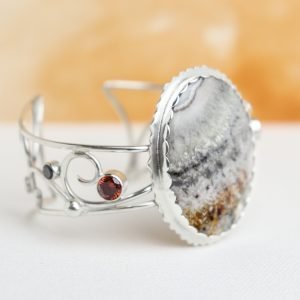 TIP: Don't attempt to do it all in one go. Solder one end of the bracelet, pickle and then come back and solder the other end. Once the frame is built the inside design elements can then be designed and soldered into place. I like to get the entire layout complete so I can make any necessary adjustments before I start soldering.
Before soldering the inside elements I make the base for the cabochon with the silver sheet and fine silver bezel wire. When using scalloped wire it may be difficult to match up the scallops so you may need to get creative at the join.
TIP: When soldering a fine bezel wire onto a larger backplate it is helpful to create a wire nest or use pieces of broken solder board to help lift your piece off the soldering surface. This will allow you to direct most of the heat under the piece rather than on top where you are in danger of melting the thin bezel strip. Avoid the temptation to test fit your stone as it may become wedged in without any way to get it out.
I used a jeweler's saw to cut away the backplate with a somewhat scalloped design. You could be precise on this, but that was not the look I was after.
Once the cabochon and frame are complete then it's time to put everything together. Working with thicker gauges of jewelry wire can be difficult when trying to make swirls or flowing elements. Keep in mind, you don't have to have flowing elements, you just want to have connecting elements to give the bracelet its strength. When making the connections in your wirework, do your best to make them meet up so you don't have blunt ends sticking out. Use the file or cutters to create a slant on end of your wire where it will meet flush with the frame or connecting elements. The goal is to make the bracelet look as seamless as possible. Now it is time to solder again. Take this part slow and only try to solder a few elements at a time. I used hard silver solder for all solder joins in this bracelet.
TIP: I find that using wire solder cut into 2mm pieces are great. I can stand the solder on end touching both items to be joined and I am not left with a solder "ghost".
TIP: Silver is conductive and the elements to be soldered must be at the same temperature for the solder to flow properly joining them together. Use a neutral flame to sweep the area around the join before concentrating on the join. This will certainly take some practice, especially with thicker gauges of metal.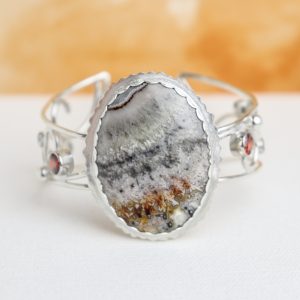 For the final steps, solder the tube settings and bezel into place. This is all done while the bracelet is flat. Alternatively, you can solder the tube settings and bezel into place after the bracelet has been formed but it can be a little trickier to get things laid out properly. Both ways are going to have its own difficulties presented.

I chose to solder everything on while the bracelet was flat. When bending the bracelet into shape it will deform the tube settings. So I chose to set the CZ's before bending. This will help keep the tube shape. After the CZ's are set, I do my final clean up and polishing then move onto the forming. I use an oval bracelet mandrel and nylon hammer to gently form the cuff. Set the Cabochon into place and perform the final polishing once the bracelet is formed. Now we are ready to wear our piece of art!
Items used:
SW14H - 14ga round sterling silver wire
SWS20 - 20ga sterling silver sheet
SWFB3S - 1/8" fine silver scalloped bezel strip
S5026 - 6mm Tube Setting
CZ60RU - 6mm Ruby CZ
S5024 - 4mm Tube Setting
CZ40J - 4mm Jet CZ
CZ40 - 4mm CZ
XS20H - Hard silver solder
Crazy Lace Agate 30x40mm cabochon
---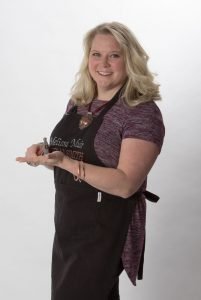 To learn more about Melissa and see her beautiful metalwork follow her social pages.
IG: https://www.instagram.com/metalsmithmelissa/
FB: https://www.facebook.com/Melissa.w.Muir
YT: https://www.youtube.com/c/MelissaMuir/videos
For more reading about jewelry wirework check out these articles.
Tips To Save Money Buying Bulk Jewelry Wire
Fancy Jewelry Wires: Shaping & Soldering Wire Links
Halstead is one of North America's leading distributors of jewelry supplies. The firm is celebrating its 46th anniversary this year. Halstead specializes in wholesale findings, chain, and metals for jewelry artists.
Got questions? Email our studio coordinator at studio@halsteadbead.com. We'd love to hear from you. Sorry, studio support is not available by phone. Emails only, please.