Learn all you need to about lobster clasps. We break down their constructions, benefits, and tips for soldering near a clasp.
Lobster clasps are one of the most popular clasp options for jewelers out there – and for good reason! They're sturdy, long lasting, easy to use, and come in a ton of styles and material types. Keep reading for the lowdown on how they're made and why you might want to use one.
Construction of a Lobster Clasp
Before we can get into all the benefits of a lobster clasp, we first need to understand how they're made. We'll go over the physical construction of the clasp, but also the magnet test, assay, and how plating treatments might affect your clasp.
Lobster Clasp Construction
Just like our other favorite clasp, the spring ring, lobster clasps are also constructed with a steel spring. They are made up of 3 parts – the spring, the trigger, and the body. Unlike spring rings, where the spring is fitted into a tube, lobster clasps have a slightly different shaped spring, with only one coil instead of many. When you pull the trigger, it pushes the spring against the body of the clasp. When you release the trigger, it springs back into a neutral position. For more information about spring rings, read our blog Spring Rings: All you Need to Know.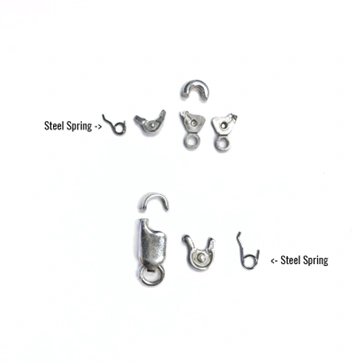 The Magnet Test
Lobster clasp bodies and triggers are made from the primary material metal; usually sterling silver, 14k gold, or gold-filled. However, the spring is always made out of steel. You will see in the photos above of a deconstructed lobster class that the spring is a darker metallic material. This is because a precious metal spring would quickly lose its tensile strength with repeated use and would stop functioning. Steel springs maintain this important tensile strength "springy" property for lifetime use. The Federal Trade Commission (FTC) regulates jewelry industry practices. They allow certain key jewelry components to contain steel mechanisms because of the necessity for tensile strength. Clasp springs, hinge pins in items like leverback earring findings, and the glass-face holding bezels for lockets or watches are all included on that list. These particular findings may be magnetic because of the small steel components even though the main body of these items is made from precious metal. You may notice a stronger magnetic pull on the findings when you are near the steel component.
Assay
The introduction of steel into a clasp will affect the piece's assay. What is assay? It's a lab test used to determine the compositional breakdown of your piece to verify precious metal purity. For example, sterling silver is 92.5% fine silver, and 7.5% copper. With the addition of the steel spring, we've increased the weight of the piece with a new material, thus decreasing its purity. However, that steel spring is critical because silver and gold don't have the strength to act as springs, as mentioned above. The effect on assay is something to keep in the back of your mind when using your lobster clasp, or any other clasp that uses a steel spring – like a spring ring. If you are ordering quality control lab tests on your materials, you should always remove clasps that contain steel or notify your lab tech that your testing sample may include clasp springs that should be taken out before analysis.
Priming your Lobster Clasp
Many lobster clasps are flash plated. That means they get plated in the finishing phase of manufacturing to make them clean and shiny. To understand more about plating in the jewelry industry, sign into your Halstead account and read our blog about jewelry plating. In addition to plating, some clasps may be treated with an anti-tarnish treatment to prolong tarnishing. Both plating and anti-tarnish treatments can cause the lobster clasp trigger to be sticky on your first few tries. Prime your clasp by using it a few times to break through the treatments, and your clasp will be functioning smoothly!
Benefits
There are a lot of different reasons you might reach for a lobster clasp over anything else to finish off your necklaces and bracelets. Size and material options, ease of use, longevity, and price are all reasons to choose a lobster clasp.
Variety
Because lobster clasps are so popular, you can find them in a variety of shapes, sizes, materials, and beyond. Halstead offers lobster clasps from 4x7mm to 9x17.5mm and beyond in size. We also stock sterling silver, gold-filled, rose gold-filled, and solid 14k gold. The variety in material and size means there's probably a lobster clasp out there that will fit your needs.
The two most popular shapes you will find are the classic elongated oval shape and the teardrop shape. These are your most popular shapes because they are neutral and can go with any design or chain.
Beyond that, we have swivel lobster clasps, that will turn so you can grab them from any direction, trigger-less clasps, and decorative/fancy clasps. The trigger-less clasps still have an internal steel spring, but you push part of the clasp in to open it up. That part will then spring back shut when you release it. Lobster clasps also come in a variety of fancier options to complement your design choices. You can get them in a marquis shape, with a heart detail, or double sided!
Strength
Lobster clasps will be one of your go-to options because of their strength and durability. Because there is no tube like a spring ring has, lobster clasps are less likely to dent or deform, clog, and become mis-aligned. You get the stability of a spring ring – that spring holding shut tight – without some of the economy features. This means your lobster clasp will be slightly more expensive, but for a minimal price difference you get better peace of mind. If you're concerned about the price, you can always offer lobster clasps as an upsell to your customers.
Usability
Your customers will not only want a lobster clasp because they last longer and have less complications than a spring ring, but because they are easier to use. The solid construction of a lobster clasp paired with the shape make them really easy to hold and open. This is great for customers who may have dexterity issues, without having to increase the price dramatically. That small price difference translates to big customer satisfaction. For a premium clasp upgrade that's even easier to use than lobster clasps, consider a magnetic clasp. They snap right into place, even when putting on your jewelry one-handed.
Care and Usage
As with any jewelry clasp, the proper care can extend the lifetime and working ability. Thankfully lobster clasps are pretty hearty, but in general only apply the pressure you need to open the trigger. Prime your clasp, as mentioned above, a few times to get them customer ready as well.
You may choose to solder your lobster clasp to your footage chain of choice for added security. This is possible, but you want to exercise extra caution while doing so. The addition of heat (about 250-500 degrees F) near or on the clasp can cause the spring to lose its springy-ness. Below we've got some tips for soldering your lobster clasp to a chain.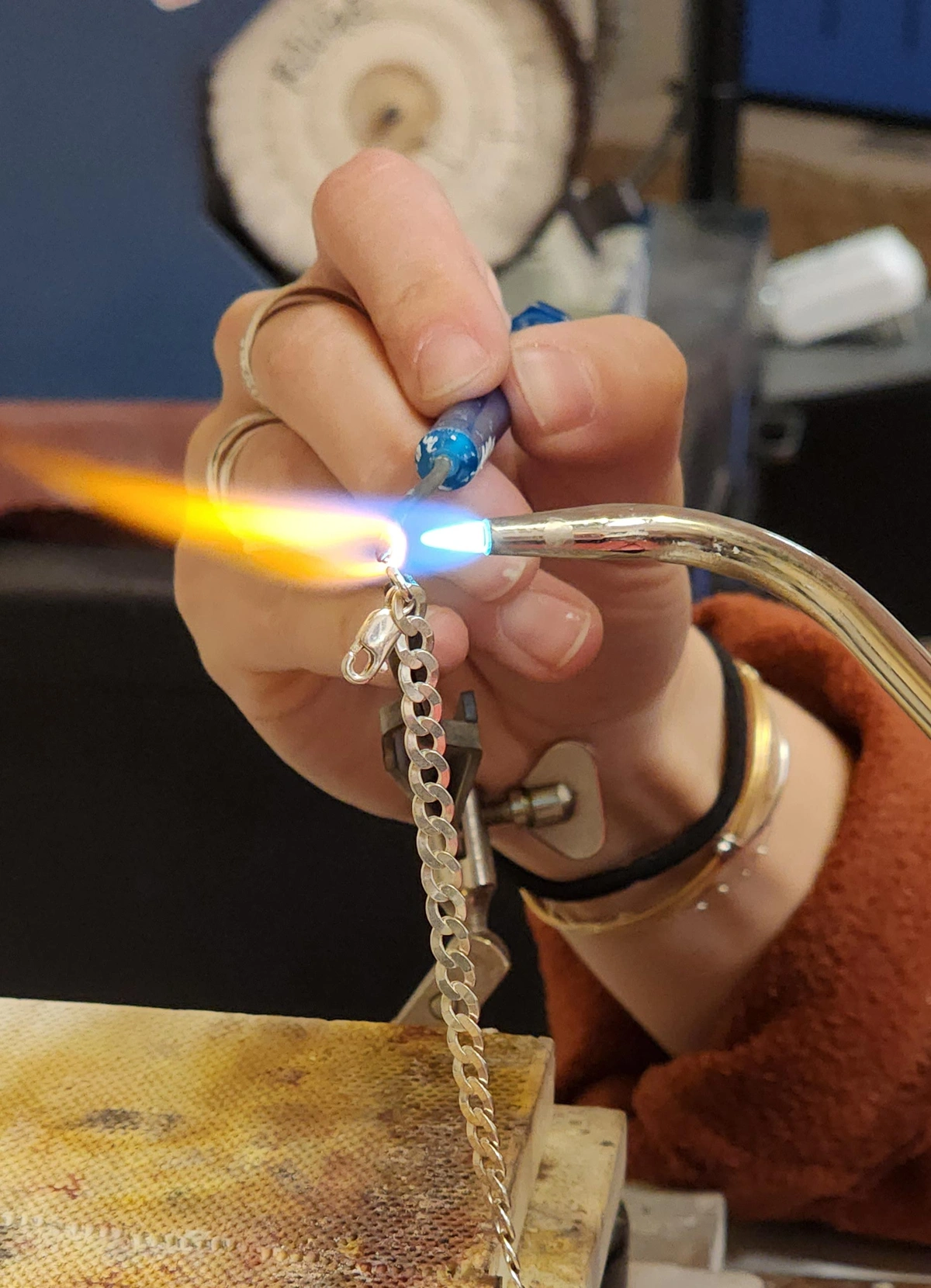 Use the smallest flame needed to get the job done and easy solder – smaller flame + lower melting temperature = less heat
Hold your piece in cross-locking tweezers – Place the tweezers between the clasp and the flame as best you can. They act as a heat sink, helping prevent the transfer of heat into the clasp and spring.
Quick pickle – Make sure your clasp is only in the pickle long enough to remove oxidation and flux. Any long and the steel will react with the acid and can cause copper plating.
You can see why lobster clasps are a great option for finishing off your jewelry. They come with a lot of benefits, like variety, durability, and usability, with few draw backs.
---
You May Also Like These Articles: